Every mobile device is a great platform to watch movies and TV-Shows. Install one of the best free movie apps for iOS if you own an iPhone, iPad, or iPod Touch. We provide full instructions on how to download IPA files or install free movie applications without a computer.
There are a few iOS free movie apps worth mention for 2020 that you can install on your iPhone. MediaBox HD, Popcorn Time iOS, MovieBox Pro, and ToonsNow are the best applications to watch movies from your mobile device screen. Access the newest movies and TV Shows for free.
Depending on your preferences you can choose an app that works as torrent aggregator allowing you to watch movies directly from the BitTorrent network or if you prefer you can stream movies directly from servers. All apps offer an option to download movies and load subtitles.
Be aware that all movie apps can be installed on your iPhone from an IPA file or using a direct web link that doesn't require to use a computer. Click to apps description links to find all instructions on how to download the movie apps for free on iOS 9 - iOS 13.
---
Although apps like Popcorn Time iOS, MediaBox HD, MovieBox Pro, and ToonsNow are available for free download, using the video platforms to watch movies and TV Shows is illegal. Legal sources include apps like Netflix, Amazon Prime Video, HBO Now, Hulu, Apple TV, or Sony Crackle.
---
What are the best movie apps for iOS?
1. MediaBox HD movie app
MediaBox HD is a free great movie app for iPhone packed with a lot of unique features allowing to play movies on mobile device or TV. The app supports DLNA receivers and AirPlay offered by Apple TV. All titles come with trailers, download and play options, and VIP users have access to soundtracks.
From MediaBox HD Setting you can activate Kids Mode, select default player (Auto, or built-in AVPLayer or VLC Player), activate auto-play next episode, select font type, style, color, size, and subtitles language. The app supports OpenSubtitle, Popcorn-Time, Subscene, and MediaBox-HD.
Media Box is packed with light and dark theme with an option to manually select the color value. Moreover, you can also integrate the movie database with popular services including Trakt, Real-Debrid, and Premiumize.me. The free version displays advertising through the app.
Official website: https://mediaboxhd.net
2. MovieBox movie app
MovieBox is the successor of Showbox that offers a lot of great features including an option to read news related to the movie industry, watch upcoming movie trailers, add TV Shows and movies to favorites, play movies and TV shows, and follow new releases of movies on iPhone.
Moviebox Pro VIP offers the same features that the free version and adds support for HD (720p), FHD (1080p), 360 videos, higher streaming speeds, no ads, and last but not least native TV versions of the app for Apple TV and Android TV. Also, download videos directly to the device and select subtitles.
Access more than 10.000 movies and TV shows from the platform. The original Moviebox iOS app was discontinued and it's not available for download anymore. The successor, Pro version, offers similar features but it comes also with paid VIP membership offering HD quality streams.
Official website: https://www.movieboxpro.app
3. Popcorn Time iOS movie app
Popcorn Time iOS is one of the best free movie apps for iPhone allowing you to stream and watch movies, and the latest episodes of popular TV series from your mobile screen. The player aggregates links to torrent files with video. Access movies and TV series bookmarks from the main page.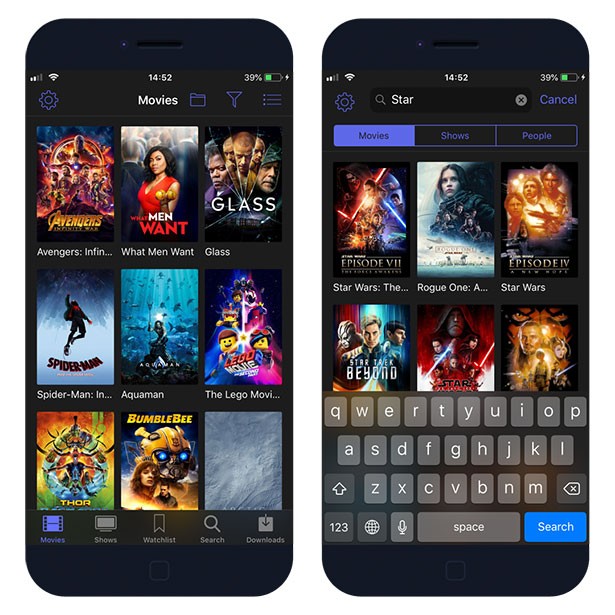 PopcornTime's built-in video player offers an option to auto-select the quality of the video from 720p to 1080p. There is also an option to provide manually a magnet link to BitTorrent movie. If you own an AppleTV you will be happy to know that the app supports streaming to AirPlay and Bluetooth devices.
The movie app can also automatically download subtitles from OpenSubtitles platform. From Settings, you can select the language, font size, type, color, style, and encoding format. Moreover, connect with Trakt account to keep track of TV shows and movies you watch.
Official website: https://kubadownload.com/news/popcorn-time-ios
4. ToonsNow movie app
ToonsNow is a free Showbox app alternative with a catalog of cartoons, anime movies and TV series featuring a total of over 13500+ videos and raising. This is a perfect app to watch movies on iPhone with support for playing MP4 or MOV files, as well as VLC player for MKV, AVI file formats for AirPlay.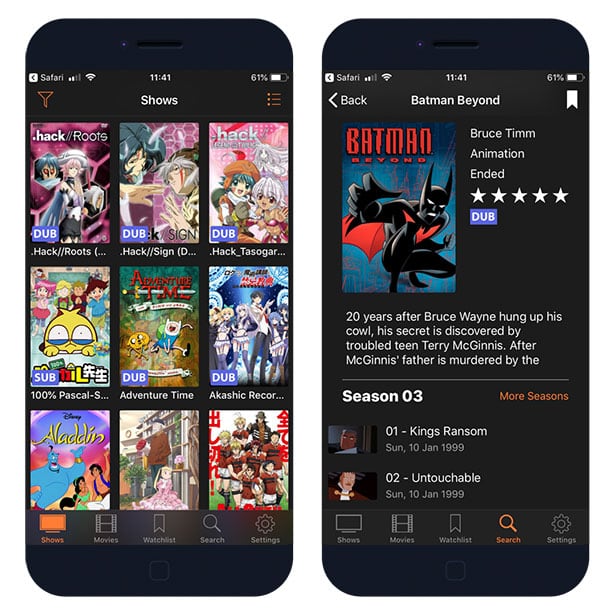 Moreover, ToonsNow offers CDN Support and direct links playback for premium member-only. Paid version works on multiple devices up to 3 devices per membership, and you can request favorite Cartoons, Anime or Animated Movies and it will be added to the Database with priority.
ToonsNow App is compatible with iOS 10, iOS 11, 12 and the newest version iOS 13. There is no need to Jailbreak your iPhone to install the app on the iOS system. The software is available for free and works stable on iPhone, iPad, or iPod Touch.
Official website: https://toonsnow.io
5. ZiniTevi app
ZiniTevi is a great movie app offering access to your favorited videos and TV shows on iOS for free. The app offers full support for AirPlay allowing you to cast videos directly to any device connected to Apple TV. You can also cast videos to DLNA devices, or Google Chromecast.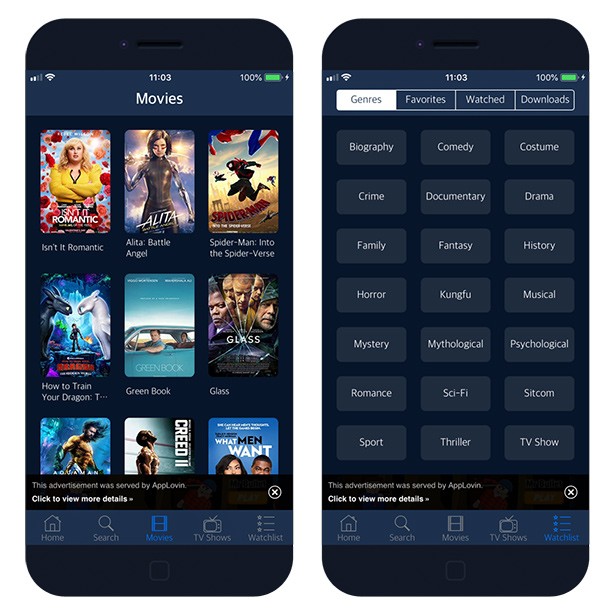 ZiniTevi database offers access to thousands of movies and TV-Shows in 720p and 1080p quality with cast support. Navigate through all the latest releases of movies available in theaters for free. The app supports iOS 8, iOS 9, iOS 10, iOS 11, iOS 12 and the newest version iOS 13.
The movie app for iPhone displays ads before playing any video. Every video comes with short description including cover, release date, length, quality, director and stars, and also some related materials that you can also like. Moreover, ZiniTevi app is also available for Android devices.
Official website: http://zinitevi.hostkda.com
6. iPlayTV app
iPlayTV is a free platform where users can watch live TV on an iPhone screen. Installing it on the iOS device you will have access to almost 60 Live TV channels (with movies) available in the USA at your fingertips. The app can be installed on any iOS device without Jailbreak or providing Apple ID.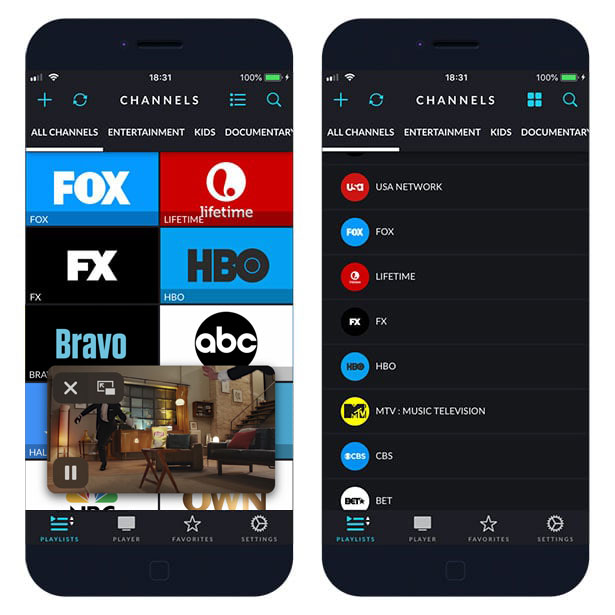 Add iPlayTV channels to favorites, search for channels, navigate through categories like entertainment, kids, Latino, sports, live events, documentary and more. iPlayTV will support in next version also Apple TV so you can stream the channel to your TV connected to Apple TV.
From Player Settings activate background playback to play audio when the app goes into background or play media when using cellular data. The app can run in full-screen mode and also in picture mode allowing you to navigate in the app during video playback.
Official website: https://kubadownload.com/news/iplaytv-free-download
7. Channels movie app
Channels App allows you to watch live sports events for free on an iPhone. Stream UEFA Champions League, NFL, UFC, Premier League, NBA games and more. Access sports channels including Sky Sport, BT Sport, PAC 12, and Lifestyle channels like BBC News, FOX 5, ABC, and Sky News.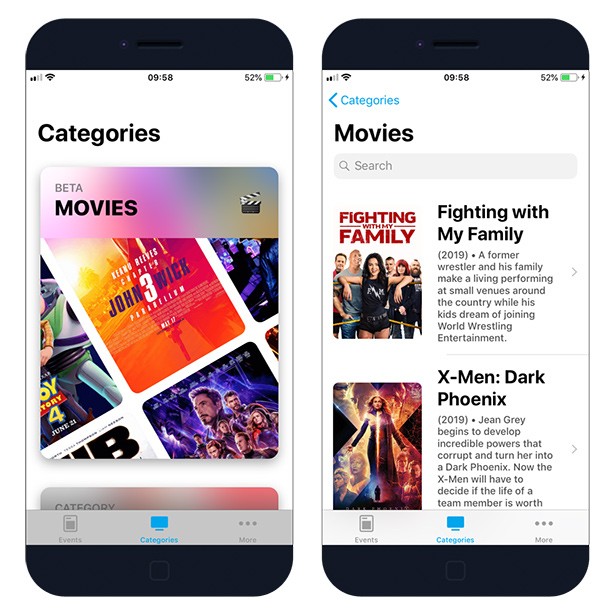 Channels App was originally developed to stream all popular sport events on your iPhone screen. The application can also cast the video to AppleTV allowing you to watch the game on the big TV screen. Moreover, you can also watch the newest releases of movies in HD quality for free.
Official website: http://www.channelsapp.nl
8. Box Loca movie app
Box Loca is a free app available via the official AppStore to stream the newest movies and latest TV Shows for free. The movie app requires iOS 9.0 or later and it is compatible with iPhone, iPad, and iPod touch. Box Loca was published in AppStore as a movie tracking app but it has a different purpose.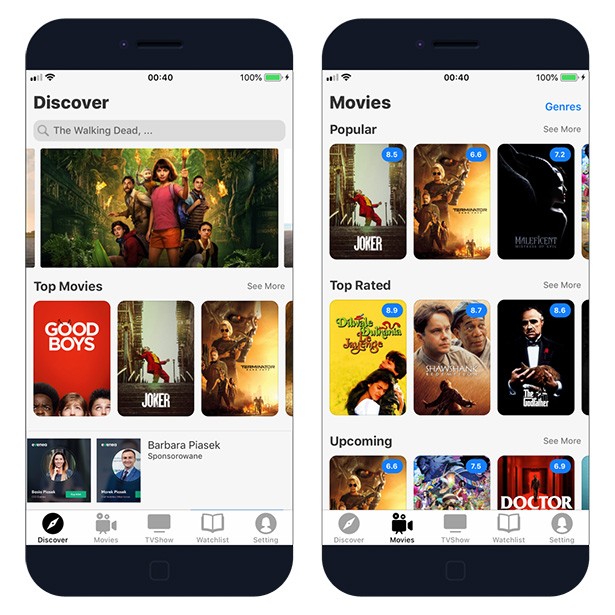 Additionally, using this Box Loca app you can discover top Movies and detail about them, catch up with the latest news, watch movie trailers, or save Movies or Shows to favorites for quick access. There is no option to download videos for offline viewing. Only streaming feature is available.
After you will click on the movie poster a list of all available streaming files will be displayed. Select film to watch by file size, or video quality. The platform aggregates videos in 360p, 480p, 720, 1080p resolution. The quality of video in full HD is amazing. Ther is no option to download video files.
Official website: https://apps.apple.com/us/app/box-loca/id1466961267
9. Tubi movie app
Tubi is another application available in the official AppStore to watch thousands of hit movies and TV series for free. Access the largest free streaming service featuring award-winning movies and TV series from studios like Paramount, Lionsgate, MGM, and more. This is a legal video platform.
This is the biggest TV streaming service available only in the US. You can use some proxy services to access the platform in Europe. All videos in Tubi have commercials, so you can watch everything for free legally and don't have to spend a single dollar. Every week new videos are added.
Main features of the app include support for cast to your TV with Chromecast and Airplay, sync your account between online devices, including Apple TV, Roku, Xbox, and Amazon, browse unique categories, including our "Not on Netflix" section, pick up watching where you left off, and more.
Official website: https://apps.apple.com/us/app/tubi-watch-movies-tv-shows/id886445756
---
10. CotoMovies movie app (discontinued)
CotoMovies is a continuation of Bobby Movie, a free mobile streaming app for iOS 12 - 11. Use the app to download or stream video directly to your iPhone or TV. Moreover, the iOS app offers support for Chromecast, Airplay, Smart TV, Android TV Box, Web Browser, and Game Consoles.
Turn any iPhone into a small portable streaming movie device. Stream content from the app to Digital TV or TVs with HDMI Ports, AirPlay lets you stream video or mirror app screen from iOS devices to Apple TV, and Smart TV with Web Browser, or create web streaming server.
Additionally, download subtitles for movies and TV Shows. It offers support for over 255 subtitles languages, and form settings you can set the font size, subtitle delay, font color, select local subtitles, download subtitles online, or copy and paste subtitle from a file.
11. Showbox movie app (discontinued)
Showbox app was a free application allowing users to watch movies directly from an iPhone or computer. The app was available for iOS devices and it could run without jailbreak, Android system, and Desktop computers. Showbox app was rebranded into MovieBox that is still online.
The streaming platform offered access to thousands of movies and TV-Shows. There was an option to stream videos directly on the device or if preferred the users could download the file for offline viewing. Moreover, Showbox supported the option to download and display subtitles.
Showbox app offered a catalog of popular and trending videos with a feature to search for selected TV-Show or movie, add favorites videos to bookmarks, read movie descriptions, select quality of the video to watch, access trailers, and more. The app supported iOS 7, iOS 8, iOS 9, iOS 10, and iOS 11.
---
12. Netflix movie app
Netflix app offers access to all movies and TV Shows for free when activating for the first time the 30 day trial version. Stream movies on your iPhone mobile screen or download titles and watch offline. The newest version of Netflix works with iOS 12 or later. Compatible with iPhone, iPad, and iPod touch.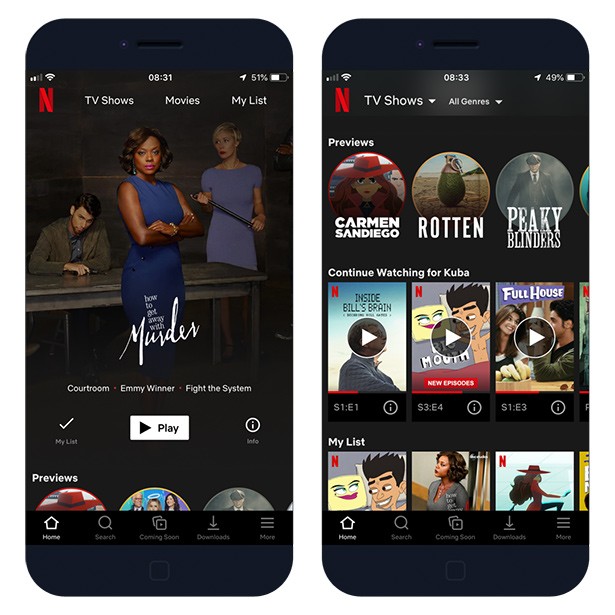 You can create up to 5 profiles for an account allowing you to give different members of your household their own personalized Netflix. The more you watch, the better Netflix gets at recommending TV shows and movies you'll love. The price starts at $8.99 - $15.99.
Netflix app is a legal source for your favorite TV shows and movies. Create your favorite list, follow new titles and search for episodes, change the streaming quality, or activate subtitles in video. Download Netflix app on older iPhone devices running iOS 11 and lower.
Official website: https://www.netflix.com
13. Apple TV+ movie app
Apple TV app offers access to thousands of movies to buy or rent. This is a main platform for Apple TV+ featuring original stories from the most creative minds in TV and film. Subscribe to just the channels you watch like HBO, Showtime, Starz, and CBS from one platform.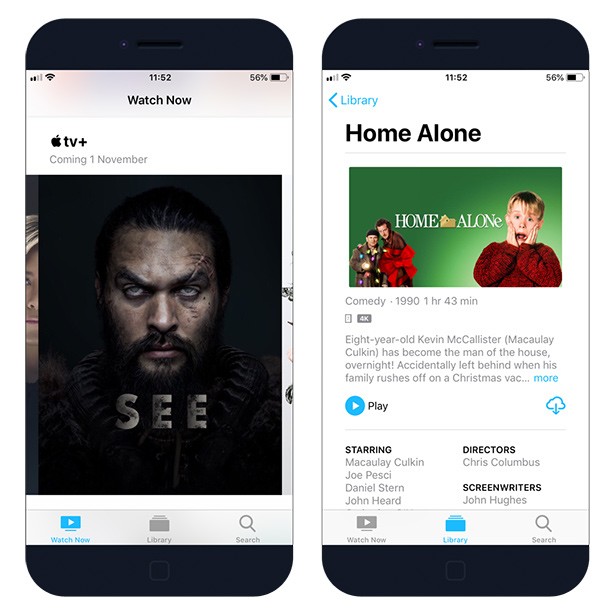 Moreover, Apple TV app offers access to all your favorite shows from streaming services including Amazon Prime Video, Hulu, ESPN+, ABC, NBC, and more. There is also an option to watch prime-time TV shows, live sports, and news from leading cable providers right in the Apple TV app.
The app works with iPhone, iPad, Mac, or Apple TV, and it will be also released on select Samsung smart TVs. And in the future, we'll be available on even more smart TVs, streaming boxes, and streaming sticks. Free trial will be available on 1 November, and then $4.99/month.
Official website: https://www.apple.com/tv/
14. HBO Go video app
HBO Go is a free subscription-based platform to watch the latest HBO movies, documentaries, sports and more on your iPhone screen. Use multiple devices to stream video from anywhere (iPhone, TV, iPad, and Laptop) and access live episodes when they air on TV.
The only difference between HBO Go and HBO Now is that the GO platform additionally includes TV Package with your HBO subscription from your cable provider. HBO Go requires iOS 10.3 or later and is compatible with iPhone, iPad, iPod Touch. 30-day trial version is available.
What you can find on this platform. All seasons of TV Series like Games of Thrones, Westworld, Big Little Lies, Veep, Girls, latest Hollywood movies, and new documentaries. HBO Now starts from $14.99 per month and can be installed on 3 devices.
Official website: https://hbogo.com/order/
15. Hulu movie app:
Hulu app is available as a 1-month free trial iPhone video streaming platform with access to the Hulu streaming library with limited or no ads. Enjoy full seasons of exclusive series, hit movies, Hulu Originals, and more. Requires iOS 11.0 or later. Compatible with iPhone, iPad, and iPod touch. Apple TV.
Hulu + LIVE TV offers additionally to 60+ top Live and On Demand TV channels including sports, news, and entertainment. Moreover, record Live TV with 50 hours of Cloud DVR storage, and watch Live TV online and on supported devices. The app is available in official AppStore.
You can find here top TC Series including those removed from Netflix like Modern Family, American Dad, Family Guy, and more. Add premium networks like HBO, SHOWTIME, CINEMAX, and STARZ for an additional monthly subscription fee. Works only in the USA.
Official website: https://www.hulu.com
16. Amazon Prime Video
Prime Video is a video service provided by Amazon with access to exclusive Amazon Originals as well as popular movies and TV shows. Download the application on your mobile device, Smart TV, or watch movies from Desktop. 30-day free trial version is included for new members.
The service price starts from $2.99 per month for your first six months with an option to cancel anytime. Membership renews for $ 5.99/month after six months for new customers. There is also an option to rent or bur selected Prime Videos available in the database.
You can find here top Amazon Originals movie and Tv Shows productions including undone, Carnival Row, Tom Clancy's Jack Ryan, The Grand Tour, Hanna, Bosch, Good Omens, The Tick, Homecoming, and much more.
Official website: https://www.primevideo.com
You might also like