We all know that finding words, their meanings, and learning how to pronounce it properly is not easy. But this is where a dictionary comes into play. However, carrying a physical dictionary is not feasible so downloading an app is the best way to go about it. And the best thing is that these apps also include a thesaurus so you can get synonyms for the words too. Here is a list of the best Dictionary apps that you can download and use on your iOS and iPadOS devices.
Merriam-Webster
If you are planning to download just one dictionary app, then get the Merriam-Webster Dictionary. It is one of the most popular and respected dictionary apps that you will find and is followed by everyone around the world. Most importantly, you get a lot of extra features in this app such as: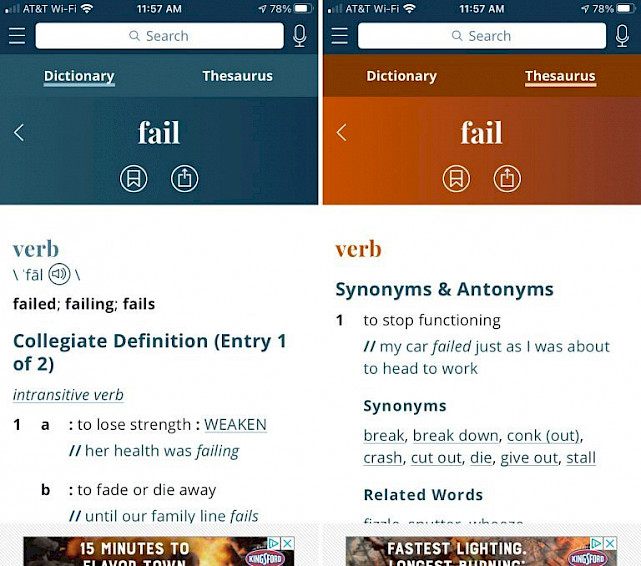 Voice Search – If you don't know how to spell a word, then you can choose this option.
Audio Pronunciation – This is for those users who don't know how to correctly pronounce a word.
Word of the Day – This is an in-app feature that gives you a chance to learn the meaning of a new word every day. And you can set this as a home screen widget as well.
Built-in Thesaurus – This app gives you both antonyms and synonyms of a word.
Favorite Words and Search History – If you are looking for a word that you like then you can always save it in your favorite words. You also have the option to check your Search History to find the words that you looked up earlier.
Merriam-Webster app also has Apple Watch support so you can do a voice search to find your words. This is a free app that comes with a pro version for users who want to remove the ads when they are searching for content.
Dictionary.com
Dictionary.com is another perfect dictionary app that can be used both on iPhone and Apple Watch. The app also has an integrated Thesaurus so you can easily find definitions and synonyms for a word. Although the app has several same features as Merriam-Webster, it has some extras too that will come in handy to you.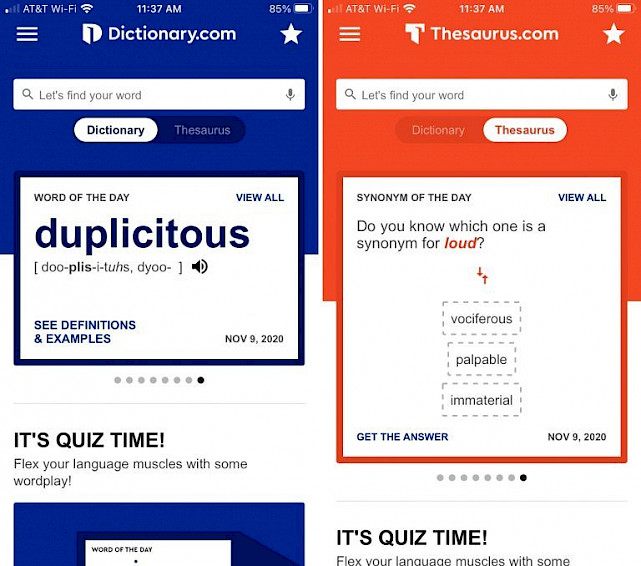 Here are a few features of this app:
Voice Search – Similar to Merriam-Webster, you can search for words whose spelling you don't know.
Audio Pronunciation – You can also learn the correct pronunciation of the words.
Grammar – If you need tips on how to use the correct grammar, then you have a feature on that as well.
Word Puzzles – With these games and puzzles, you can easily improve your vocabulary too.
Word of the Day – Learn a new word every day to increase your vocabulary.
This is also a free app available on Android, iPhone, iPad, Apple Watch, and the web. But if you wish to get rid of apps, then you need to get the pro version of this app.
Look Up
Another good app for iPhone and iPad users is the Look Up app which can be used to find the meaning of a word along with its synonyms. The best thing about this app is that when you are reading a document on your iOS or iPadOS device, you can highlight a word to check its meaning directly.
This is also a free app and is great for looking up words in other applications on your device.
You might also like