Is your handset full of apps and it has become almost impossible for you to keep a track of it and use it? And while folders can help you organize the clutter that you have made on your handset, it is not completely full proof. There is still room for customization to make the entire process more smooth and streamlined for the user.
FolderArtwork is a newly released jailbreak tweak that was developed by iOS developer Dcsyhi that gives you a lot of customization options for the Home Screen folders. From custom borders and colors to user-selected background artwork, there is a lot that can be done to make the handset's folder backgrounds super organized. Although FolderArtwork comes with several customization options to keep the jailbreakers happy, it doesn't offer so many customization options for the folders that the entire task will start feeling a little intimidating.
There are so many ways in which FolderArtwork can be used by the users for their own advantage. Once you install FolderArtwork, a dedicated preference pane is added in the Settings app which can be used by the users for the configuration of the tweak. In the Settings, you can perform the following tasks:
Turn on or off FolderArtwork whenever you want
Select a border width between 0 and 3 pixels
Select a border color
Select an image or a solid color for the background of the folder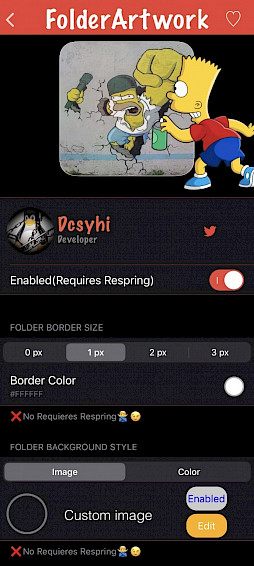 There is a respring button also available that you don't need to use unless you are turning on or off the FolderArtwork and need to save the changes. When you are using a custom image as the folder background, you will be directed to the handset's Photo Library to choose the image. If you choose a color as the folder background instead of an image, then you won't be taken to the Photo Library anymore.
Are you interested in trying out FolderArtwork for yourself? If yes, then download this tweak free of cost from the Twickd repository using your favorite package manager. Currently, FolderArtwork is supported on jailbroken iOS 13 and 14 devices.
Would you be using this tweak to improve your iPhone or iPad's folders? Do let us know in the comments if you plan to do so and if not.
You might also like