First the iPhone and now the MacBook, it seems right now that the whole world is wanting a Foldable display on these devices.
And, they aren't wrong to wish for it.
Foldable displays are "the thing" of tomorrow, the next step towards innovation. But, that being said, accomplishing a perfectly working foldable on a big device like Macbook is not as easy as we might think.
But, what if it becomes a reality in the years to come?
Well, in that case, this is how it might all work out…
The News:
In the last week, Display Supply Chain Consultants (DSCC) analyst Ross Young claimed that Apple is looking into the possibility of making notebooks with foldable displays. Apple is believed to be in talks about such models, with displays that are around 20 inches in size, with partners. Young added that the display size may permit 4K resolutions or greater.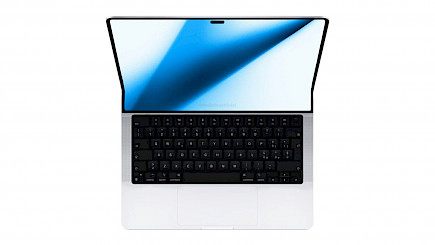 Young has shared a wide array of reliable information about Apple's plans, like ProMotion, the iPhone 13 Pro's ProMotion display, the bezels and display sizes of the sixth-gen iPad mini, the 16- and 14-inch MacBook Pro's mini-LED display that comes with ProMotion, and many more.
His reports are worthy of consideration. The foldable notebook is likely to be the basis of an entirely new category of products for Apple. Although little is known about the new aspect at this point, there seem to be three choices to consider in the way Apple might envision the gadget.
All-Screen MacBook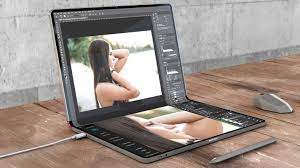 One of the best options for the foldable Apple notebook could be an entirely-screen MacBook featuring an LCD that covers all the interior space. Young suggested that this design could produce an item that can be used in two ways, stating that it might be able to function as a notebook that has a full-size keyboard on screen when folded as well as a display when it is unfolded and paired with the keyboard of an external device.
There are many pitfalls to this model, such as Apple's well-known reticence in offering a touchscreen-equipped Mac, as well as the company's top executives frequently publicly dismissing the idea of providing such a device.
For instance, the former Apple chief of design, Sir Jony Ive, has claimed it is unlikely that the touch-screen Mac could "not be a particularly effective or appropriate use for Multi-Touch."
Instead of touch, macOS is extensively geared for indirect trackpad or mouse input. In the year 2020, Apple chief of engineering Craig Federighi said that Apple developed and refined the design of macOS to ensure that it was comfortable and natural across the various devices.
Something like touch isn't even considered. But, of course, that's not even mentioning the potential ergonomic issues that could arise from the trackpad and keyboard being touch-screens. This is why the all-touchscreen MacBook is very much in line with the company's philosophy in recent years.
A Foldable Display With A Physical Keyboard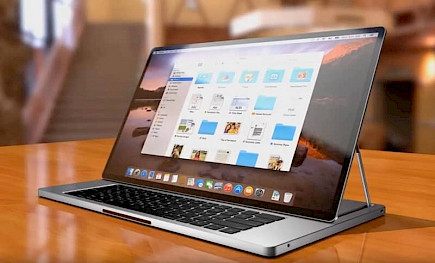 A more left-field-oriented form factor might be the MacBook, with a vertically extended display that folds down at the hinge and connects to the keyboard of the device. This could give users the advantages of a bigger display, with space for other content that is on-screen but still maintains the benefits of the trackpad and keyboard, which are physically accessible.
The design may also provide an opportunity to bring back that Touch Bar without sacrificing physical function keys. In another interview, Federighi elaborated on his belief that the MacBook Pro form factor with the Touch Bar avoids the ergonomic issues caused by laptops with touch screens.
Federighi said. "We believe how ergonomics are a result of working on the Mac includes that your hands rest on a flat surface. And raising your arms to poke at a screen can be a very exhausting task to perform."
Whatever happens, regardless of whether the Touch Bar is indeed revived, expanding the MacBook's display in this manner will be in keeping with Apple's ergonomic guidelines of not lifting your arms to reach for the screen.
And also provide a new place for input via touch.
In this scenario, the 20-inch size of the display is more likely to possibly offer a more spacious MacBook Pro to sit above the 16-inch model within the line-up, similar to the larger 17-inch MacBook Pro that the company provided between 2006 and 2011.
Based on the Same Technology, Foldable iPad Pro Also Making Entry?
Although Young stated that the device is a "foldable notebook," there is the possibility that, if the device is an all-screen device, there could be an ability to fold the iPad Pro. In the end, an all-screen notebook that runs macOS will likely eat away at the iPad Pro's performance. So the iPad Pro running iPadOS might make more sense.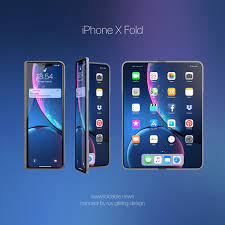 "We created the best touch-screen computer for the iPad. It's completely optimized for that. Furthermore, the Mac is completely designed for input via indirect channels. We've not seen an excuse to change this, "says the executive vice president.
There have been some nebulous reports of Apple developing the possibility of folding an iPad Pro in the past, so this idea is not unknown.
It's also interesting that this model may be in line with reports of a bigger iPad Pro. In the summer of 2011, Bloomberg's Mark Gurman suggested that Apple was working on larger iPad models that would "blur the two" between laptop and tablet.
We're informed that Apple has designers and engineers looking at larger iPads that might be available a few years later at the very earliest. However, they're not likely to be released until next year.
Apple's focus is on a new iPad Pro in the current sizes in 2022. Of course, it's also possible that they'll never arrive in any way. But a bigger iPad is the perfect device for lots of people, including us. And it will continue to blur the distinction between laptop and tablet, "said Bloomberg.
At a minimum, at least two Apple vendors, BOE and LG Display, are in the process of preparing to provide Apple with OLED displays in larger sizes to be used in future iPad versions.
A larger screen could allow more of the iPad to be in line with the Mac than it has ever been before. However, there will likely be improvements in software to make the most of the bigger display.
As they say, feedback can do wonders in the tech world!
Apple's iPad Pro was last updated in April 2021. However, many people have complained about how iPadOS isn't taking all the advantages that the iPad Pro has to offer. Which makes it harder to replace the Mac than it might be.
Gurman suggested that Apple will eventually have to let Mac apps run and provide a Mac-like multitasking experience, as well as more flexibility in the arrangement of application windows for the iPad Pro. In the future, when even bigger iPads hit the market, it is expected that the next versions of iPadOS will enhance the user experience to make the most of the capabilities of Apple's iPad.
Expected Release Date
Young revealed that the release timeline for Apple's notebook foldable laptop will be "likely more" than in 2025. 2026 or 2027 are mentioned as possible options. However, there's still a chance Apple will end the project before that.
Meanwhile, Young claims that Apple's long-rumored foldable iPhone will not be released until 2025, a substantial delay from prior forecasts of a 2023 or 2024 release date.
Winding-up
Foldable Screens on laptops are not something brand new. Asus has done with their ZENBOOK series laptop.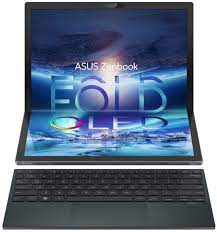 But, by a simple look at the device, you will be able to understand that there are some major design flaws in that tech.
As of now, there have been no rumors about a foldable MacBook but, the day something like that comes up we will be there to notify you about it.
Thank you for your time. We will you liked what you read. We will be back soon with more interesting news and rumors. But, until then. Stay tuned and have a Good Day!
You might also like