Have you ever used the iPhone's rear-facing LED flash as an actual flashlight in the dark environment to help you find your way? Well, then you might be surprised to know that you are not alone.
Most iPhone users tend to use the LED flash as the flashlight and Apple has even made it easier to access for the users by providing a shortcut for the flashlight on the Lock Screen. As a result, it provides good haptic feedback when you turn it on or off. But the only drawback of using this LED flash as flashlight is that there is no cool sound to accompany the toggling of the flash.
Well, don't be disheartened because we bring to you an amazing jailbreak tweak that was released recently for this purpose. FlashSound by iOS developer NaneraManu allows the user to customize the flashlight toggle sound effect so that it sounds good to them.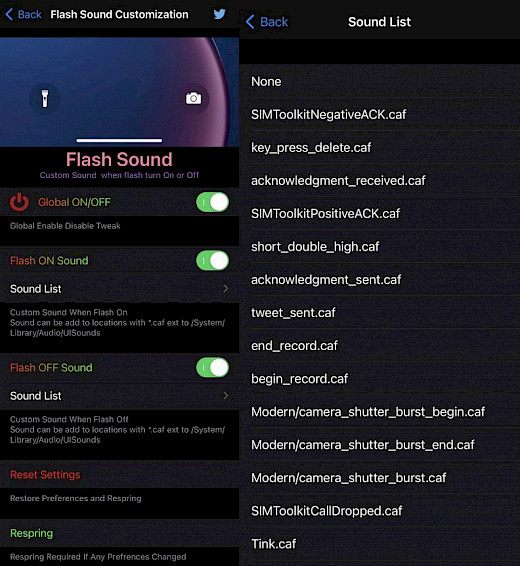 Once you install FlashSound on your device, it adds a preference pane in the Settings app where you can easily configure the tweak to your liking. Here, you get several configuration options such as:
Turn on or off FlashSound whenever you want
Allow and select a flashlight sound effect when you turn it on
Allow and select a flashlight sound effect when you turn it off
Reset to the default settings of the device
Respring the device to save the changes made by you
One thing that we really like about FlashSound is that it offers a wide range of sounds for the flashlight sound effects so, you are going to have a lot of options available to choose from. In fact, the list is so long that we cannot list down all the sound effects here to give you an idea about what you can expect. Although most of these sound effects are system sounds, we cannot complain because iOS and iPadOS offer a wide range of options for the users to select from.
If you wish to give FlashSound a try, then you can get this jailbreak tweak downloaded from the Packix repository via your favorite package manager for free of cost. This tweak is currently supported on jailbroken iOS and iPadOS 14 devices.
Would you like your iPhone flashlight to be accompanied by a sound too or are you happy with the current settings? Don't forget to let us know your thoughts in the comments below!
You might also like