Let's face it, if we are able to view the entire history for the apps and games that we previously downloaded, it will be quite helpful to most users. This way, you will be able to determine the apps and games that you removed sometime back and wish to re-install now. And the best part is that redownloading these apps is quite easy on Mac and iOS devices.
Apart from knowing about which apps you have removed, you are also able to check the price that you paid for the app earlier. A lot of times the app prices change so the purchase history is a great way to find how much you initially paid for it and the difference from the current pricing for the same app.
Well, whatever your reason might be, you have the option to view the purchase history of your apps and games to check what price you paid on your iPad, iPhone, and Mac devices. You can easily go back several years to find this information too. Check out below to learn how to find your billing history on the iOS and Mac devices.
Billing History on iOS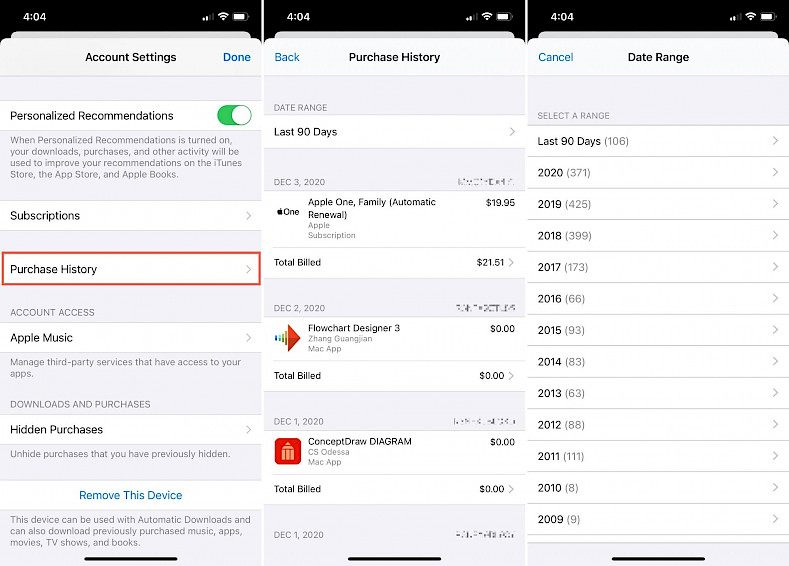 If you wish to check the billing history of the apps and games along with their prices on your iPhone or iPad, then head to Settings. Here, select your apple ID and click on the Media and Purchases to see your details.
Open the Settings option and then click on your Apple ID.
Choose on the Media and Purchases option and then click on View Account.
You will be prompted to enter your password following which you need to click on Purchases option.
Here, you will see the billing history for your Apple ID for the last 90 days. You can check it or you can change the date range to select a different timeframe. Once you click on the date range option, you will see the purchase history for a year with the number of apps that you bought that year. Click on your desired date to check the billing history.
Purchase History on Mac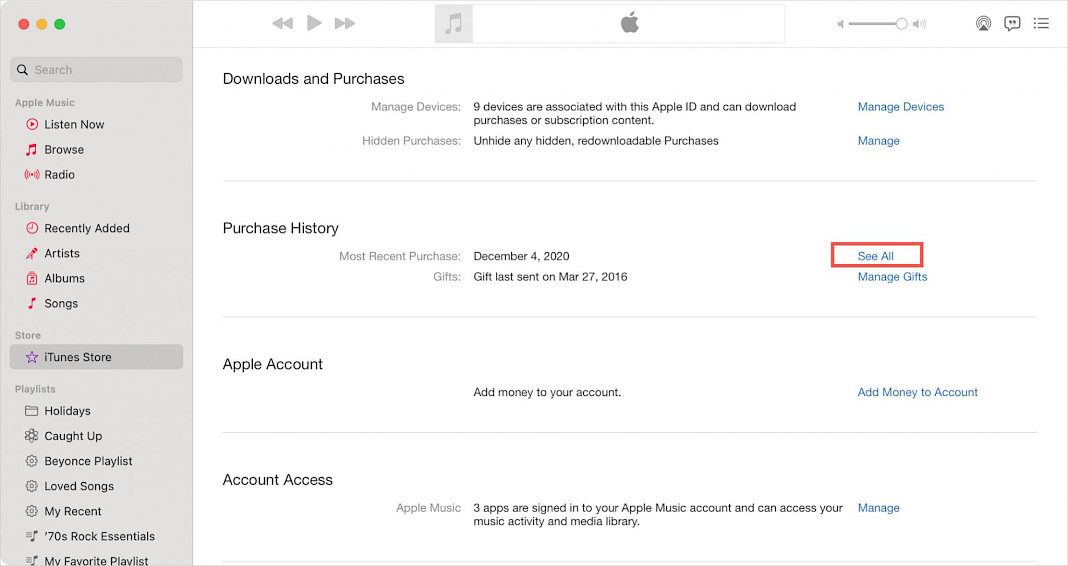 If you are using a Mac or any PC with iTunes, then you can easily check your purchase history here too. All you need to do is open the music app and then follow the below steps:
Open Music and then go to Account – View My Account option from the menu.
Scroll to the Purchase History section and click on the See All link.
You will now see your purchase history for the past 90 days and you can use the drop-down year and month box to choose the desired year and month for the purchases made.
Summary
Have you previously paid for an app bundle that is currently available for free? Or you installed a free app earlier that is charging hefty fee now? You can find all kinds of interesting information in your purchase history.
And if you don't see what you were looking for, don't worry. Make sure that you check whether the app was purchased by a family member with a different Apple ID too.
You might also like