Enlighten tweak is an amazing jailbreak addon that improves low Light Mode for iOS camera. The tweak is based on OpenCV and will automatically enhance image, increase the brightness without overexpose, and reduce the image noise. Add Enlighten Repository to Cydia and but the tweak for $1.99 via Packix.
iPhone's low-light photography performance is not always as good as would you except. To improve your iPhone photography in low-light you can install an excellent tweak called Enlighten. It allows you to use the default Camera app to take better quality photos in low light conditions. Works on iOS 13.0 - 13.7.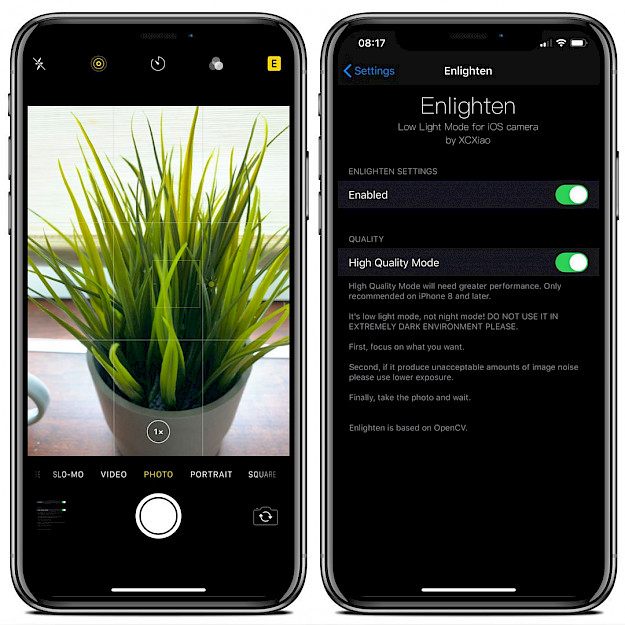 After installing the tweak, a new dedicated preference pane is added to the Settings app where you can activate the tweak. Using Enlighten is easy. The tweak adds a special toggle button to the Camera app interface, designated by an "E.". Toggle the feature to activate better low light performance in most scenarios.
To use the tweak focus on an object in the Camera app. If it produce unacceptable amounts of image noise please use lower exposure. Finally, take the photo. Enlighten supports also iPhone 11 and iPhone SE 2020.
Enlighten can also produce high quality photo if you toggle the option on. High Quality Mode will need greater performance. To use this feature its recommended to use iPhone 8 and later. Be aware, that it's low light mode, not night mode tweak.

Purchase the Enlighten tweak for $1.99 via the Packix repository using your favorite package manager. The tweak only supports jailbroken devices running on iOS 13. This tweak is still in beta and the dev can provide for you a trial version.
Add Repository to Cydia
You are just a few steps from installing the tweak from Cydia Sources. Add Enlighten Repository to your list of Cydia Sources.
Step 1. Open the Cydia app on your device.
Step 2. Tap Sources → Edit → Add the official repo Enlighten Repo for Cydia.
Step 3. Switch to Search Tab and enter Enlighten.
Step 4. Tap the Install button.
Step 5. The tweak can be configured from Settings → Enlighten.
You might also like