One of the best things that can be done with a jailbroken iPad or iPhone is that it customizes the native user interface, something that Apple doesn't really allow you to do. They don't pay attention to the user's requirements and tend to do what they think is best but that is not even the point.
What we are trying to share with you in this post is that there is a new jailbreak tweak named Enchant that was released by iOS developer P2KDev. With this tweak, you can easily modify how the incoming notifications look like on your pwned hanset. You can easily achieve a wide range of aesthetics with this tweak including stock and polarizing different, so you can easily find an option that suits your needs.
Here are a few highlights of this tweak:
An aesthetically pleasing redesigned banner notification
Reducing the content size in the notification so that you can get more notifications in a confined space
Displaying properly a notification's app icon or a content thumbnail when required
Modifying the notification banner's transparency
Managing the corner radius of the notification banner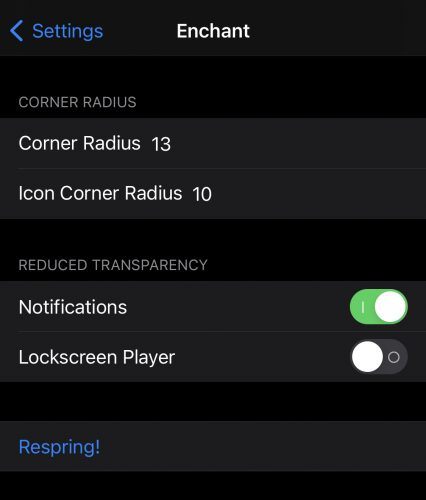 Once you install Enchant, a dedicated preference pane is added in the Settings app which can be used to configure the tweak settings to suit your needs. Here, you can perform the following functions:
Input the preferred corner radius amount for your notification banner
Input the corner radius amount for the app icon
Turn on or off the reduced transparency feature for notification banners
Turn on or off the reduced transparency feature for Lock Screen's Now Playing widget
Respring the device to save the changes made
One of the best things about Enchant is that it will make your iPhone's notification banner look amazingly modern and sleek than what they would usually look like on a stock iOS interface. Moreover, the configuration options allow the user to personalize the feel of this tweak with the help of the custom settings and as per the developer, the tweak will be getting a lot more options in the future.
If you are interested in trying out Enchant, then you can purchase it for $1.99 from the Packix repository using favorite package manager. This tweak currently supports jailbroken iOS 13 and 14 devices.
Are you going to use Enchant to improve the notification experience on your handset? Let us know your thoughts in the comment below!
You might also like