It is no secret that iPhone's Status Bar is your one-point source for all useful information and seems to cover all the basic details. However, if Apple wanted, they could have offered a much more immersive Status Bar that focuses on the user experience. After all, if you consider how much an iPhone costs these days, this is the minimum that they could provide to their users right?
But it seems highly unlikely that Apple will be changing the iPhone's Status Bar aesthetics any time in the future. However, if you have a jailbroken handset, then you don't need to be stuck with iPhone's Status Bar experience anymore. There is a newly released jailbreak tweak named Emerald that was developed by iOS developers the time loop and LaughingQuoll that can solve your problem.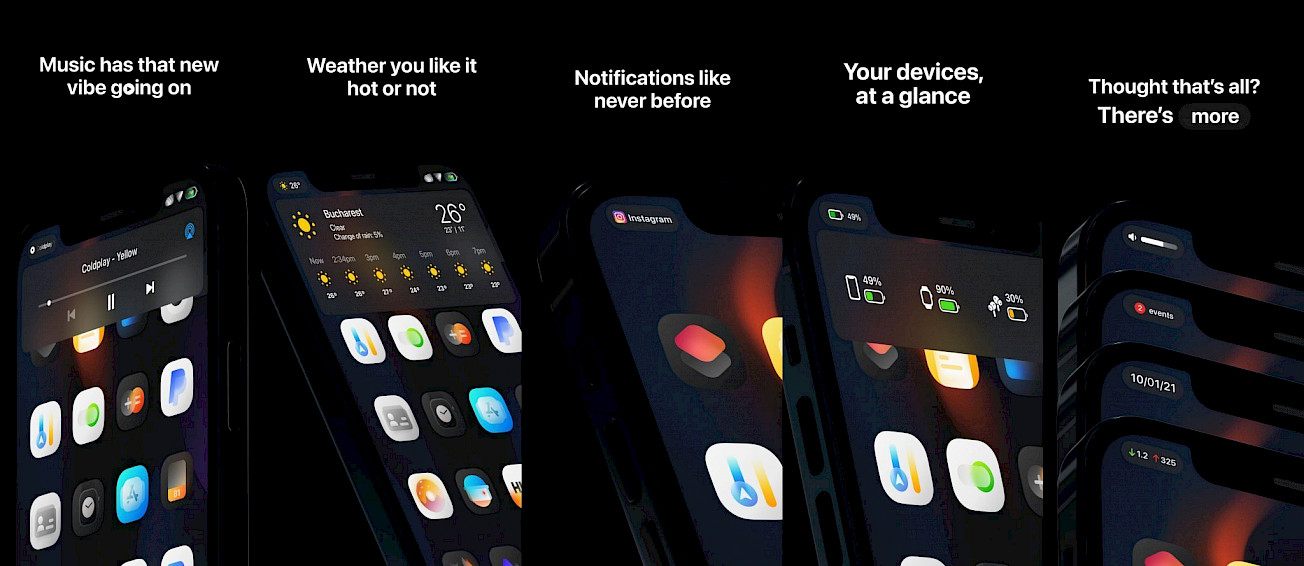 So, what does Emerald do? Basically, Emerald improves the native Status Bar experience on your iOS handset by including intuitive widgets that you can easily access. You can incorporate the widget for Now Playing interface, notifications, Weather information, device battery level, and so much more. All these widgets are hidden inside a Pill-styled button that is around the area where usually the time indicator can be found on the Status Bar. You can tap on a Pill and hold it for a second so that you can choose your desired widget to look at it closely.
Widgets can include date, time, volume, Bluetooth devices, media, battery levels, device, current condition, calendar, temperature, reminders, notification, and network upload & download speeds. When you interact with Pills, you will find Platters which are essentially full-fledged widgets that will display detailed information about different aspects of your devices. This includes:
Calendar – Get an overview of the upcoming events for you.
Temperature – Take a glance at the current and future weather forecast
Reminders – Checking and managing the reminders
Media – Control the Now Playing media easily
Battery - View the battery information of all the connected devices
Emerald interface is extremely easy to use and it is quite easy to switch between the widgets too. To switch the widgets, you simply need to tap and hold on the Pill. Once you have installed Emerald, you will find a preference pane added to the Settings app that you can configure to suit your requirements. From here, you can do:

Turn on/off Emerald
Enable or disable the tweak on the Lock Screen
Configure application blacklist
Select an action between time or edit for when you swipe left
Select the Emerald pill position between left and right
Configure the Pill X and Y inset amount
Enable/disable the dynamic changing Pills
Select the Dynamic Pill styling
Enable or disable Notification Pill, Bluetooth Pill, Volume Pill, and other options
Respring your device
And a lot more
The great thing about Emerald is that it not just looks good but it offers a lot of users to enjoy their handset's Status Bar experience. The tweak is aesthetically pleasing and is in a modular fashion so that other developers can build tweaks that are completely compatible with Emerald due to the included API.
Would you like to give Emerald a try? If yes, then you can buy this tweak from the Packix repository for $2.99. Currently, Emerald is supported on jailbroken iOS 12, 13, and 14 devices and works best on the notched handsets.
You might also like