One of the best things about the iPhone is that it is really easy to determine the battery of the iPhone. You can check the battery status not only in the Status Bar that will show you the current charge level but it also uses unique colors to notify about the battery condition. So, a green battery icon indicates good battery charge while a yellow battery icon depicts Low Power mode. And a red battery icon shows low charge so that you can use the phone charger to charge up the battery.
And Apple has used these same color tones for years no to depict the different battery modes. As a result, it has become a little boring now and if you are one of those users who would like a change, then you can check out the new jailbreak tweak named Eliza by iOS developer WilsontheWolf. This newly released jailbreak tweak allows you to display the current battery state in a wide range of colors.
With Eliza, you can apply different colors to the Status Bar's battery icon based on the charge levels. Here is what all you can do with this tweak:
If your battery charge is at the lowest level, then the battery icon will be a deep red color.
If the battery is a quarter full, then it will display a dark orange color.
For half-full battery, it is a dirty green color.
For more than half the battery, it is a dark green color.
And at the fullest battery, it is a bright green color.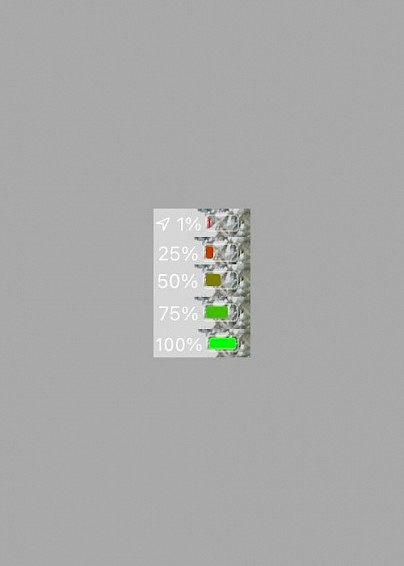 While this tweak doesn't display the battery charge in percentage as Apple does, it slightly alters the battery icon color when there is a shift in the battery charge percentage. And the best part is that you won't even notice this color change in the battery icon unless there is a severe battery drain or your phone is fast charging, the change is that smooth.
One thing that you should know about Eliza is that it disables your yellow Low Power Mode icon so you wouldn't know if the Low Power Mode icon is enabled or not. A lot of users don't like this feature but it's not a huge issue so if you don't mind it, you will find Eliza quite useful. And there is always a chance that the developers fix this bug in future updates.
Another important thing to note about Eliza is that it cannot be configured by the users so you won't see any configuration options available for it. So, currently, you just get what you see. However, the developers have disclosed that they are working on this and are likely to release a few customization options in the future update. While we don't know what these options could be, many users have suggested including the option to choose custom colors for displaying the battery status.
If you would like to give a try Eliza, then you can easily get it for free from the WilsontheWolf repository. This jailbreak tweak is supported by both iOS 13 and iOS 14 devices. For users who aren't using the WilsontheWolf repository, there is a simple way to add the tweak to your manager. Just add this URL to your packet manager:
https://wilsonthewolf.github.io/repo/
So, what do you think about this new jailbreak tweak? Do you plan to use Eliza and take advantage of its colorful battery status feature? Do let us know in the comments!
You might also like