Apple offers lots of amazing services such as iCloud, Airdrop, Bevy, etc. that give users a smooth and seamless user experience especially if you own both a Mac and an iOS device. But if you are looking for a better integration than the current one, then you have only one solution which is to get your device jailbroken so that you can download a suitable tweak.
Thankfully, for users who already have a jailbroken device, this is easier to manage as there is a newly released jailbreak tweak named Ekip that they can download on their device. This free jailbreak tweak was developed by iOS developer maximehip and is used to improve the integration between user's iPhone, iPad, and Mac devices that are used in the same vicinity.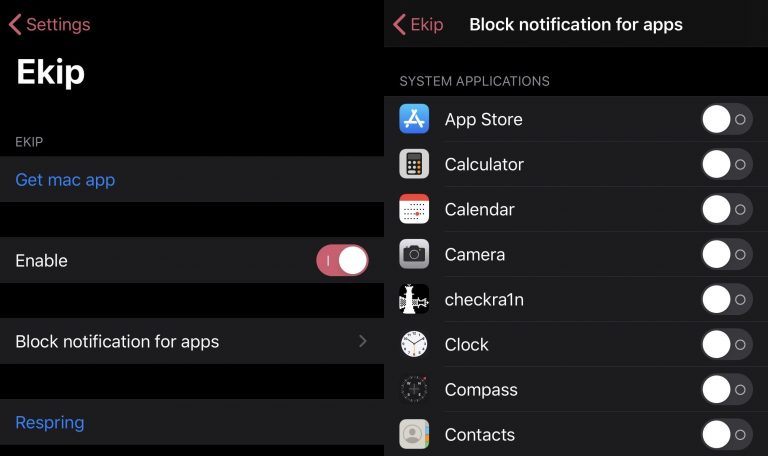 With this tweak, you simply need to install it on your pwned iPad or iPhone and a dedicated Ekip app on your Mac device to begin the deeper integration. Once you do this, you will have the option to check out the notifications of your device on your Mac and even control the Control Center toggles of the handset from Mac and a lot more.
Ekip can be used to add new items to your Mac's Menu bar also by using the handset. Once you click on it, you will be shown the same controls that you usually find on your iPhone or iPad's Control Center. So, you can choose to interact with those controls from your Mac and the same settings will be transferred to your iPhone and iPad in real-time with the help of an open SSH connection. For this to work, you also will need to install OpenSSH on your jailbroken devices.
With Ekip tweak, you can interact a wide range of Control Center control options including Do Not Disturb feature, Airplane Mode feature, Bluetooth feature, Wi-Fi feature, Low Power Mode, Cellular Data, Music Controls, Dark Mode feature, Location Services, Rotation Lock Feature, Ringer/Silent option, Respring option, and a lot more.
After you install Ekip on your device, you get access to a preference pane in the Settings app where you can configure the options to suit your requirements.
A few things that you can configure in the settings are:
Enable or disable the Ekip tweak.
Choose apps whose missed message notifications won't be transmitted to Mac when Ekip is installed.
Save the changes that you make using the Respring button.
For installing the Ekip app on your Mac, you need to click on the 'Get Mac app' button that is available in the settings and Airdrop the installation link to your Mac.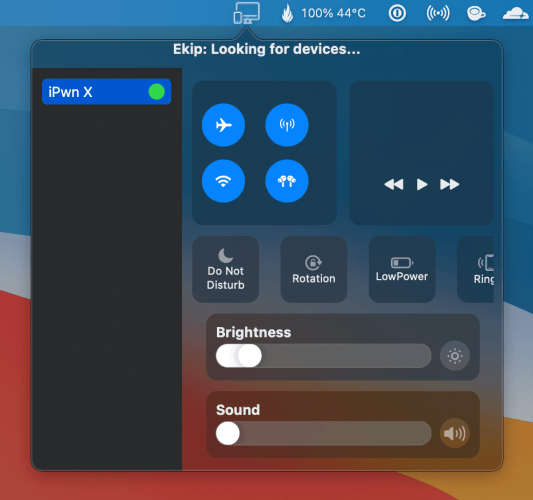 If you are interested in getting Ekip for your devices, then you can download it from the Packix repository via your favorite package manager after paying $1.49 for the tweak. This tweak is currently supported on jailbroken iOS 10, 11, 12, 13, and 14 devices and is a great way to improve the interoperability between your iPhone, iPad, and Mac devices.
Do you think Ekip will be useful for you? Let us know your thoughts in the comment section below!
You might also like