Let's face it, it has been a while since we noticed a flip phone being used by anyone around the world. The wide range of smartphones that are easily available these days have clearly wiped them out for good. And while there wasn't much to do on those phones, there is one major experience that we all remember was the T9 dialing experience for the physical dial pads.
Nowadays, our smartphones have amazing features such as Contacts app that allows the users to call or message anyone with a single tap. However, if you are feeling a little nostalgic and would like to use the T9 dialing experience again, then you can get it on your iPhone's native Phone app, then you can get the free and new jailbreak tweak known as EasyDialer14 for you.
EasyDialer14 offer T9 interface to the users that will display the letters on the individual number key in the Phone app's 3x4 touch-based dialing interface. As a result, it will become easier for you to find the contacts that you need to call or message from the dialer very easily.
For example, to contact Apple's support line, you need to dial 27753. And you can find the contact number for other contacts also using the same letter logic. Once you install EasyDialer14, it adds a dedicated preference pane in the Settings app which the user can access to make the configurations to the tweak: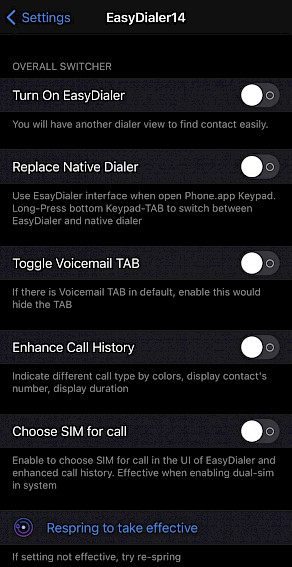 Turn EasyDialer14 on or off on demand.
Use the upgraded T9 interface instead of iPhone's native dialer
Toggle the voicemail tab
Improve the call history list with color coding and augmented information
Allow the ability to select SIM for calling (applicable for dual-sim users)
There is also a respring button present at the bottom of the preference pane to save any changes that you have made.
This upgraded dialer interface looks amazing and offers greater functionality in the same design space as the old iPhone interface. This is one reason why we find EasyDialer14 such a good choice for iPhone users.
If you are interested in giving this tweak a try, then you can download EasyDialer14 for free from the BigBoss repository using their favorite package manager. This tweak is supported on jailbroken iPhone that runs on iOS 14. If you have iOS 13 or older version, then there is the original EasyDialer jailbreak tweak that you can use as well.
Are you planning to add the T9 dialing interface on your pwned handset? Let us know in the comments below!
You might also like