If you are new to jailbreak you probably would like to know the amount of battery drain you will experience after installing a few tweaks and now with Dra1n app, you can. The jailbreak itself doesn't drain your battery life but when you install tweaks from various developers that can change. Works with all popular jailbreak tools.
What is Dra1n?
Dra1n is a free application for jailbroken devices that allows users to monitor battery usage by installed Cydia tweaks. Not only can it give you a better idea of the amount of battery discharge your device exhibits each day, but it can also outline the suspected battery-hungry tweaks installed on your iPhone.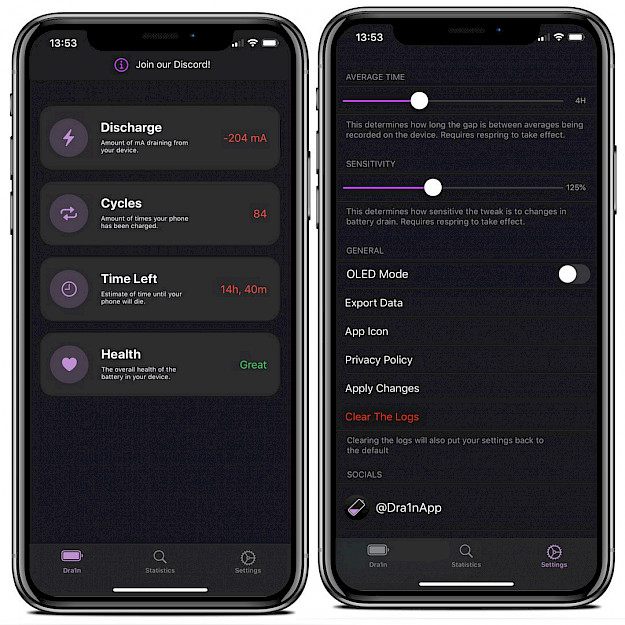 After running the app an intuitive GUI will display separated three distinct tabs. Dra1n estimates the amount of power-draining from your device, the amount of time your device has been charged, the estimated amount of time before your device will die, and the overall health of the battery installed in your device.
In the second tab, Dra1n gives you an approximation of the average battery drain and displays all jailbreak tweaks that are using the most battery of your device. There are also some basic options to configure. You can adjust the gap between average battery drain recordings and adjust the app's sensitivity to the battery drain. Dra1n can also export all data to a text file so you can share it with others.
Dra1n is a tweak that can help find out if newly installed tweaks are causing battery drain on your device. It does this through individual device measurements as well as compiled data from other users submitted to our server. What's more, the app will notify you if a newly installed tweak causes a significant battery drain.
The tweak works in the background and will give you a notification when your discharge increases significantly after installing new Cydia tweaks. Dra1n will be made free in 7 weeks and will be free forever. For now, Dra1n is available for $1.99 from the Dynastic Repo. Works with iOS 11 up to iOS 13.
It should be noted that the app mostly uses estimates to guess what tweaks are using the most power on your device. It is never 100% accurate, however, there are measures in place to ensure it will be as accurate as possible. Throughout testing, it was found to be accurate nearly every time.
Add Repository to Cydia
You are just a few steps from installing the app from Cydia Sources on a jailbroken iOS device. Add Dra1n Repository to your list of Cydia Sources.
Step 1. Open the Cydia app on your device.
Step 2. Tap Sources → Edit → Add the official Dra1n Repo.
Step 3. Switch to Search Tab and type Dra1n.
Step 4. Tap the Install button.
Step 5. Configure the app from Dra1n Settings.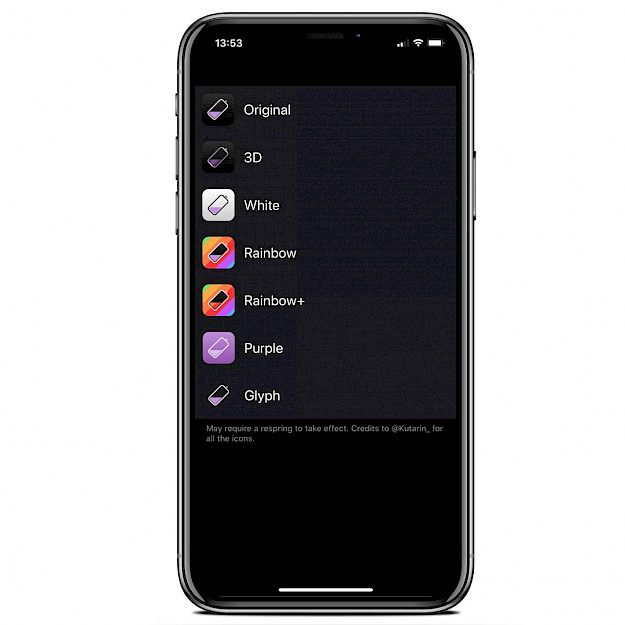 Tweak Settings
Adjust the gap between average battery drain recordings on your device
Adjust the app's sensitivity to battery drain
Enable OLED dark mode
Export data
Change the app icon
Clear all logs
Apply any changes you make
Changelog
Improved detection
Optimised the app to make less network requests
The graph will now resize based on the screen size and number of bars, fixing weird scaling issue
Adds a search tab where you can see a list of flagged tweaks, and search
Changed the view from pressing on a tab to a new app view, as opposed to opening the dra1n website
Improved how accurate the culprit system is, using all collected data
Adds voltage to the main screen
Fixed licenses page not loading
Adds tweak images to culprits page
Fixes a bug where hiding a tweak, hid every tweak with that name
Adds battery health percentage to home page
Can now change the number of bars on the Statistics Page
You might also like