Your Home Screen Dock is where all your favorite apps are stored and it is pretty useful because it allows you to move from one page to another so it doesn't take extra steps from your end to look for specific apps in the future.
Although Dock is great for regular usage, but we do wish that Apple offered a little more customization to the users so that they could configure to suit their needs. If you also feel the same way, then you should check out this newly released jailbreak tweak known as DockX Reborn by iOS developer Mudi47. In the below screenshot, you can check out a few things that you can do with the help of the DockX Reborn tweak.
As you would notice, in the first screenshot, there is no Dock background and then in the second screenshot, there is custom image used as the background of the Dock. Finally, in the third screenshot, there is an older-style Dock background used that you might have come across in an iPhone that contains a Home Button. You can do a lot more with this tweak so read this article to know more about it.
Once you install DockX Reborn, you will find a dedicated preference pane in the Settings app from where you can make changes to the tweak. Here, you will find the following options: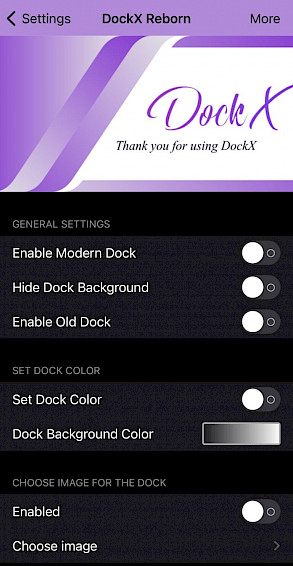 Turn on or off modern Dock aesthetic whenever you want.
Hide or show the Dock background when you want
Enable or disable the older style Dock on demand
Enable and configure the Dock background custom color
Enable and choose the Dock background custom image
After every change that you make, you need to respring the device to save the changes in the settings. You will find the More button present at the top-right corner of the preference pane to save the changes.
If you wish to customize the Dock of your Home Screen, then you can easily purchase The DockX Reborn tweak for $1.00 from the Geometric Software repository using the favorite package manager. This tweak is currently supported on the jailbroken iOS 14 devices. In case you aren't using the Geometric Software repository, then you can easily add it to the package manager using this URL:
https://apt.geometricsoftware.se/
So, will you be using DockX Reborn tweak to change the iPhone's Dock aesthetics? Let us know in the comments below!
You might also like