Choosing a wallpaper for your iPhone is the best way to customize your Apple interface and it is quite an intimate experience as well. This is because you will see the image chosen by you every time you use your handset.
The only issue with choosing a wallpaper is that the task of finding the perfect wallpaper for your handset can be a little challenging and intimidating. You might be struggling with the choice of finding the wallpaper that you like or you have several options and you cannot choose which one is good for you. Anyway, selecting a wallpaper comes with its own set of challenges but this is where the newly released jailbreak tweak DoABarrelWall can help you out.
Developed by iOS developer denial, DoABarrelWall is a free jailbreak tweak that solves the above issues as it allows you to choose a myriad of wallpapers for your handset that are cycled each time you unlock your device or go to the Home Screen after closing the app. This is a great way to set a wallpaper as this allows the user to choose more than one image that they like and have them appear as the wallpaper throughout the day whenever they use the handset.
It is quite easy to set up the DoABarrelWall tweak as a preference pane is added in the Settings app to allow the users to configure the tweak. Here, you can:
Turn on or off Lock Screen wallpaper cycling whenever you want
Turn on or off Home Screen wallpaper cycling on demand
Keep both the Home Screen and Lock Screen wallpapers in sync as they cycle
Dim the brightness of the wallpapers when the Do No Disturb mode is on
Configure the wallpaper images that you wish to add. You can choose an image from the Camera Roll, remove the images that you don't want as the wallpaper, and save the images by respringing the device.
Reset the settings to the default option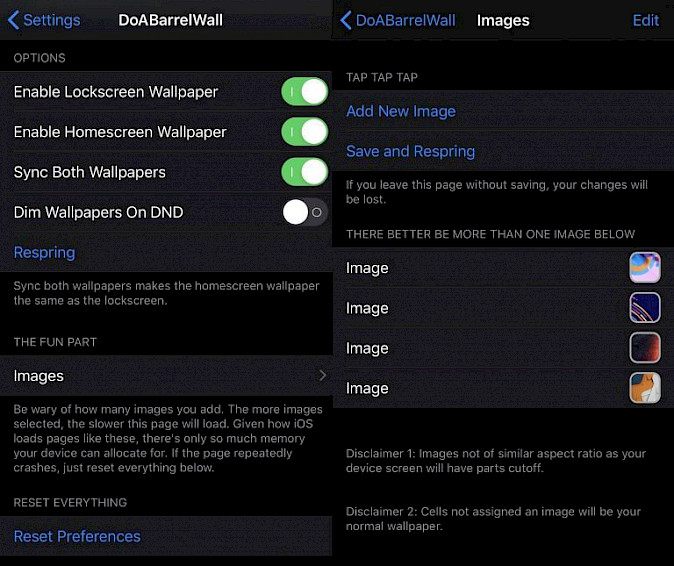 One thing to note is that when you choose an image as a wallpaper, you need to respring the device each time to save it. If you don't do so, the tweak won't remember the image and you will have to add the image again as the wallpaper.
Now, coming to one of the most important questions that most jailbreakers have is whether using DoABarrelWall will have any impact on the battery of the device or not. Generally, it won't have any impact but when you respring the device frequently, lock and unlock the device often, or close the apps frequently, then this will make the wallpaper to cycle more often which can degrade the battery life of the device. If you use your iPhone normally, then there won't be any battery issue.
You can download this tweak for free from denial's personal repository via favorite package manager. The tweak is currently supported on jailbroken iOS 13 and 14 devices.
You might also like