It was back in the year 2016 when Apple make a bold move and announced to the world that they would make an impact in the world through green energy and better more efficient manufacturing processes.
One of the very first policies they applied was using the components of older devices to create new devices. And, now after 6 years, this process of recycling has proved so useful for the company that now around 20% of any new Apple devices are produced using recycled parts.
Materials that have been recycled responsibly are used in Apple products.
Apple has been a pioneer regarding recycling as well as sourcing materials that have created a shift in the industry. In order to help its recycling partners build on this global momentum, Apple today announced its latest recycling technology, Taz, a machine that uses an innovative method to increase the recovery of materials from conventional electronics recycling.
By 2021, Apple had sourced nearly 59 percent of the aluminum used in its products from recycled sources, and several products contain 100 percent recycled aluminum in the enclosure.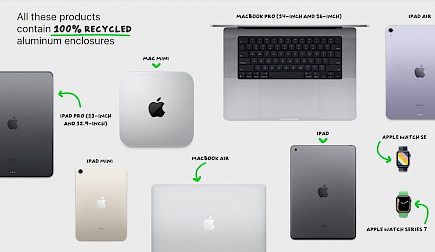 Apple is also making significant progress toward its goal of eliminating plastic from the packaging by 2025, with plastic accounting for only 4% of packaging by 2021.
Apple has reduced plastic in its packaging by 75% in the last year.
45 percent recycling rare earth materials:
This is a significant rise in the time since Apple included recycled rare earth materials into its products.
30 percent recycled tin:
100% recycled tin is used in the soldering of logic boards in all new iPhones, iPads, AirPods, and Mac devices.
13 percent recycled cobalt:
This is utilized for iPhone batteries that are taken apart by Apple's recycling machine, Daisy, and then re-sold to the market.
Gold that is certified recycled:
It is included in the very first instance on an Apple product on the logic board's main circuit as well as wires that are used in front cameras as well as the rear cameras on the iPhone 13 and iPhone 13 Pro. To achieve this feat, Apple pioneered industry-leading levels of traceability, enabling an entire gold supply chain made of only recycled content.
The process of reclaiming more materials to use in future products helps to reduce mining. With just one metric tonne of iPhone components dismantled through Apple's recycling robots, recyclers are able to recover the quantity of copper and gold companies typically get from 2,000 tonnes of mined rocks.
Apple is determined to extend the lifespan of its products via refurbishment. By 2021, Apple will have shipped 12.2 million gadgets and accessories to brand new owners for reuse, prolonging their lives and cutting down on the need for mining. In the end, Apple aims to use only recycled or renewable materials in the production of its goods, which was set in 2017 and has mapped out the company's path in terms of design and materials source.
Taz, a device that makes use of cutting-edge technology that can remove audio components from magnets and recover rare earth elements, is the latest in the series of recycling innovations initiated by Apple.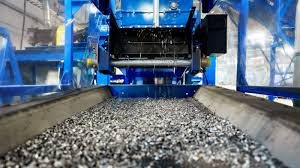 The company has also developed its capabilities with its patent-pending iPhone detachment robot, Daisy, to tear apart 23 different models of the iPhone and offers to license its patents to other businesses and researchers for free.
A second device, Dave, disassembles Taptic Engines, which helps in recovering important rare earth magnets such as tungsten and steel.
Winding-up
Each year more than 500 metric tonnes of electronic waste is dumped all around the world. So, recycling even 10% of the whole would give us enough materials to create more than 500,000 iPhones.
Yes, you read the number correct 500,0000.
Apple has already done great work with its green initiative but, there's still a lot more to go.
According to micro-soldering experts, around 45% of an iPhone( if properly taken care of) can be recycled to create a new device.
So, we wish Apple all the best so that it can strive even further and reach the 45% milestone one day.
You might also like