Apple has made a lot of changes in its features and design but two things that have remained constant through the years are the dock and status bar in an iPhone. Sure, there have been a few minor tweaks every once in a while but they have largely remained unchanged. Users want more upgrades for these features as they are an essential part of the interface and this is where the newly released jailbreak tweak comes in.
Diamond is a new jailbreak tweak developed by iOS developer SoutherGirlWhoCode. In this tweak, the interface of the iOS platform has been re-imagined to combine essentials features of both Dock and Status Bart to produce a solitary, customizable and pleasing interface that can be used in several different ways.
If you check Diamond, you will see that it combines both iPhone's Dock and Status Bar into a collapsible interface. That's not all, you will also notice that apart from the apps that usually appeared in the Dock, there are several new additions such as Status Bar information – date, time, signal strength, and so on.
On the other hand, if you are not entirely comfortable with the idea of giving up the traditional Dock Bar or Status Bar, then you have options to keep it and enjoy the new interface too. How? Well, Diamond comes with options where users can choose to keep their original Status Bar but can get the Dock Bar upgraded or vice versa. All of these options are available to you.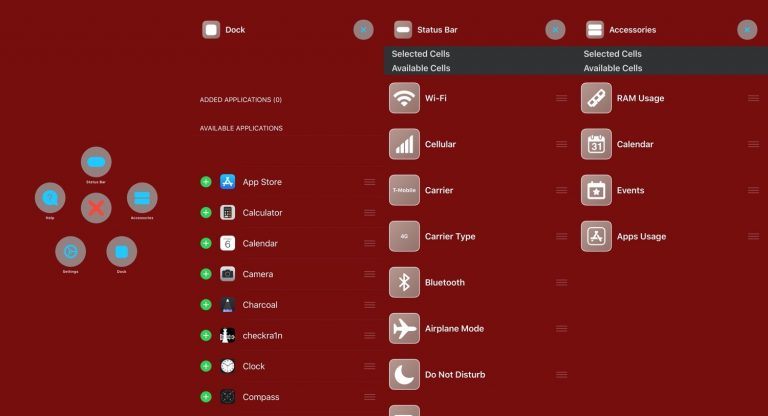 Once you have downloaded the tweak, you can launch the Diamond interface by simply using the Reachability gesture or by clicking on the SpringBoard icon. Then, you can configure the interface by clicking on the Settings icon. You have the ability to choose the apps, Status bar items, and accessory modules that you wish to appear on your Diamond interface.
You will be provided with a wide range of items on the Diamond menu that can be configured on the interface. Apart from the frequently used apps and accessories, you can also choose Status Bar icons including Airplane Mode, Wi-Fi, Do Not Disturb, Bluetooth, and so on. Also, you can add several accessory modules such as Events, RAM usage, app usage, etc.
After installing Diamond, you can visit the preference pane in Settings to configure it. You have the option to do the following things here: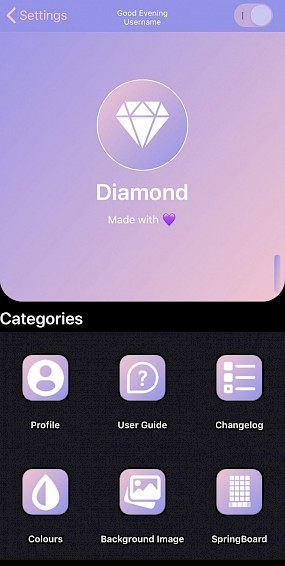 Turn Diamond on or off
Adjust Diamond's color scheme
Manage the background
Set SpringBoard behavior
There is a lot more than you can do but these are a few major things that you have the ability to configure. Here is a little detailed breakdown of each of these below.
Colors
You can control and manage the color scheme of Diamond using the color preference panel. This includes choosing the color scheme for the UI, background, font, and icons of Diamond. Moreover, you have the option to categorize the apps based on colors and can set colors for calendar and events as well. Apart from that, you can colorize battery usage, RAM usage, toggle states, volume bar, dock interface, etc. as well.
Background Images
In the Background Images preference panel of Diamond interface, you can turn on/off this feature and can choose an image for the background display from Photo Gallery too.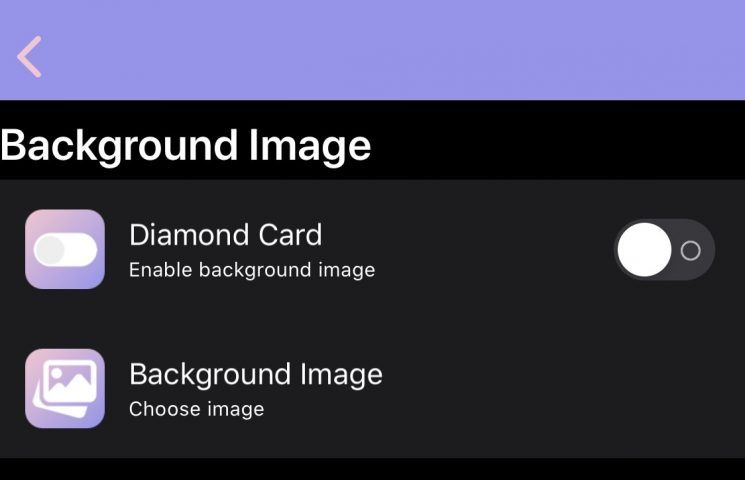 SpringBoard
On the SpringBoard panel, you can enable and disable Diamond Dock and Hide Page Control option. Moreover, you can hide the status bar through this setting.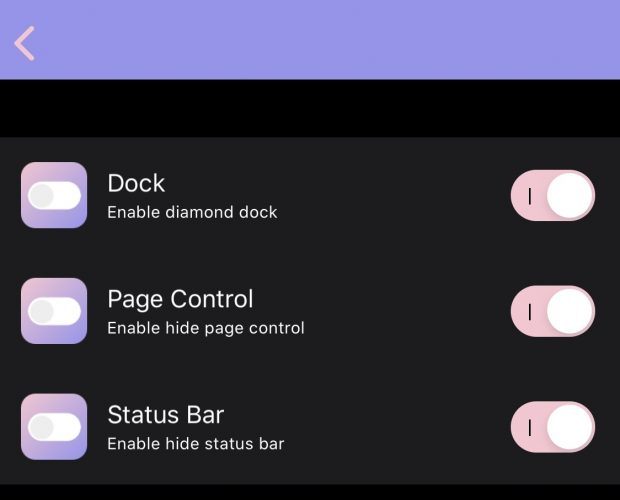 An important thing to remember is that you always have the option to respring your device by going to the primary preference pane and to save the changes. However, you don't need to respring if you are making minor edits on the Diamond interface.
If you are interested in the Diamond tweak, then you can buy it from the Twickd repository. As of now, Diamond is supported on jailbroken devices with iOS13 and iOS14 but doesn't work on iPads.
You might also like