CyrusHub Mist iOS App Installer
kuba - Friday, 10 May 2019
CyrusHub Mist is a new platform to install apps, tweaks, emulators, jailbreak tools on your iPhone, iPad, iPod devices without jailbreak. The iOS App Installer offers the option to check status revokes and allows you to install apps from TweakBox, AppValley, Ignition, or TopStore.
What is CyrusHub Mist?
CyrusHub is the only app installer offering access to all apps and tweaks you would like to install on your iOS. The iOS App Installer doesn't require jailbreak and you can install apps from categories like emulators, entertainment, social media, tweaked apps, and other apps.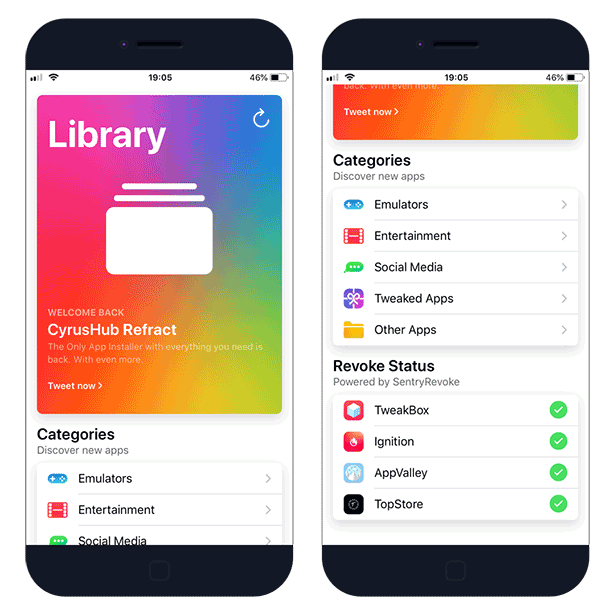 From the application home screen, you can check the actual revoke status for popular AppStore alternative platforms like TweakBox, Ignition, AppValley, and TopStore. Moreover, every app available via CyrusHub Library can be downloaded from those platforms if available from one app.
Navigate through categories, search for apps, read applications descriptions, install iOS apps using your favorite platform and more. CyrusHub is packed with a huge collection of popular apps like GBA4iOS, Happy Chick, Channels, iPlayTVApp, CotoMovies, unc0ver, Cercube, ++ apps and more.
Is CyrusHub safe?
Without no doubt! CyrusHub is absolutely safe to use. From our test, you can install apps and tweaks using this free iOS App installer without any risk. The app is really easy to use, and there is no problem with removing it or any other tweaks installed via CyrusHub from your device.
You can install the app without waiting for next jailbreak, the app doesn't require access to the iOS root system, and it's more secure then Cydia. Cyrus Installer in now CyrusHub.
Supported system
CyrusHub Refract is compatible with iOS 10, iOS 11, and the newest version iOS 12.2. There is no need to Jailbreak your iPhone to install the app on iOS system. The software is available for free and works stable on iPhone, iPad, or iPod Touch.
How to install CyrusHub
CyrusHub can be installed on any iPhone, iPad, iPod Touch running on the supported iOS system. There is no need for Jailbreak or providing Apple ID to install apps. Moreover, the software doesn't require a PC or Mac to be installed. To install the App Installer proceed with our step-by-step guide.

Step 1. Open Safar browser on your iOS device.
Step 2. Tap on CyrusHub.mobileconfig to start the installation process.
Step 3. Allow this website to open Settings.
Step 4. Navigate to Settings → General → Profiles and Device Management.
Step 5. Install the CyrusHub Profile on your device.
Step 6. Lunch the app from Home Screen.
Check revoke status
After installing the CyrusHub app on your iPhone you check at a glance if the app stores apps in the installer are working. There is available a different status icon (Green – working, Red – Not working, Orange – requires Loophole, Blue – requires Airplane mode) for each platform.
You can find more information, updates, and more from the official @CyrusHubApp account.