Now when you can Jailbreak the newest version of iOS 13 you are probably wondering what next. We provide for you the list of best Cydia tweaks for iPhone, iPad, and iPod Touch. Discover amazing and useful tweaks that can bring new life to your device and make it more user-friendly.
After you will jailbreak iOS using one of the free tools like unc0ver or Chimera it's time to add some new repositories to your favorite package manager. There are a lot of tweaks available for download, but people need help to find the gems, and this article is all about that. Best Cydia tweaks for 2020.
You can find a variety of Cydia tweaks. This included system enhancements, split-view support, dark mode, new keyboard styles with emojis and quick access buttons, better clipboard managers, new themes, widgets for home screen and lock screen, new animations, volume HUD and more.
Cydia App Store offers also access to free and paid 3rd party applications that you can find useful. This is a good point to introduce you to the best Cydia apps article for iOS. Find the best Cydia tweaks for iOS.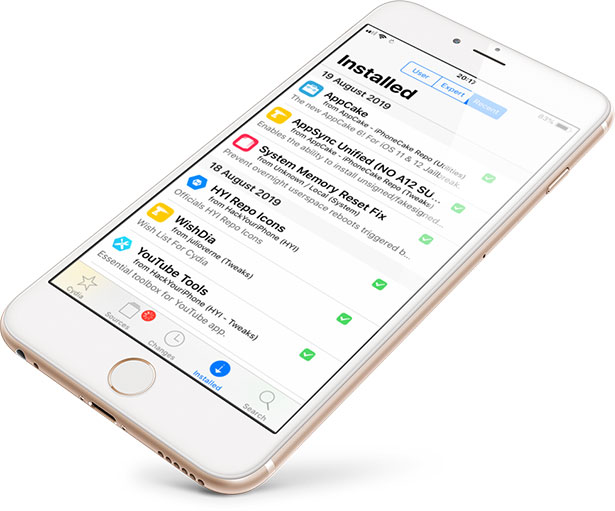 What are the best Cydia tweaks?
1. KillX tweak
KillX is a simple and very useful jailbreak tweak offering an option to close all apps at once from App Switcher. The package is compatible with iOS 11 - iOS 13 and you can install it for free from official Cydia Repositories. Swipe down from app switcher to kill all running apps using KillX tweak.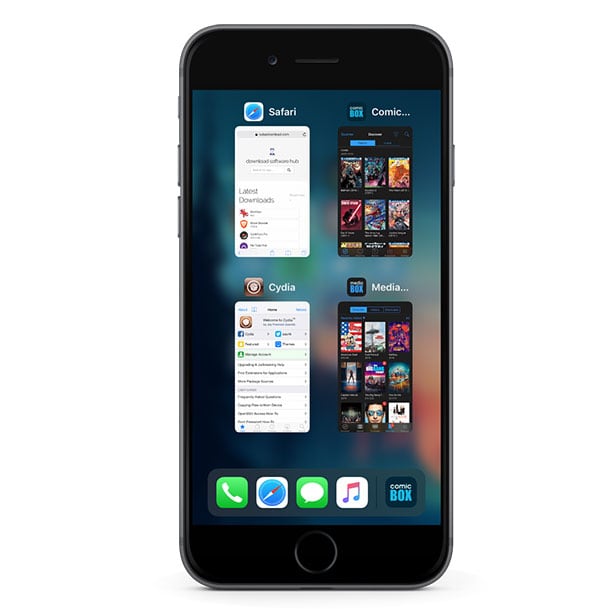 2. NewGridSwitcher tweak
NewGridSwitcher is a free jailbreak tweak allowing you to change the grid switcher for all iOS 13 and iOS 11 devices. You can install it from Cydia repositories for free. The tweak provides one of the cleanest alternatives to iOS' default grid switcher. This is a beautiful jailbreak tweak!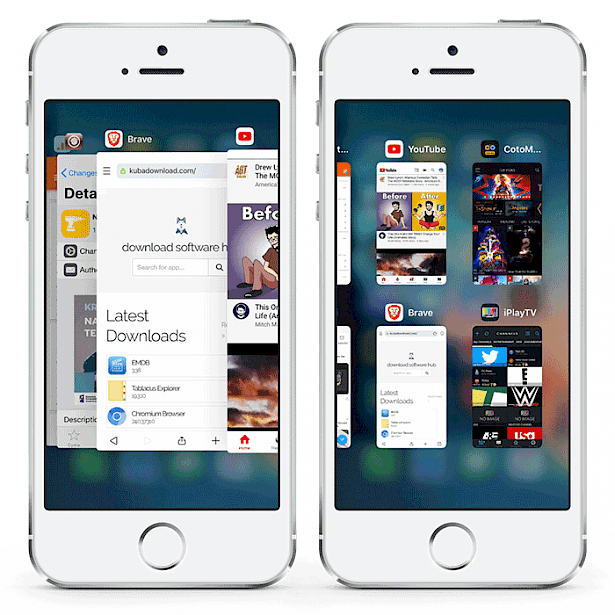 3. RealCC tweak:
RealCC is a simple but must-have iOS tweak allowing you to quickly access Wi-Fi and Bluetooth settings and turn them off directly from iOS Control Centre. This Tweak will save you a lot of time by disabling the Wi-Fi without the need to navigate through the Settings app.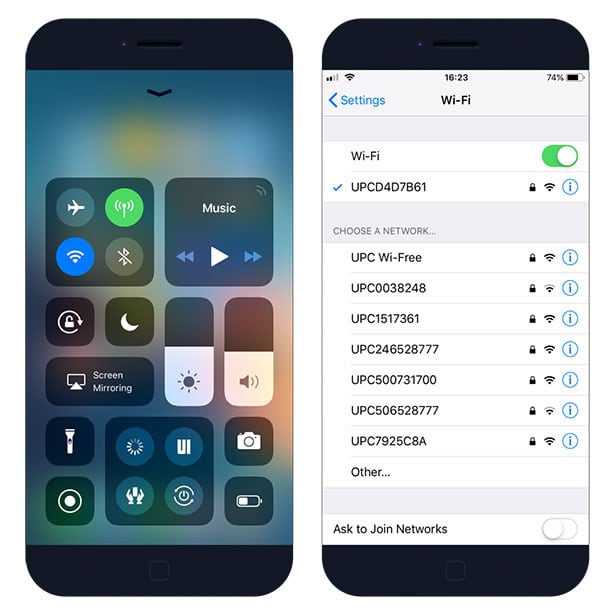 4. PowerModule tweak
PowerModule extends the possibilities of Control Centre adding quick power access controls. Run toggles from CCModules responsible for respringing your handset, enter safe mode, power down your handset, clear UICache, reboot your device, and lock your handset.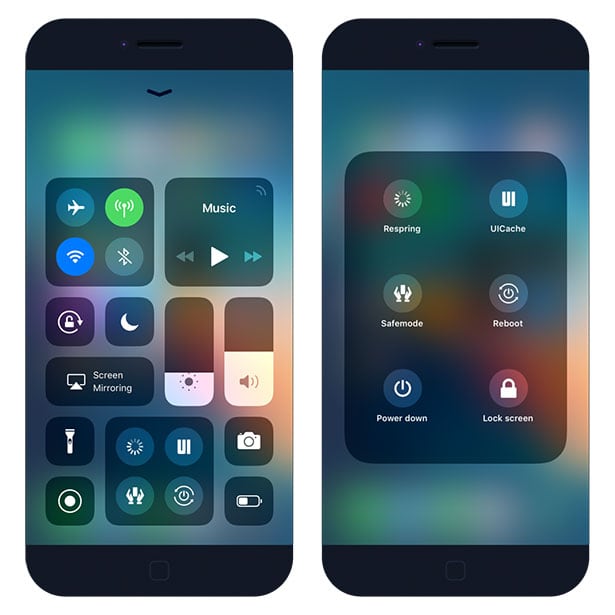 5. FloatingDock tweak
FloatingDock can show suggested apps on the iOS dock. Specify the max number (up to 5) of recent apps you wish to display on the dock and choose the maximum number (from 1 to 15) of dock icons. Moreover, use custom dock color, or make the dock transparent.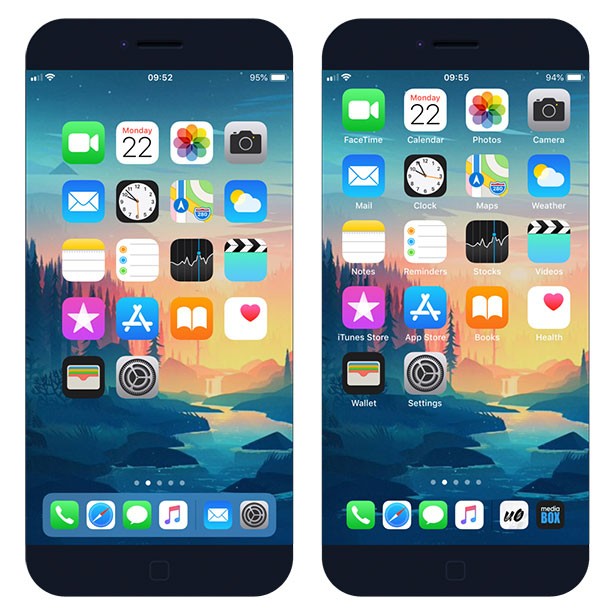 6. Carrierizer tweak
Carrierizer is a free iOS jailbreak tweak allowing you to change operator text, or replace it with emoticons installed in your system. There is also an option to hide the carrier name from the bar with a switch available from app settings. To apply all changes you need to restart SpringBoard.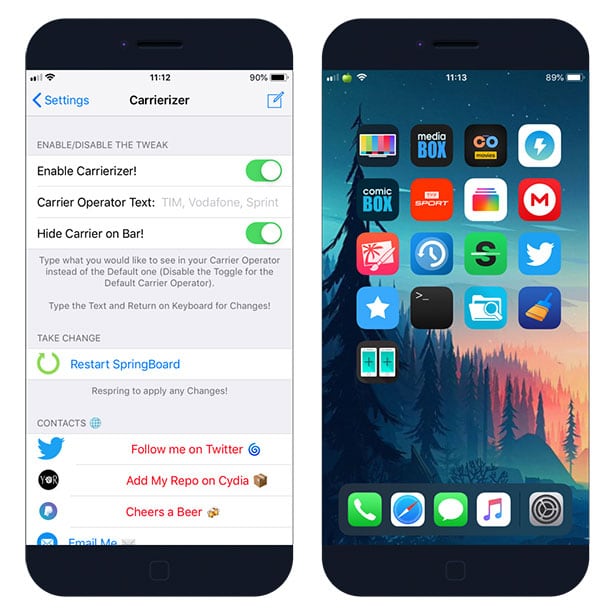 7. ActionBar tweak
ActionBar enhance your typing by activating some useful options on iPhone keyboard. The tweak offers features like the select position of ActionBar and displays it on bottom or top of the keyboard, customize colors of ActionBar, cut & copy actions only display when text is selected, or select all text.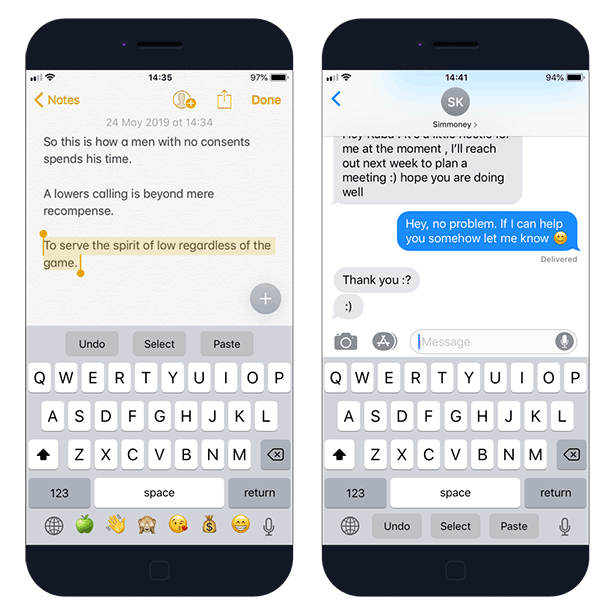 8. NoMoreAppBar tweak
NoMoreAppBar tweak from BigBoss repository will quickly hide the App Drawer in the Messages app on iOS 12, or remove the App Bar from iMessage app on iOS 12. If you are running a jailbroken device it is simple to install. There are no options to configure.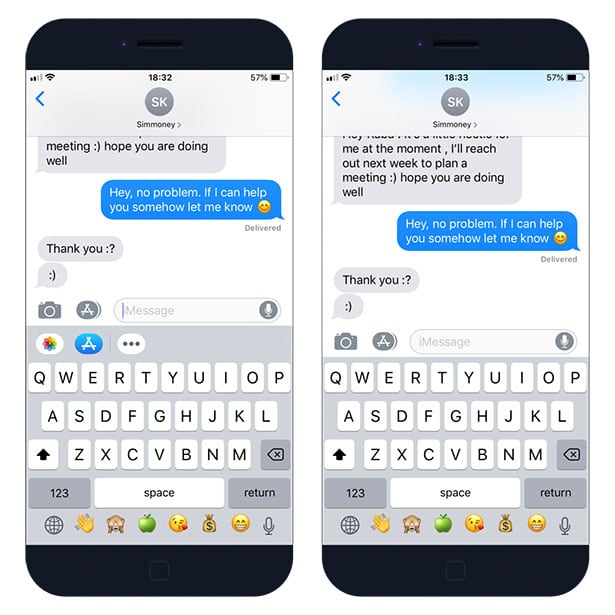 9. Relocate tweak
Relocate is a free location changer for iOS. Once you install the tweak, all configuration options will be available from preference pane in the Settings app. Tap on the map to change location, or enter the city name to make a selection.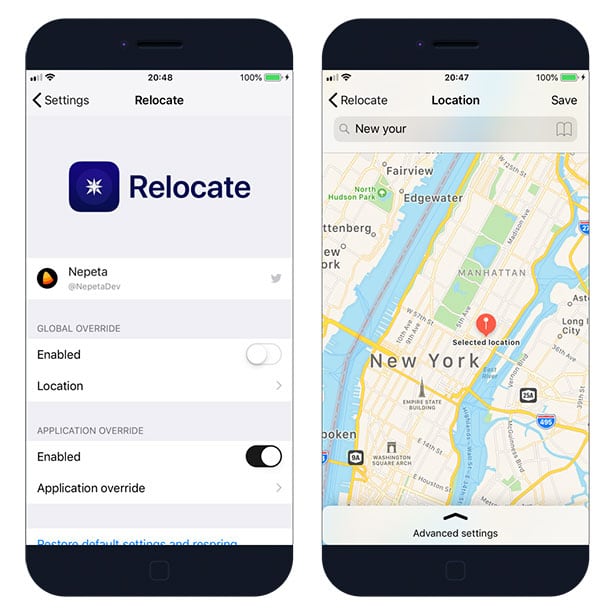 10. Copypasta tweak:
Copypasta is an excellent Cydia tweak improving the clipboard manager on iOS 11 and iOS 12. It allows you to view the history of copied texts, links, images, etc. and select them to paste in any app. By default, the clipboard manager is displayed on the bottom of the keyboard, but you can tweak it.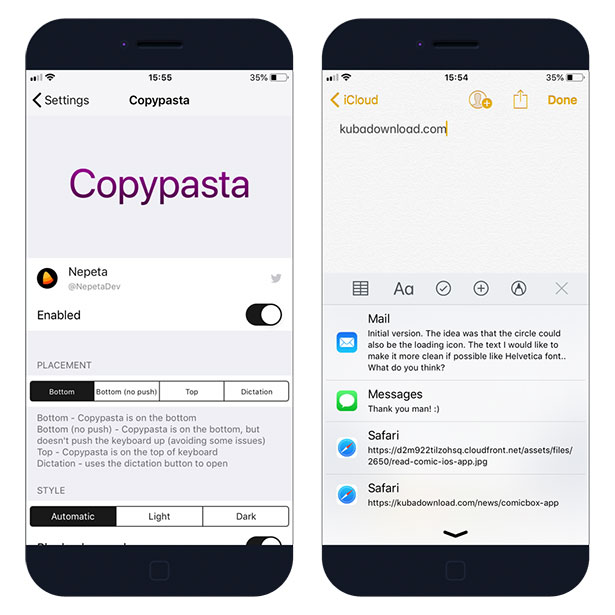 11. SnowBoard tweak
SnowBoard is a lightweight spiritual successor to the legendary Winterboard theming engine. It works with iOS 7 - iOS 12.4 and up and supports formats from all other popular theming engines. SnowBoard is a jailbreaking essential tool available for free for everyone to download.
12. Ultrasound tweak
Ultrasound free is a beautiful iOS Volume HUD replacement for jailbroken devices. Supports iOS 11 and iOS 12.4. Change almost every aspect of the volume HUD using this great jailbreak tweak. Install Ultrasound from the official Cydia repository for free.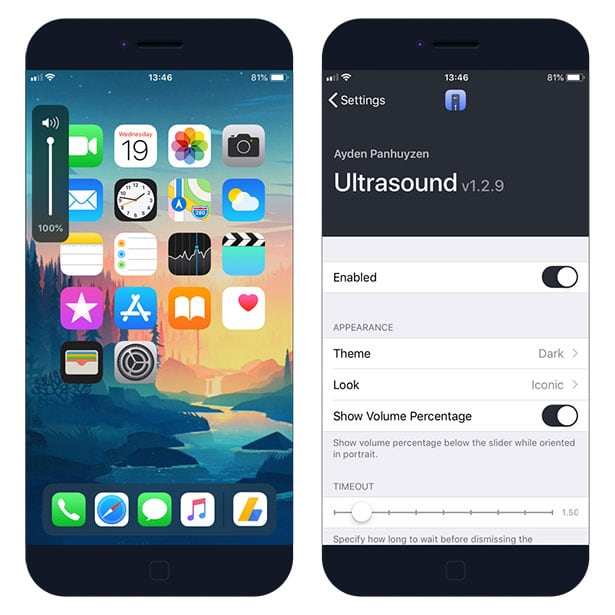 13. Notifica tweak
Notifica allows you to customize notifications, banners, widgets and the "now playing" media controls on jailbroken iPhone, iPad, and iPod. The tweak supports iOS 11 - iOS 12 and it's available for free. Install open-source Notifica from official Cydia Repository.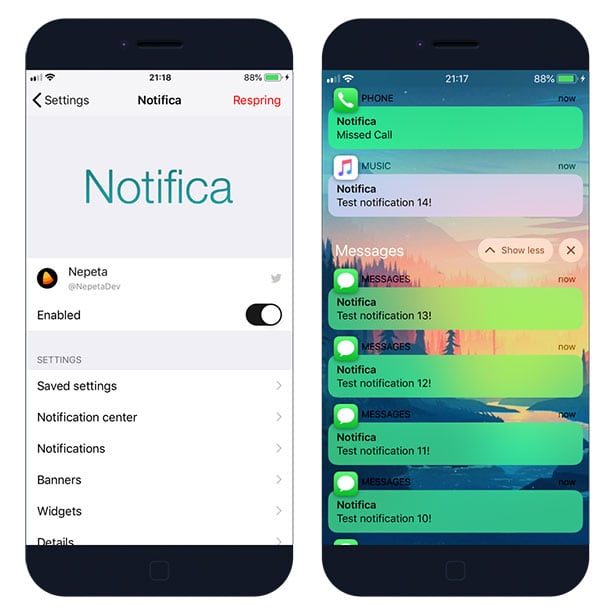 14. UnSub tweak
UnSub is a modern tweak to disable tweak injections (Substrate and Substitute) in selected system applications and user applications. No matter if you are using unc0ver or Chimera jailbreak tool, UnSub supports both platforms. To activate the tweak you need always to respring your iPhone.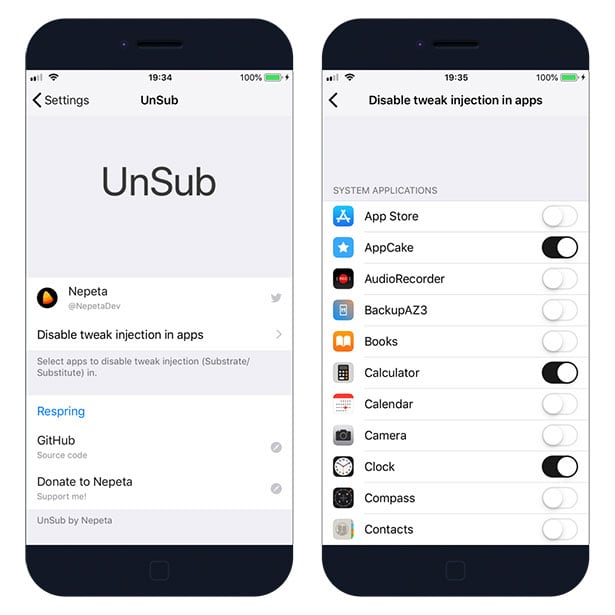 15. WishDia tweak
WishDia is a simple tweak for Cydia allowing you to create wish list inside the package manager. Navigate through available packages and add them to a wishlist for quick access. Your bookmarks are available from the Cydia home page. The tweak works with iOS 11 and iOS 13.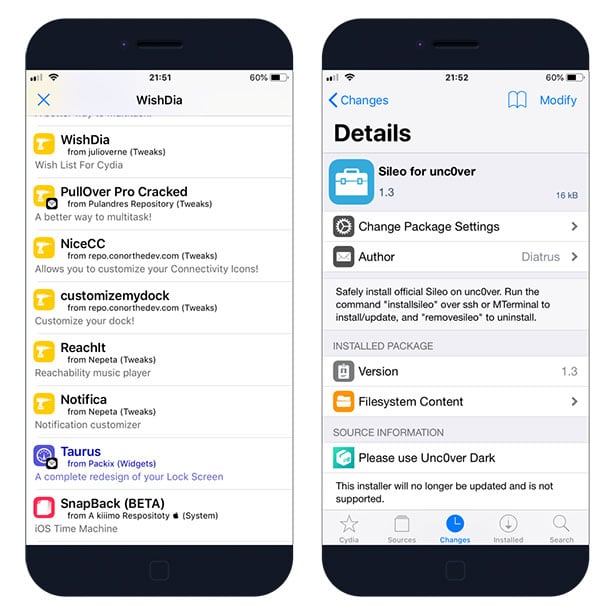 16. Mitsuha Forever tweak
Mitsuha Forever Cydia tweak adds to Spotify and Apple Music a phenomenal audio visualizer. From the app setting, you can configure options for each app, select one of available style, tweak bar spacing, corner radius, line thickness, color, speed (frames per second), and sensitivity.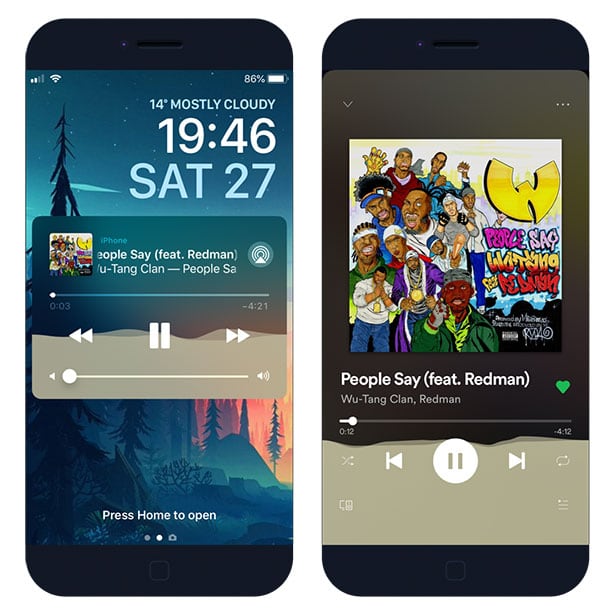 17. Barmoji tweak
Barmoji Cydia tweak shows how Apple should have used the extra space on the iPhone X keyboard instead of the empty space they went with. Add a selectable emoji view between the globe and dictations buttons on iPhone X's, and it's compatible with KeyboardX.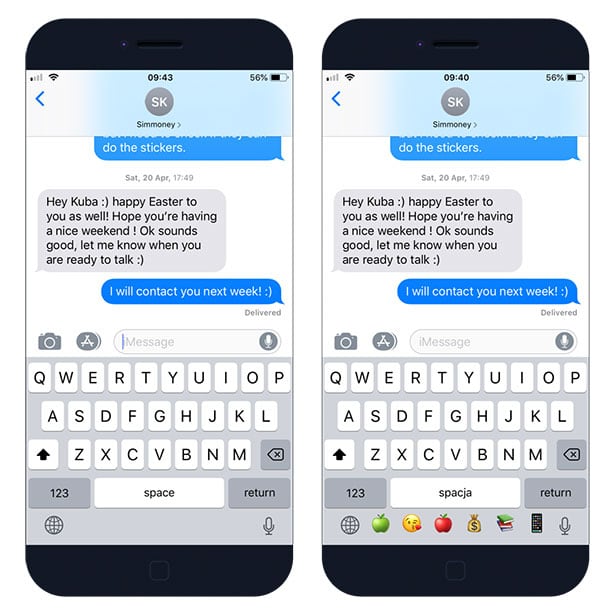 18 KeyboardX tweak
KeyboardX is a free iOS tweak allowing you to use the big iPhone X keyboard on older devices. It works with iOS 11 and iOS 13 running on iPhone (Not yet compatible with iPads). Moreover, the tweak is fully compatible with Barmoji tweak. Install KeyboardX from official Cydia Repo.
19. AppSync Unified tweak
AppSync Unified patches installd allowing you to install unsigned IPA files on iOS. AppSync can be used to clone installed apps, download fakesigned IPAs, and also to assist in the development of iOS apps using Xcode. Unlike Cydia Impactor there is no 3 app limit per device or 7-day certificate.
20. AnimationsBeFast tweak
AnimationsBeFast allows you to speed up animations including app and folder opening and closing, screen wake speed, unlock coversheet and more. This free iOS jailbreak tweak is fully configurable from Settings App. Download AnimationsBeFast from official Cydia Repo.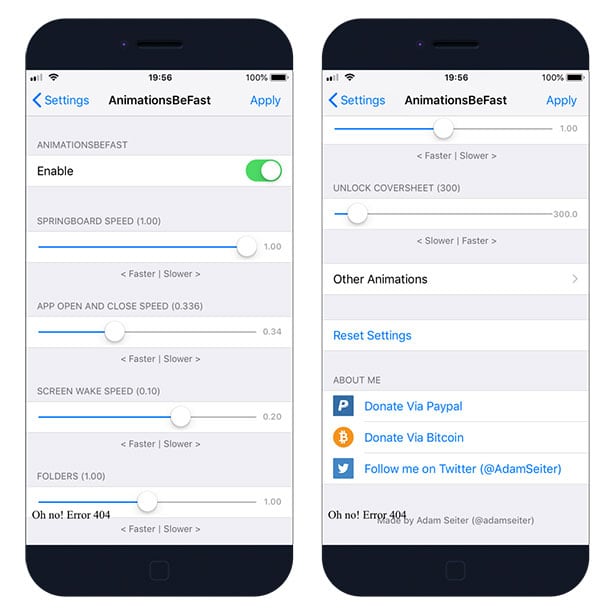 21. CuKey tweak
CuKey is one of the Cydia tweaks offering an option to change the keyboard color in default and 3-rd party apps installed in the system. Moreover, you can also select different keyboard sound (Default, Doodle Jump v2, Doodle Jump, Nintendo Switch Keyboard, Toggle Tick, iOS 6 keyboard).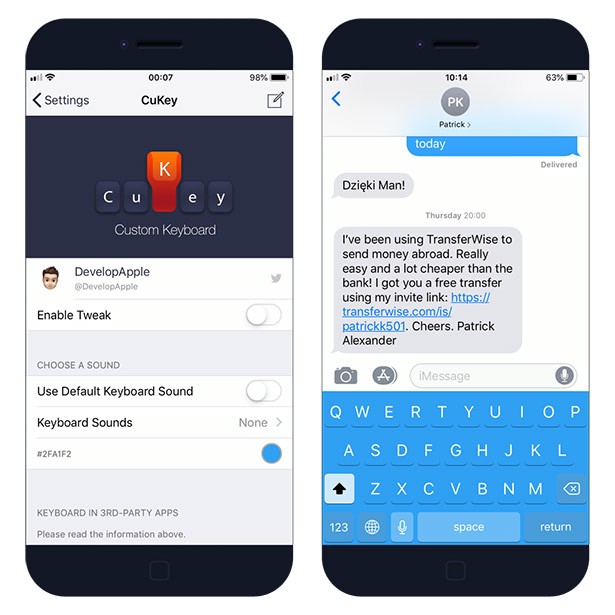 22. QuickCC tweak
QuickCC is a free Control Centre tweak adding Wi-Fi networks and Bluetooth devices access by long pressing on the respective toggles. Thie list displays name of connected network or device, and other sources. The app installs control pane in Settings app, from where you can configure all options.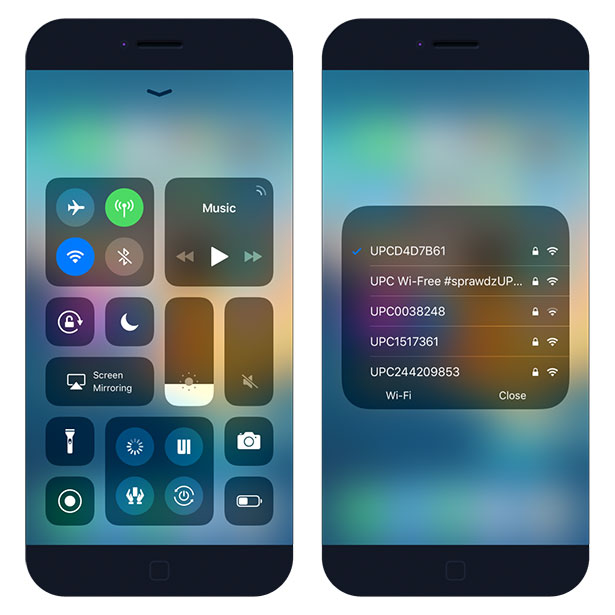 23. Cuboid tweak
Cuboid is a lightweight home screen layout manager fro your jailbroken device. It offers similar features that you can find in Boxy for free. Set a number of home screen columns and rows, hide icon labels, change vertical and horizontal padding, define new offset, etc.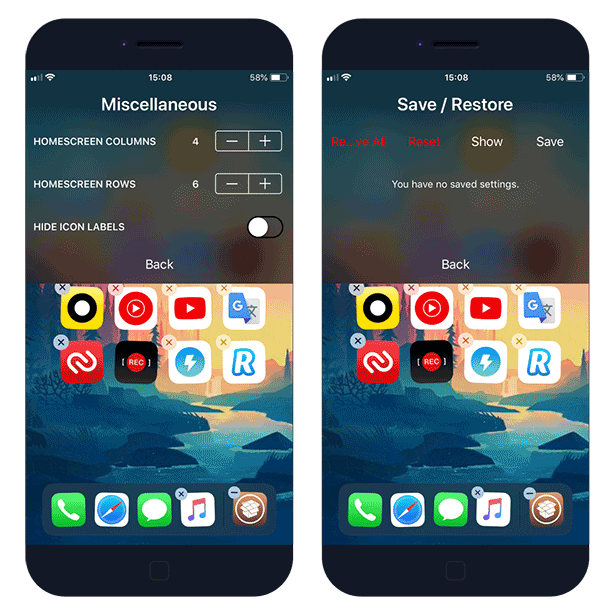 24. 13HUD tweak
13HUD is the iOS 13 volume HUD style for jailbroken devices. It looks and feels great on your iPhone, iPad, and iPod Touch. 13HUD tweak shrinks after several volume button presses. Moreover, you can fine-tune your device's volume level with touch instead of with button presses.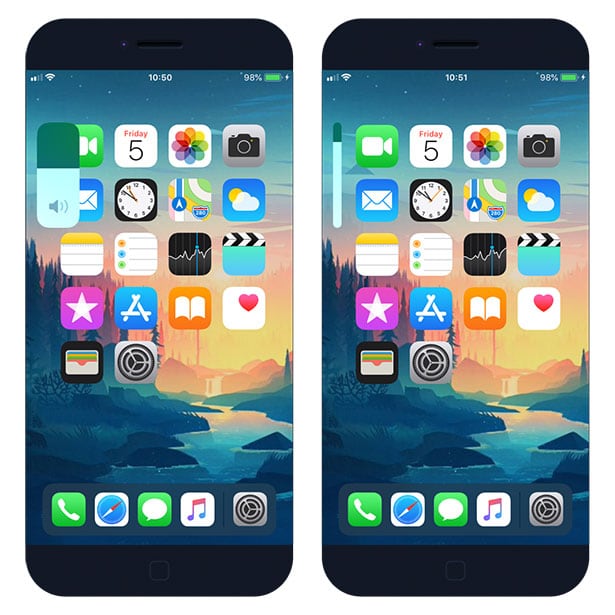 25. ChatHeads tweak
ChatHeads by c1d3r was released recently as a free jailbreak tweak. It allows you to display Facebook style floating like chat heads on iPhone with quick access to your conversations. You can easily change the position of the chat icons placing them on the left or ride side of the screen.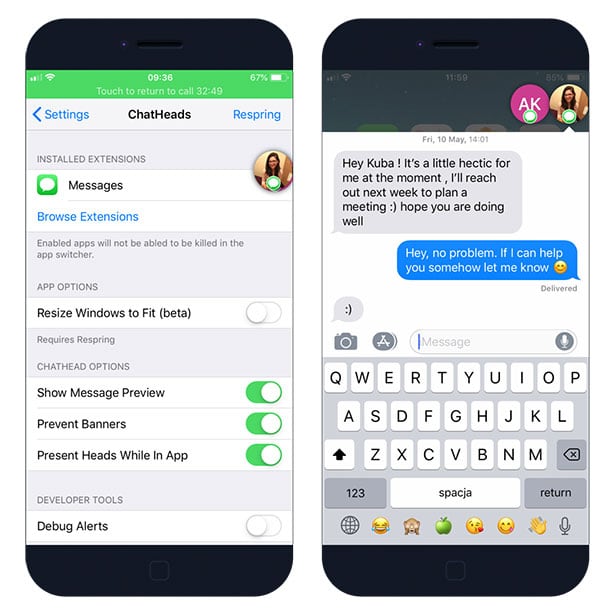 26. Melior tweak
Melior Cydia tweak refreshes the lock of iOS volume HUD created by Apple and adds some new useful features. You can control the volume level by pressing the hardware buttons or by swiping up or down on the interface. From the app setting, you can change the position and look of the HUD.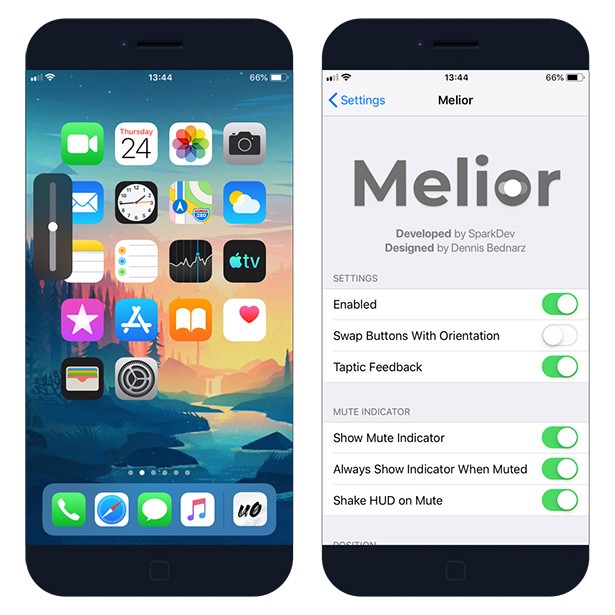 27. VideoHUD tweak
VideoHUD jailbreak tweak changes the lock of iOS volume HUD created by Apple and adds new fell to the system. Control the volume level by pressing the hardware buttons and enjoy the small, modern look of volume control. VideoHUD tweak is compatible with iOS 11 and iOS 12.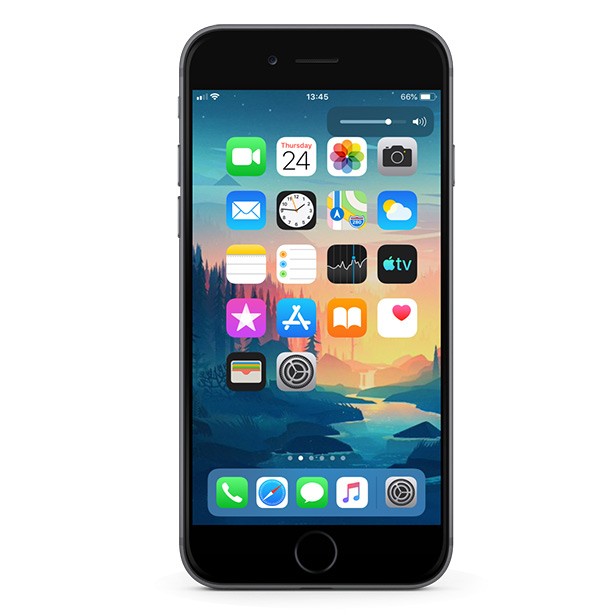 28. Cylinder tweak
Cylinder is a free iOS jailbreak tweak refreshing the look of iOS home screen icons adding new animations. You can install the tweak from Cydia repo absolutely for free. Add animations like a bubble, burst, dors, blinds, card, alternative spin, and tens more. Create own animations using Lua scripts.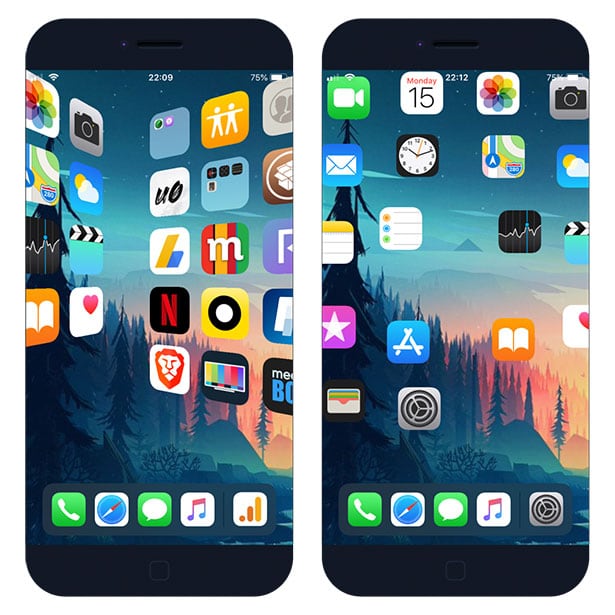 29. Xen HTML tweak
Xen HTML is a free iOS jailbreak tweak allowing you to totally change the look of your devices Lockscreen and Homescreen. Install from Cydia repo HTML and JavaScript widgets that can be drag and drop on selected screen in the app Settings. XenHTML is compatible with iOS 9.0 - 12.4.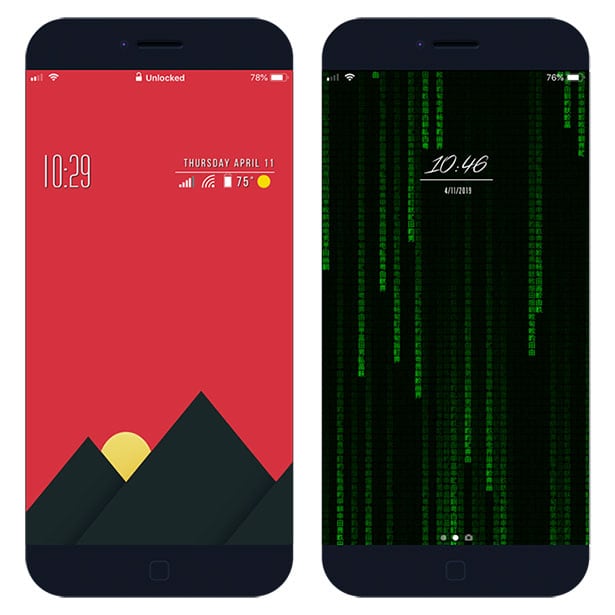 30. Asteroid tweak
Asteroid is an iOS jailbreak app with the option to display live weather information on your device background. The tweak allows you to use custom Weather app icon, display Live weather animation on the Home screen, Lock screen, iOS 12-style Lock screen greeting, etc.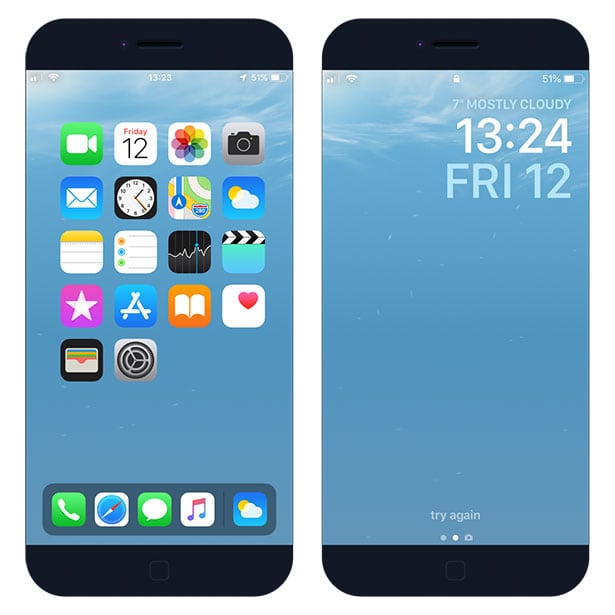 31. Batchomatic tweak
Batchomatic tweak is a free jailbreak application allowing you to bach install all tweaks, add repositories, save .deb, tweak preferences, and host files. The tweak integrates with Cydia, Zebra, Sileo and can definitely save a lot of time configuring new devices.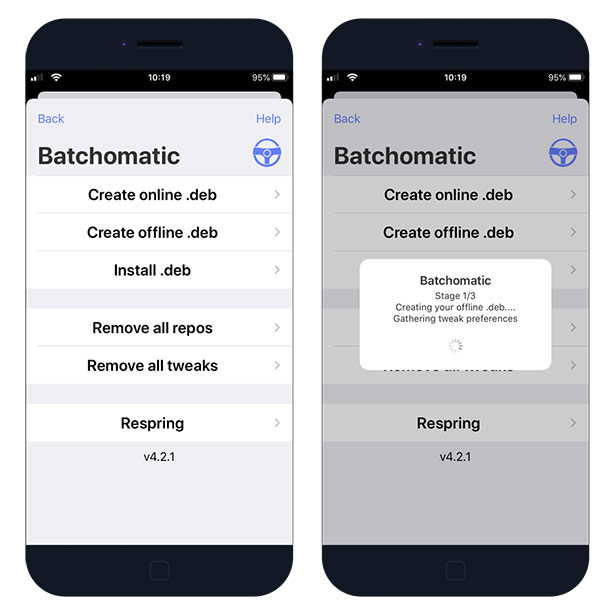 32. Docky tweak
Docky is a free jailbreak tweak allowing you to customize the dock, activate double dock, expandable dock, infinite dock, and background transparency. There are two dock styles available including iPhone X style (on older iPhones) or old iPhone style (on iPhone X and similar).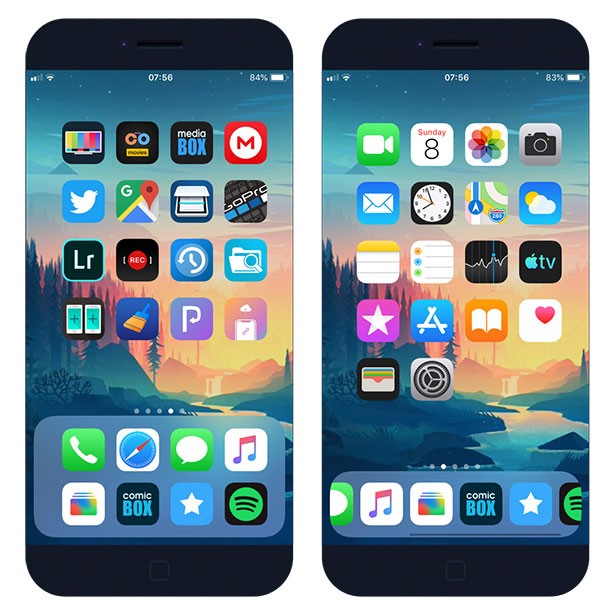 33. Taille tweak
Taille is a free jailbreak tweak by iOS developer MTAC adding to the system an option to view storage occupancy of any installed app by using a simple 3D Touch (or Haptic Touch where applicable) gesture on selected app respective icon. Taille displays App Size in MB in 3D Touch menu.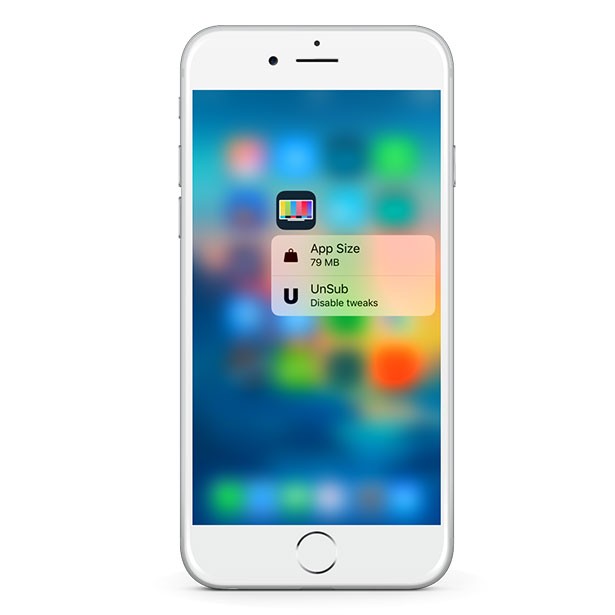 ---
34. ShortLook tweak
ShortLook paid iOS tweak shows a beautiful full-screen notification on Lock Screen while your iPhone's display is turned off. It offers support for system applications, such as Messages and Mail. The Lock Screen is accessible immediately when the device is raised or tapped.
35. Jellyfish tweak
Jellyfish paid Cydia tweak that refreshes the Lock screen with a beautiful time, emphasizing both the time and date. The date takes its color from your wallpaper, creating a blended effect, while still retaining its legibility. If you connect a charger it will display also the percentage of charge.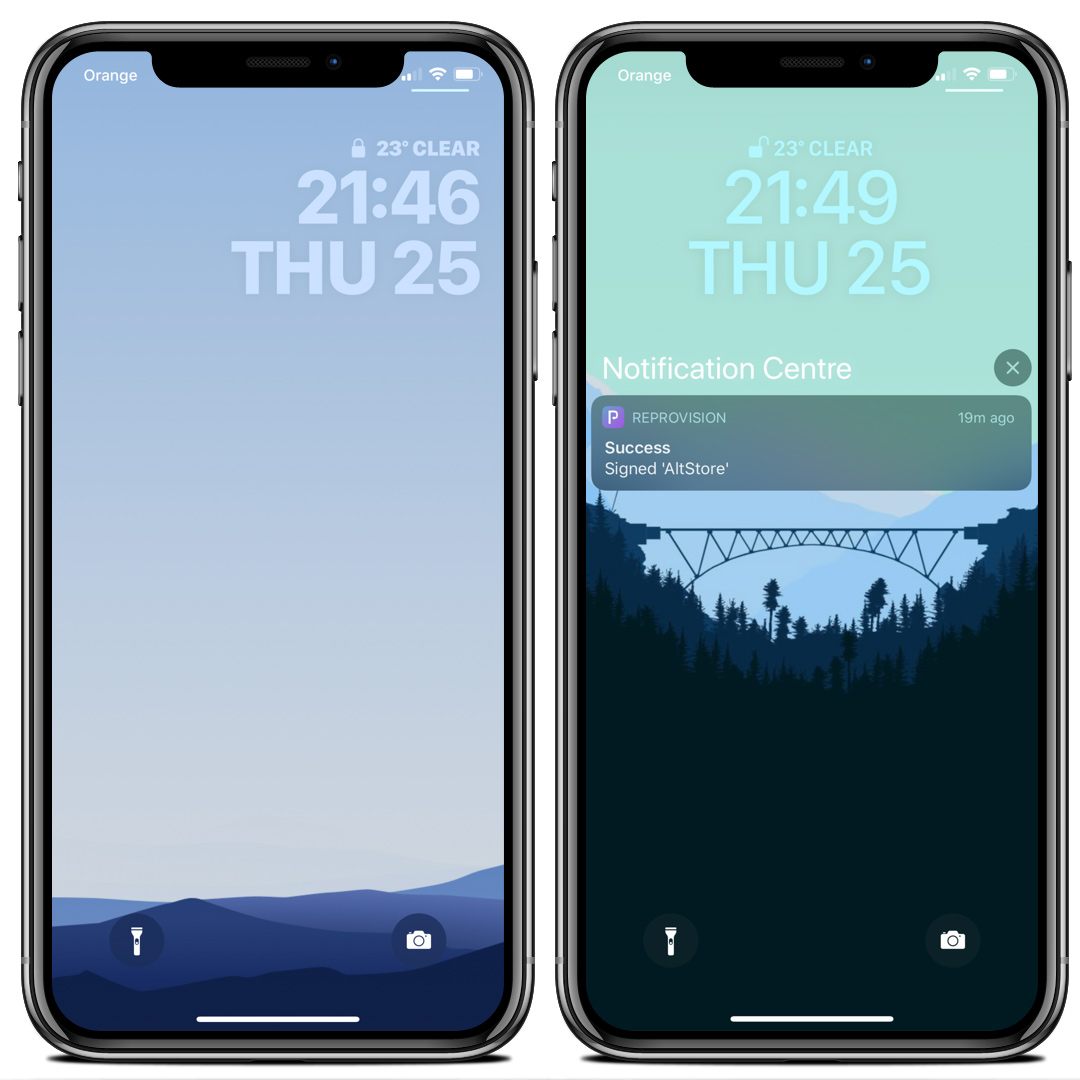 36. Boxy tweak
Boxy jailbreak Cydia tweak is a powerful tool allowing you to take advantage of Icon layout on your device. Adjust how far each icon is from each edge of the screen and how far each icon is from one another. The icon layout is fully customizable with a variety of options configurable in the app settings.
37. BetterCCXI tweak
BetterCCXI is a premium tweak created by ATWiiks for all iOS jailbroken devices with the option to change the size of few iPhone Control Centre modules. From the tweak settings, you can access all available size options. Decide if you like the module displayed in one row or any other view.
38. GPSCheat tweak
GPSCheat is a powerful app for iOS jailbreak users offering the feature to change the current GPS coordinates for your iPhone including all apps like Facebook, Tinder, Twitter, Badoo, etc. You can choose from a variety of settings to change the Earth GPS coordinates on any iOS device.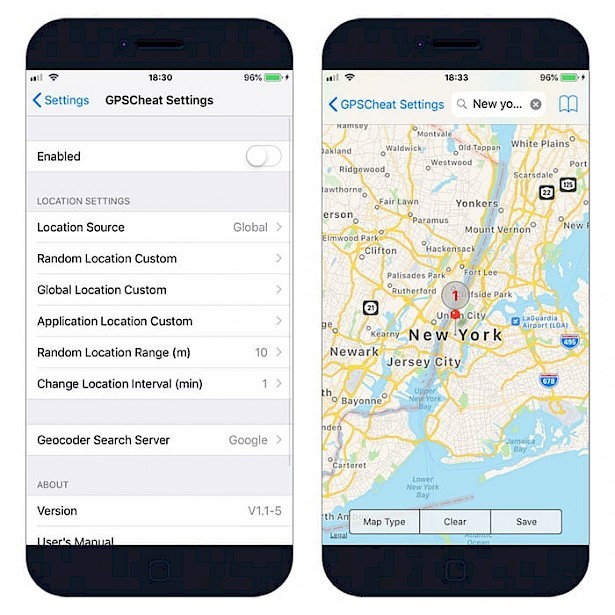 39. Sonus12 tweak
Sonus12 is an amazing volume HUD replacement (compatible with iOS 12 - 10) with appearance, animation, size, and position customization options. Change the height and width of the slider/bar, vertical position (x-position), horizontal position (y-position), overlay padding, and overlay margin.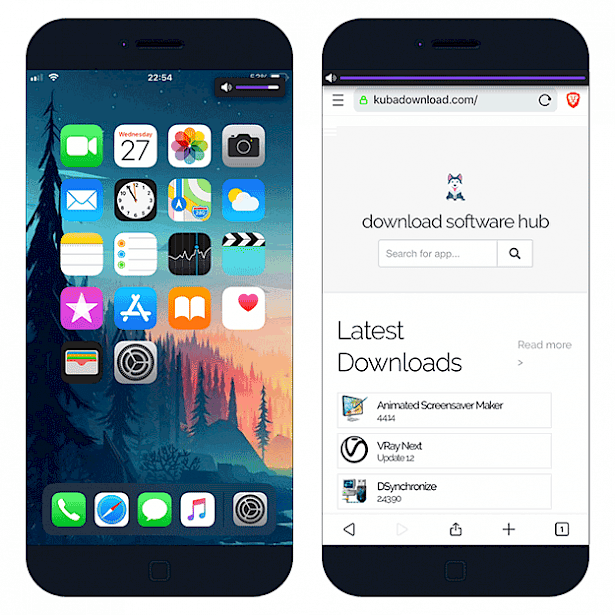 40. Moonshine tweak
Moonshine is a Cydia iOS tweak allowing you to display an animation while charging your device, convert your iPhone to a nightstand, and display notifications with a quick glance then swipe for more details directly on lockscreen. Configure all Moonshine Settings like animations, colors, brightness, etc.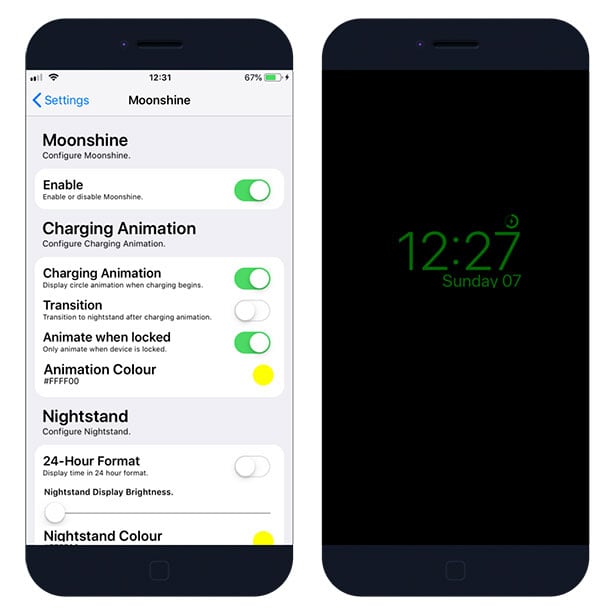 41. ChargeAnimations tweak
ChargeAnimations adds style to your Lock Screen by displaying beautiful charging animation. From tweak setting, you can change the background color, activate always on / loop mode, hide stock battery, turn on sleep after animation or enable the animations on SpringBoard.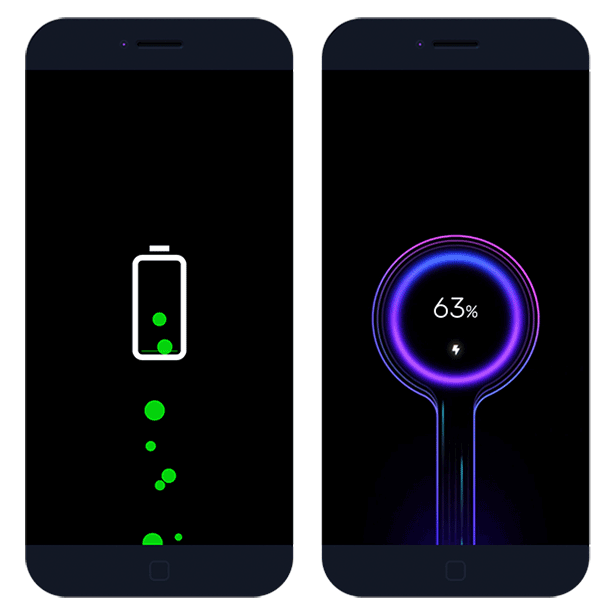 42. Eclipse 12 tweak
Eclipse 12 is a powerful jailbreak tweak allowing you to switch to true dark mode theme on your iPhone, iPad, and iPod Touch. The tweak offers a lot of options including support for many popular App Store apps. Download Eclipse Dark Mode from official Cydia Repo for $1.50.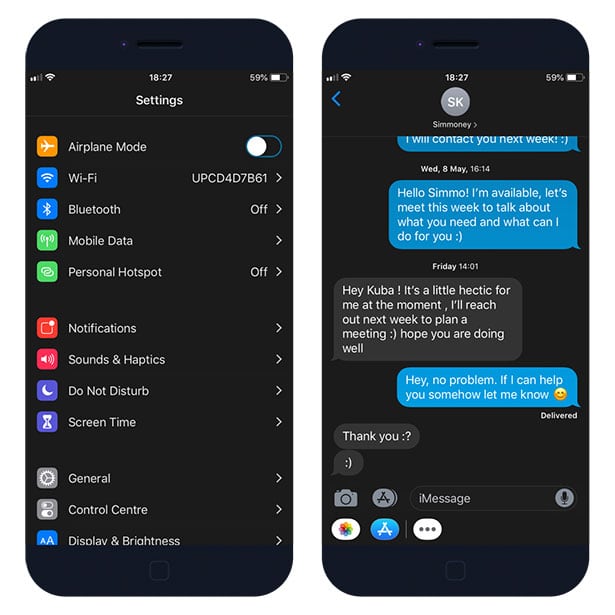 43. Sleepizy tweak
Sleepizy is a Cydia tweak allowing you to set a timer to stop playing music in popular apps including Music, Spotify, YouTube, SoundCloud, etc. Configure the settings directly from Control Center. It offers a lot of useful features and is fully configurable.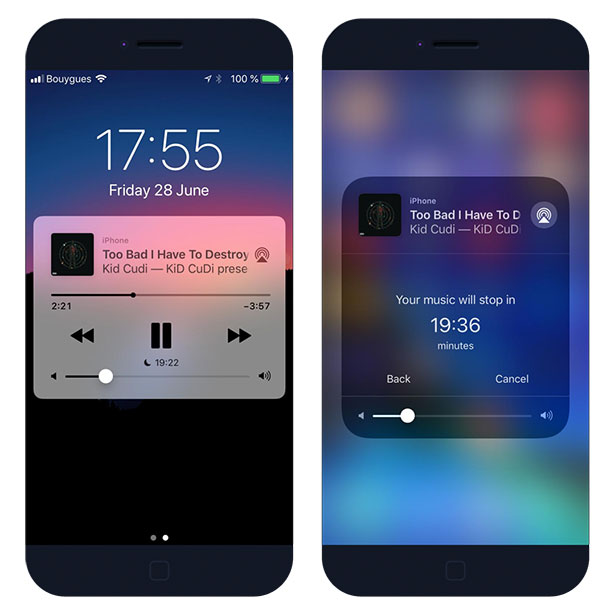 44. Noctis12 tweak
Noctis12 is one of the most popular jailbreak tweaks for iOS 12 allows you to switch to Dark Mode. The app supports Widgets, Notifications, Dock, 3D Touch, Menus, Media Player, Alerts, Popups, and Many stock apps. Noctis12 is packed with system patches, segments and more.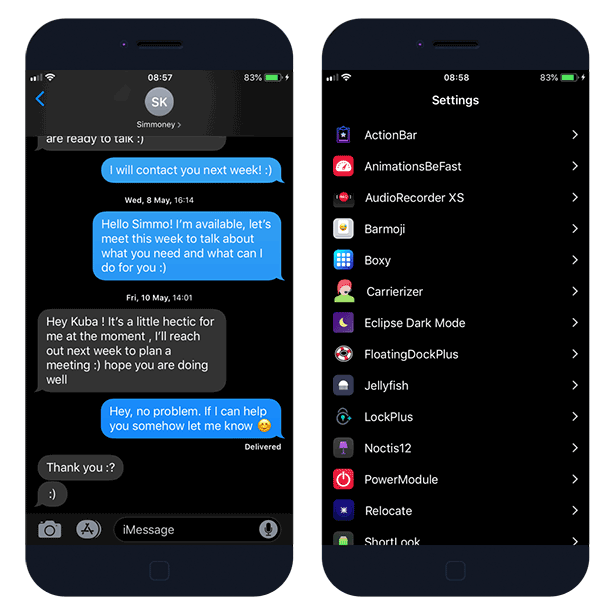 45. DLEasy tweak
DLEasy tweak allows you to download images and videos from social apps on iOS. The iOS tweak supports social apps like Facebook, Instagram, Messenger, Reddit, TikTok, Tumblr, Tweetbot, Twitter, VK, WhatsApp, and YouTube. Use the long press to save video or image to your iPhone.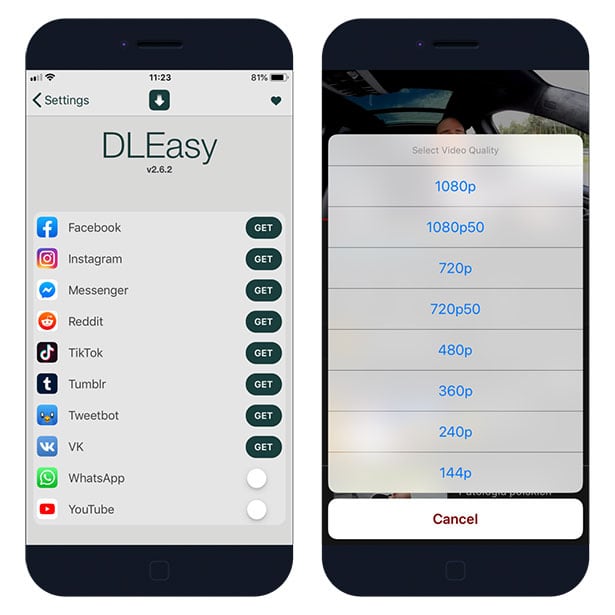 46. PortraitXI tweak
PortraitXI is a premium jailbreak tweak enabling Portrait mode on single-lens iPhone's and adding option to maximize image size to 2500px. Take photos with bokeh effect from the default Camera app on iOS 11 and iOS 13 devices. Download PortraitXI tweak from official Cydia Repository.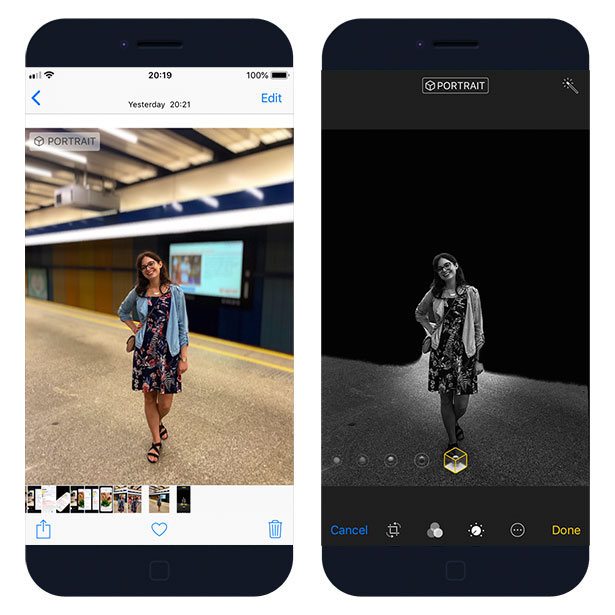 47. FloatingDockPlus tweak
FloatingDockPlus is one of the best jailbreak tweaks available for iOS 13. Enabling this tweak you will have more iPhone dock control and multitasking features. Define dock gestures that allow you to open Notification Center, Control Center, App Switcher, invoking reachability and locking your device.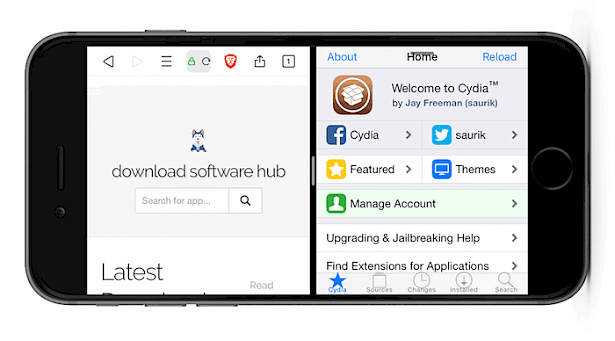 48. HideStatusBarItemsPro tweak
HideStatusBarItemsPro tweak is a minimalistic tool to manage all icons displayed on the status bar menu. Just as the name implies, HideStatusBarItemsPro lets you hide virtually anything that normally resides in the iOS status bar interface. The tweak is compatible with iOS 11 and iOS 12.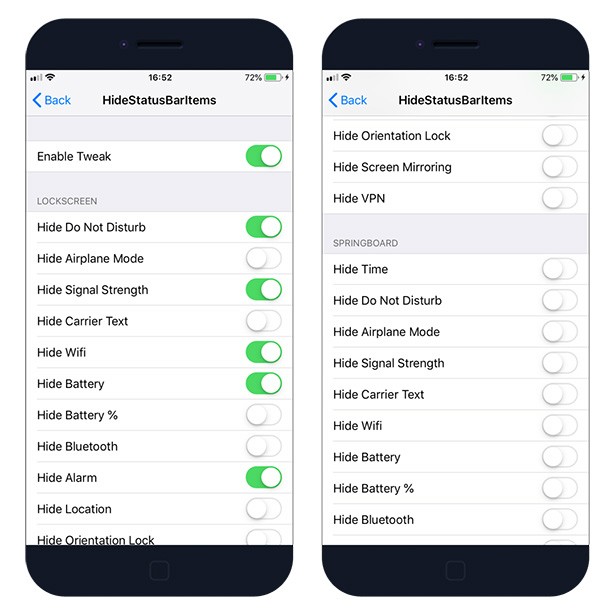 49. HomePlus tweak
HomePlus is a dynamic, live icon configuration tool for all Apple decides including those running on the newest version of iOS 13. The tweak is packed with similar features that you can find in Cuboid or Boxy. Hide icon labels and badges, change vertical and horizontal padding, define new offset, etc.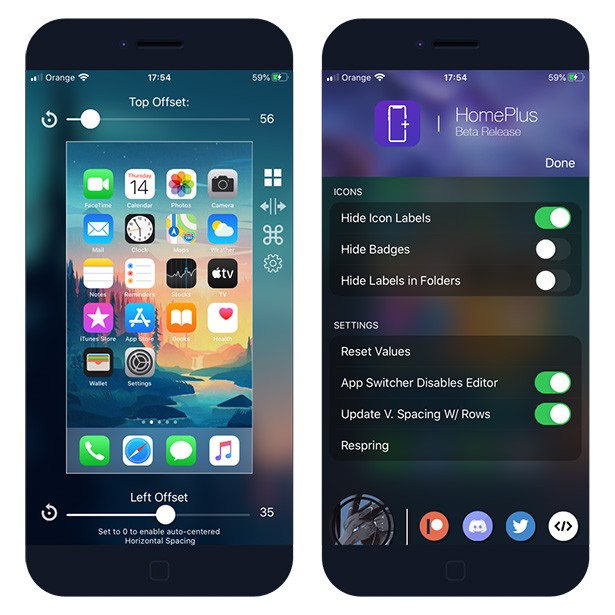 50. Ringer 13 tweak
Ringer13 is a jailbreak tweak created by KingPuffDaddi that brings the iOS 13 inspired ringer HUD to iOS 12. The developer created an excellent replica of the default control in the newest iOS version. Moreover, you can also activate an option to use the same banner styled volume HUD.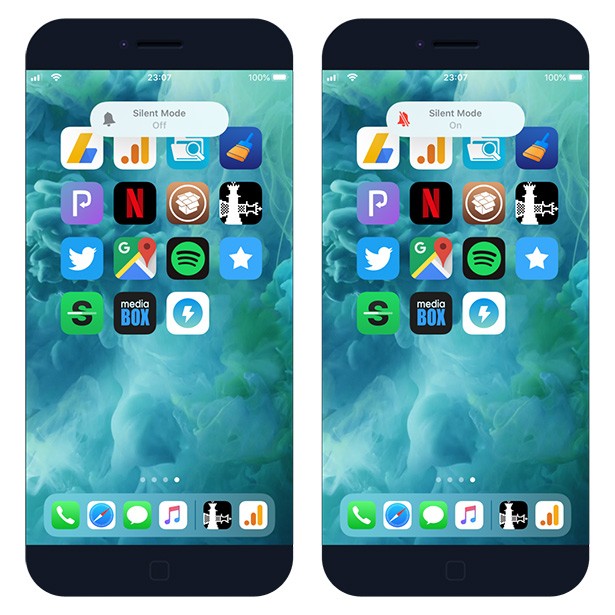 51. IconTweak
IconTweak tweak is a free app created by ichitaso to customize 3D Touch options displayed for apps. The tweak is really handy and you can activate it by default by swiping up on the app icon. A new menu is displayed with options like Open in Filza, Rename the app, Set Budgets, Copy BundleID, etc.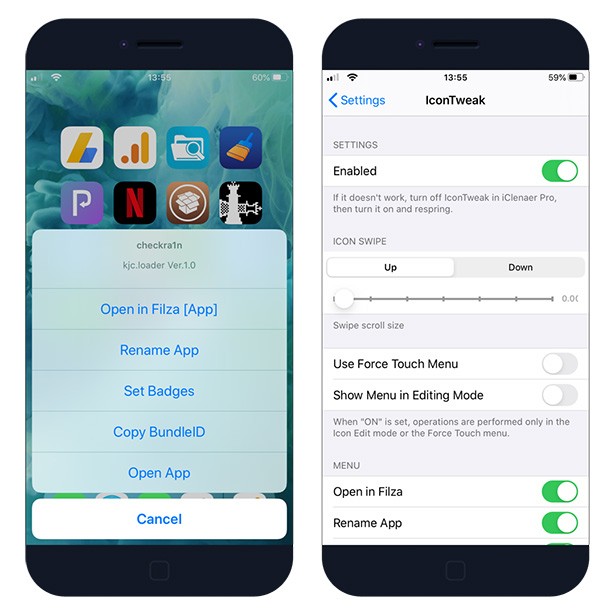 52. LockWidgets tweak
LockWidgets tweak is a simple addon allowing you to display popular widgets directly on the lockscreen. Pin your favorite iOS widgets directly on the Lock screen without the need to swipe over to the Today page. LockWidgets is compatible with all iOS 11 - iOS 13 jailbroken devices.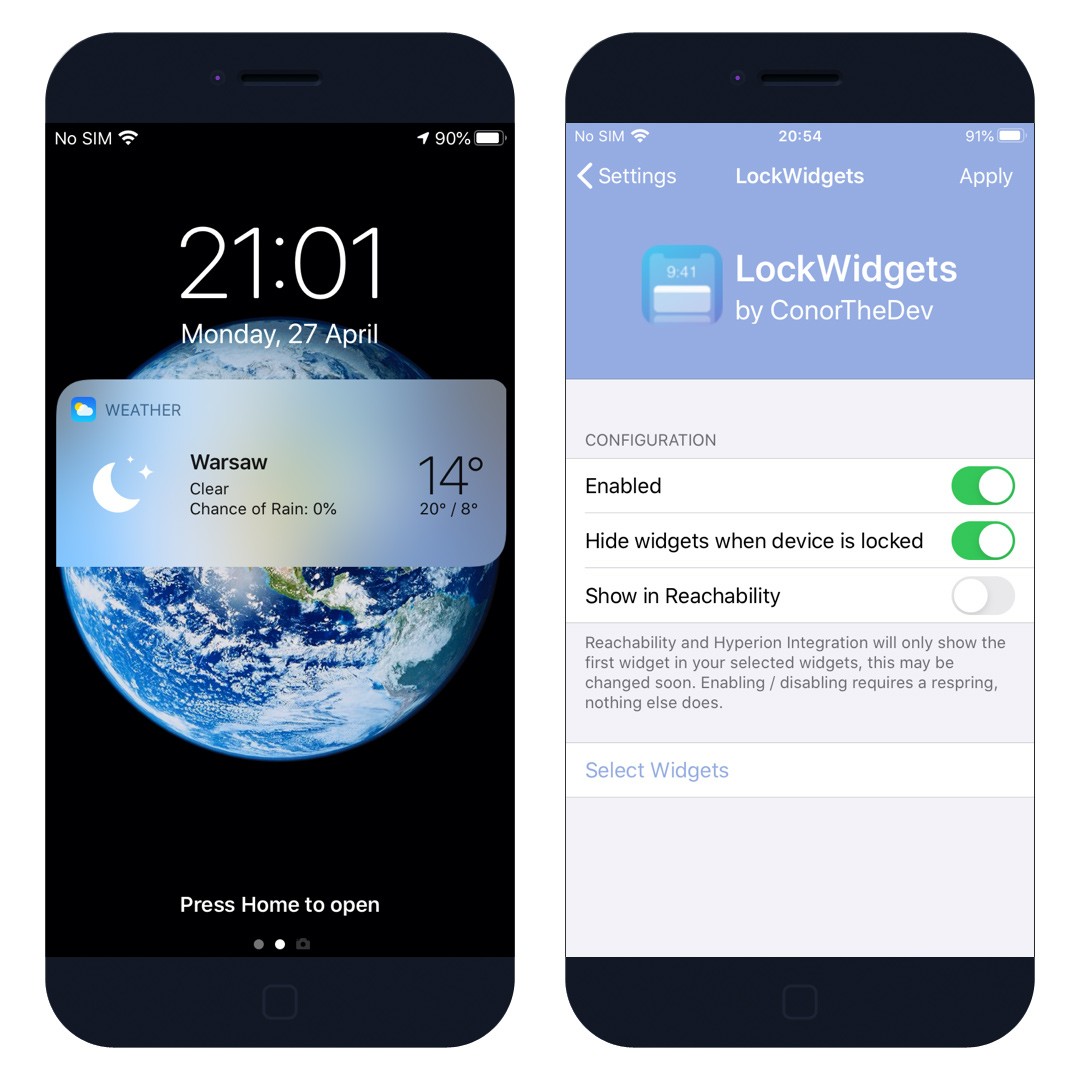 53. Complications tweak
Complications tweak installs beautifully animated widgets to the iPhone lock screen. The widgets updates throughout the day, without sacrificing battery life. Display all the information you need with just a glance. Tap a complication to quickly open its app to get even more info. Price: $.1.99.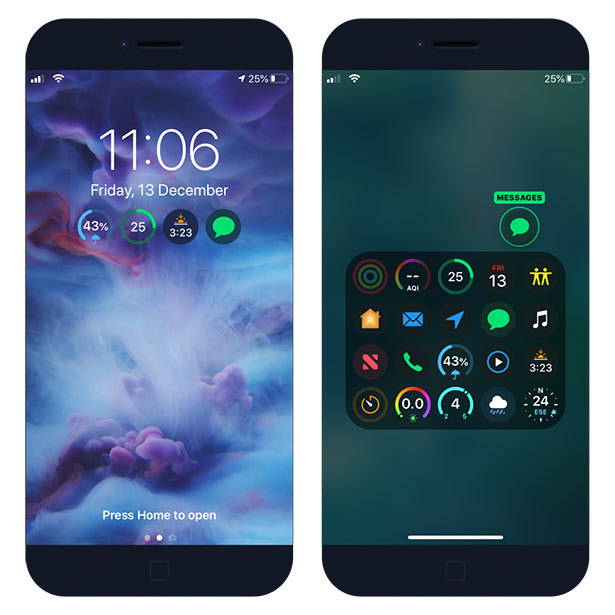 54. ReachIt tweak
ReachIt tweak makes use of Reachability interface free screen space adding to it a now playing music interface. ReachIt offers two modes. The full-featured mode displaying the album artwork, song timeline, volume slider, etc. Minimalist mode displays basic controls and song title and artist.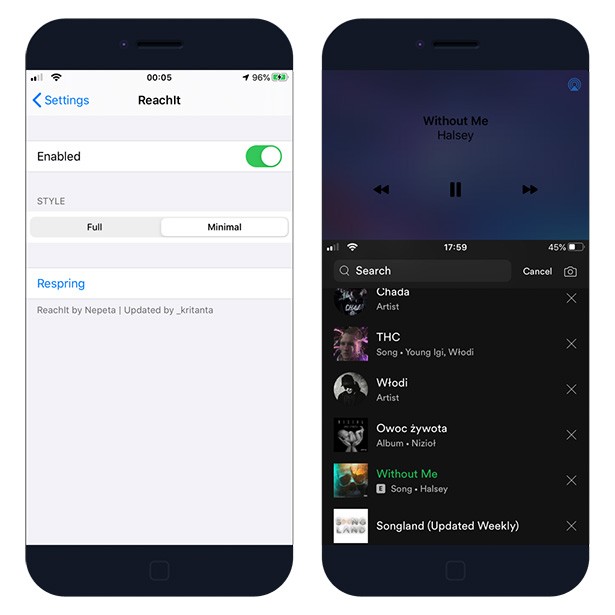 55. WindowHUD tweak
WindowHUD is a free tweak that adds a Control Center toggle to horizontally flip your iPhone screen. HUD is a transparent display presenting data without requiring users to look away from their viewpoints. WindowHUD can be used to display the HUD image on a car windshield.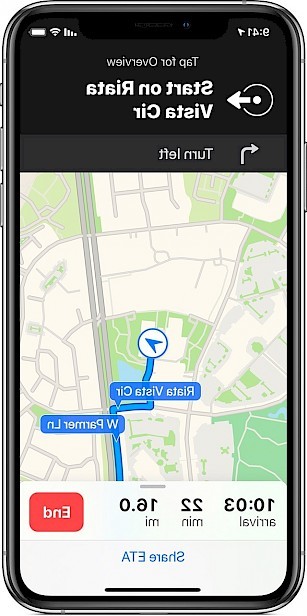 56. SimpleLS2 tweak
SimpleLS 2 provides different styles and widget for iOS lock screen and it also bring Always On Display feature. Activate one of two styles for lock screen, select custom widgets like weather widget, sunrise/sunset, step count, activity ring, or display no widgets on the screen.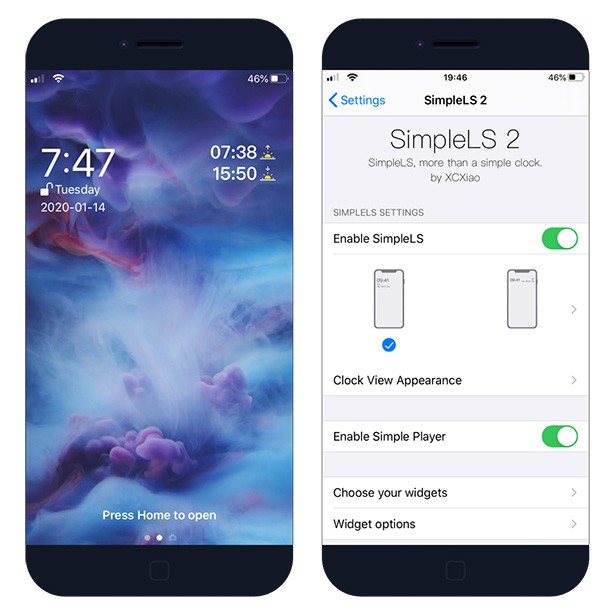 57. Amandus tweak
Amandus is a free tweak that brings a minimalistic interface to the Apple Pay payment. Muirey03 tweak displays the payment as a banner-style pop-up at the top of the display rather than as a full-screen interface like Apple has designed. The tweak was created for Apple Pay-supported iPhones.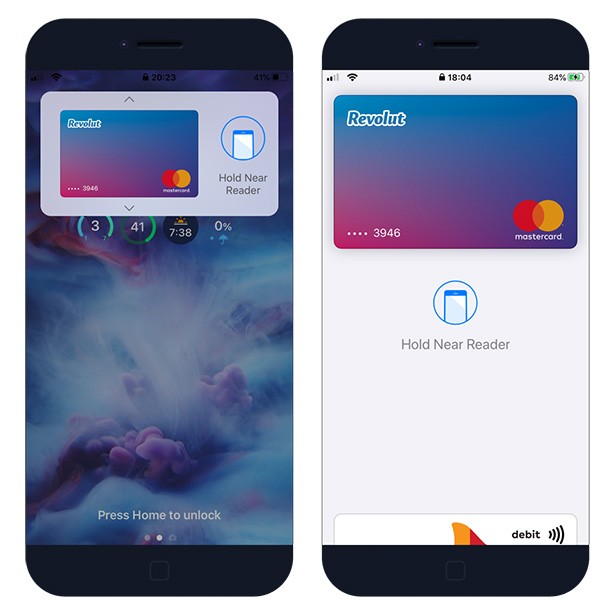 58. MilkyWay2 tweak
MilkyWay2 tweak is a free iOS 13 addon created by @akusio_RR that adds an option to run multiple applications at once on jailbroken iPhones and iPads. Version 2nd works only on iOS 13 and doesn't require any configuration. Activate multitasking and run multiple apps in small windows.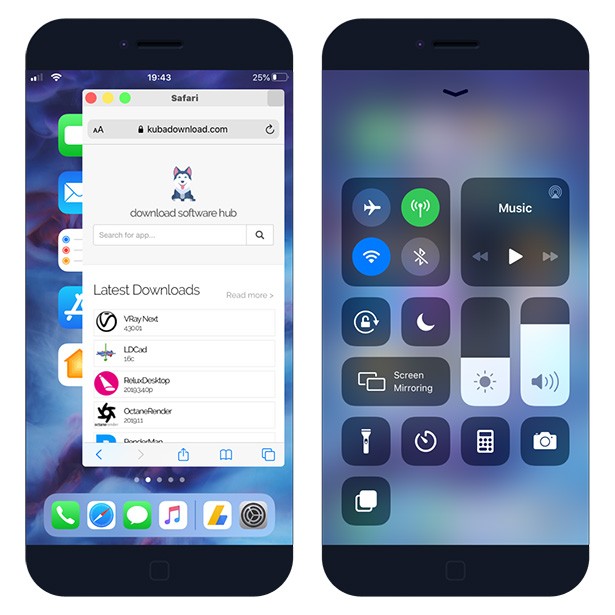 59. Volumizer tweak
Volumizer tweak allows you to increase the volume in certain apps and leave others at a lower volume level. iOS doesn't provide volume-tuning features out of the box, but when you jailbreak the device you can install Volumizer by iOS developer SynnyG and improve the iOS volume level experience.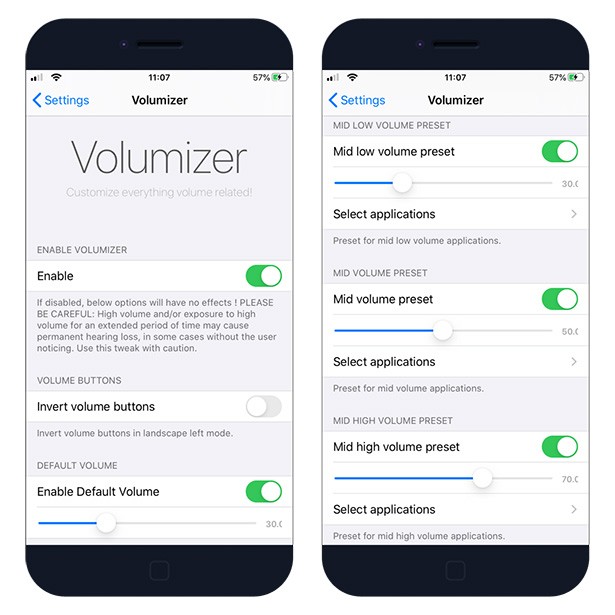 60. Choicy tweak
Choicy is an advanced tweak configurator with support for iOS 10 to iOS 13. The tweak adds the ability to individually configure tweak injection for apps and daemons. The configuration works by setting either a blacklist of tweaks not to load or a whitelist of the tweaks to exclusively load.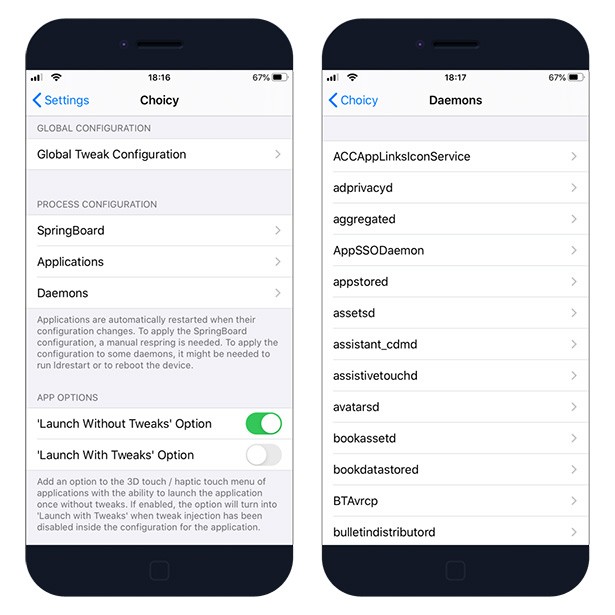 61. Safari Plus tweak
Safari Plus is the best Safari browser addon for iOS firmware. This free tweak for jailbreak devices adds useful features to the iOS mobile browser including download manger, gestures, biometric protection, and much more. Download Safari Plus from Cydia Repo for iOS 8, 9, 10, 11 12, and iOS 13.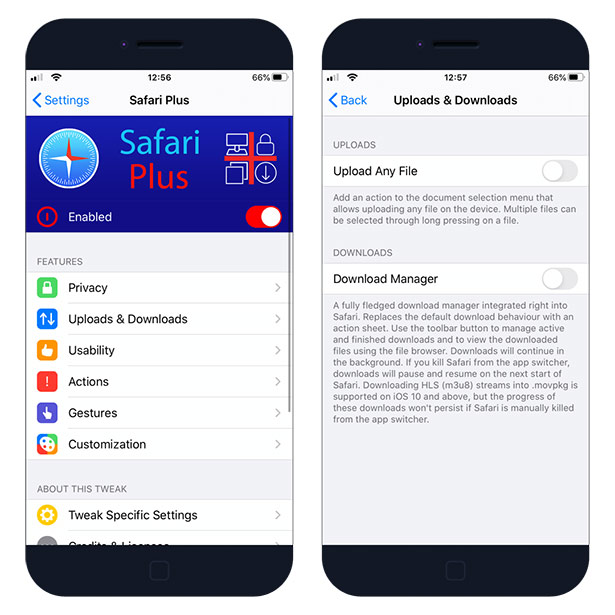 62. Barmoji tweak
Barmoji tweak adds a selectable emoji view between the globe and dictations buttons on iPhone X's. This is an excellent way to use the extra space on the iPhone X keyboard instead of displaying the empty space. Non-iPhone X devices can activate replacement of the text prediction bar with emojis.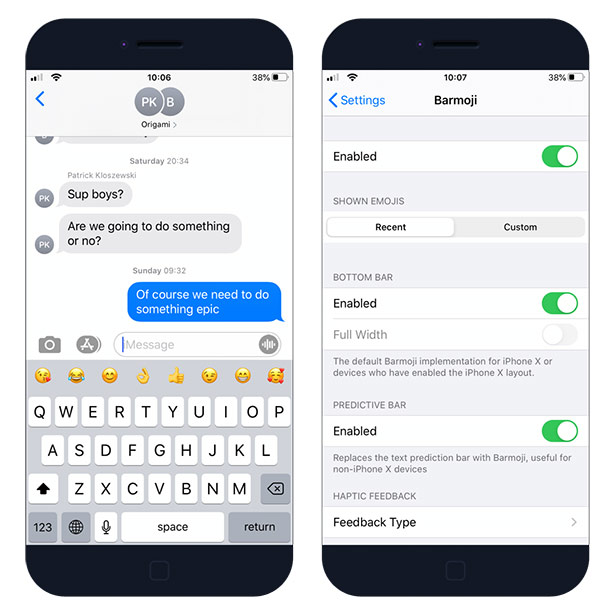 63. Assistability tweak
Assistability13 tweak is a multitasking app that places an AssistiveTouch inspired menu into the Reachability window, making functional use of the space. You can but it for $1.50. After installing the tweak adds a new configuration panel to the Settings app.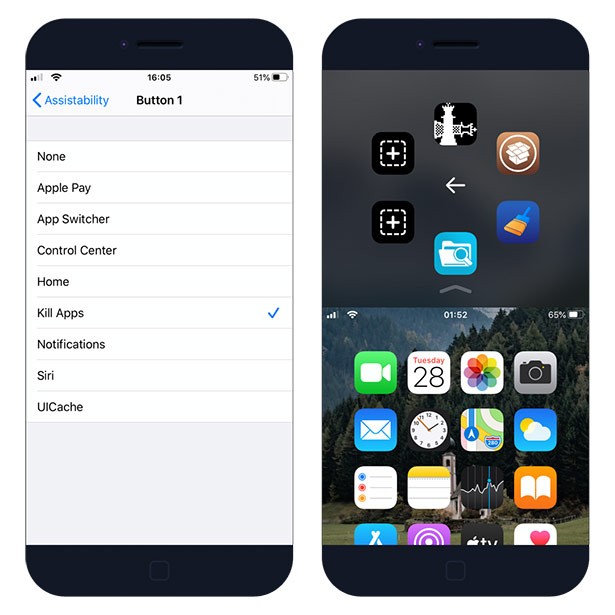 64. ForceInPicture tweak
ForceInPicture jailbreak tweak enables Picture in Picture mode on all unsupported devices, as long as you're operating on iOS 9 or iOS 13 firmware. It adds an option to play any video in Picture in Picture from the built-in player. ForceInPicture is completely free and you can install it from Cydia Repo.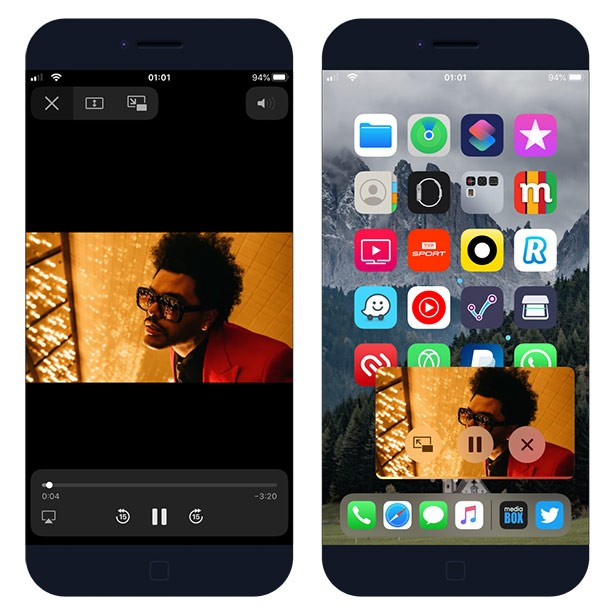 65. Velox Reloaded tweak
Velox Reloaded is a jailbreak tweak by @ApexTweaks that adds new system widgets with intuitive functionalities directly to your iPhone or iPad's Home screen via the very same grid-space that is used to display app icons. Pin your favorites iOS widgets to the home screen.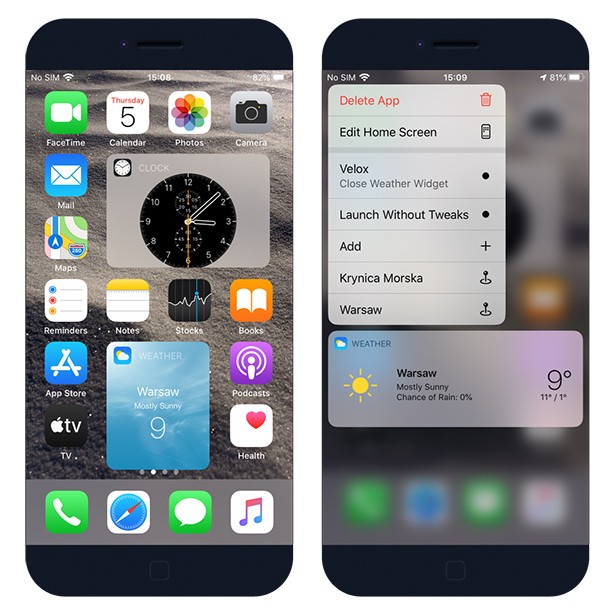 67. DockX tweak
DockX tweak is a free add-on that adds minor improvements to the default iOS keyboard on notched devices (X, XS, XR, 11) running iOS 12 - iOS 13. Install this tweak to add shortcuts to the extra space on the iPhone X keyboard. What's more, the tweak works also with KeyboardX adding support for older devices (not notched).
68. KernBypass tweak
KernBypass tweak is a new jailbreak detection bypass tool for iOS 13 that allows you to run apps that are trying hard to not work on jailbroken devices using unc0ver or checkra1n tools. The tweak supports A7-A13 devices running only on iOS 13. KernBypass tweak works on the kernel level and it can work not stable.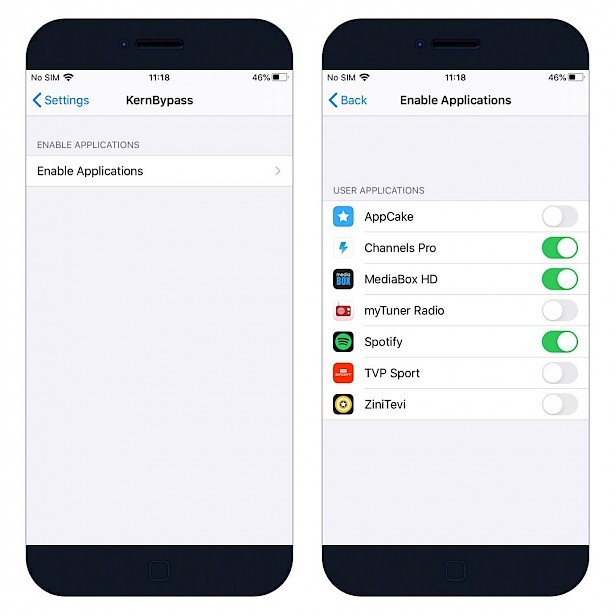 69. Scorpion tweak
Scorpion tweak shrinks the stock call interface on your iOS device to about the size of a notification banner, ensuring less intrusion when interacting with your apps. What's more, Scorpion works not only with the iPhone's native Phone app but also supports applications such as WhatsApp, Messenger, Skype, etc.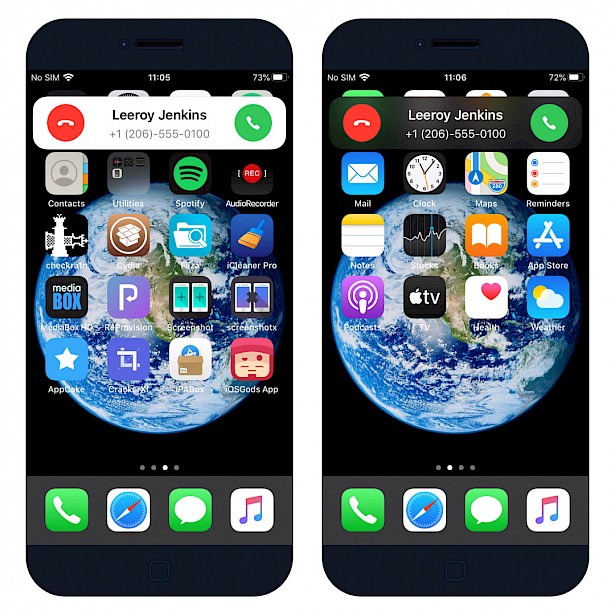 70. Velox Reloaded
Velox Reloaded is a jailbreak tweak by @ApexTweaks that adds new system widgets with intuitive functionalities directly to your iPhone or iPad's Home screen via the very same grid-space that is used to display app icons. Pin your favorites iOS widgets to the home screen and install Velox tweak.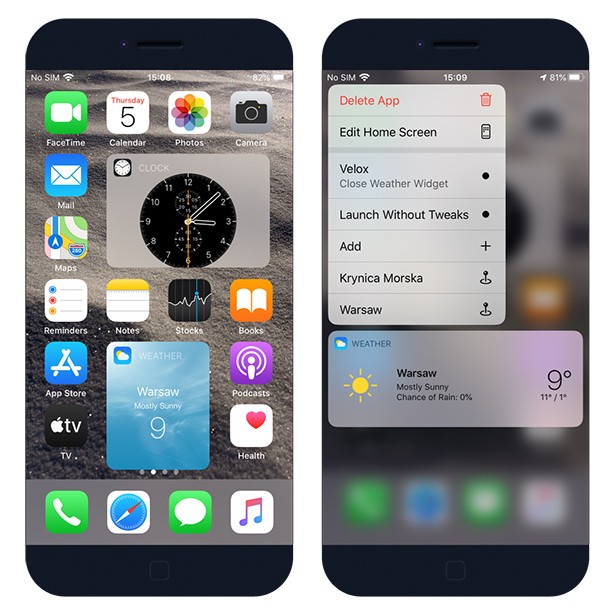 71. YouTube Music Reborn tweak
YouTube Music Reborn is a free jailbreak tweak created by @SarahH12099 offering high-demand features. The add-on can activate natively some premium features without paying a recurring subscription fee. The tweak installs a dedicated preference pane in the Settings app. You can also enable the audio-only mode.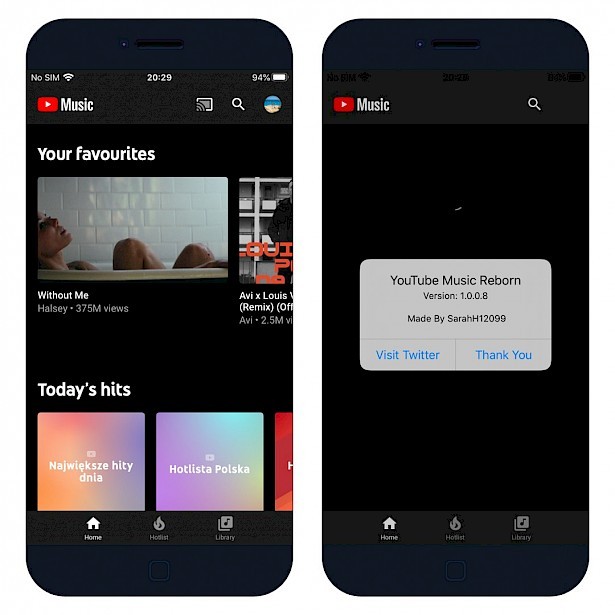 72. Nougat tweak
Nougat tweak provides three new Notification Center styles inspired by Android devices to your iPhone. You can switch between Pixel, Nougat, or Oreo interface from the preference pane installed in the Settings app. The main panel is comprised of four modules to provide convenient shortcuts.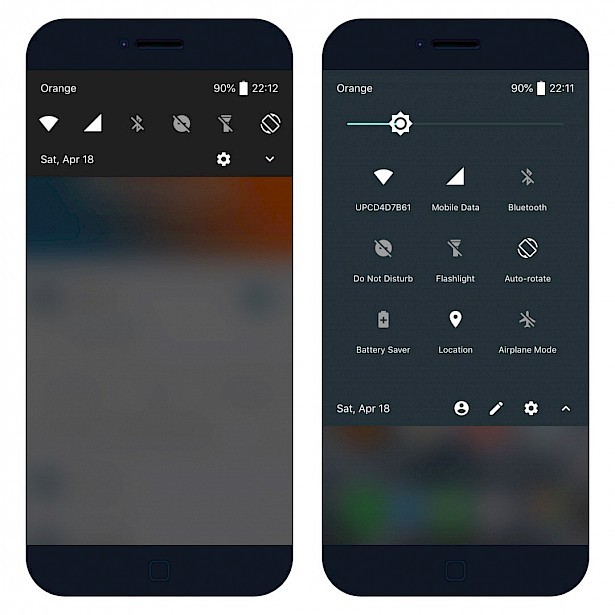 73. Multipla tweak
Multipla tweak is a new dock replacement adding that expands upon the Dock's existing functionality by unlocking new features. Among those you can modify icons limit, choose widgets for your Dock, select animation for widget switching, hide Dock elements (pages dots, page labels, grabber), and much more.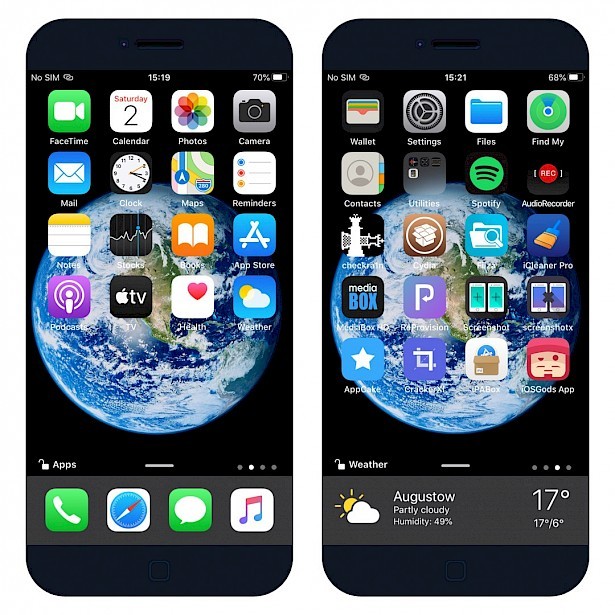 74. Artistry tweak
Artistry is a free jailbreak tweak that modifies the Spotify app for iOS to display song artworks for every playlist in Spotify. The tweak doesn't offer any more features. There is no preference pane installed with the tweak, so if you like to disable it, it's required to remove Artistry from Cydia.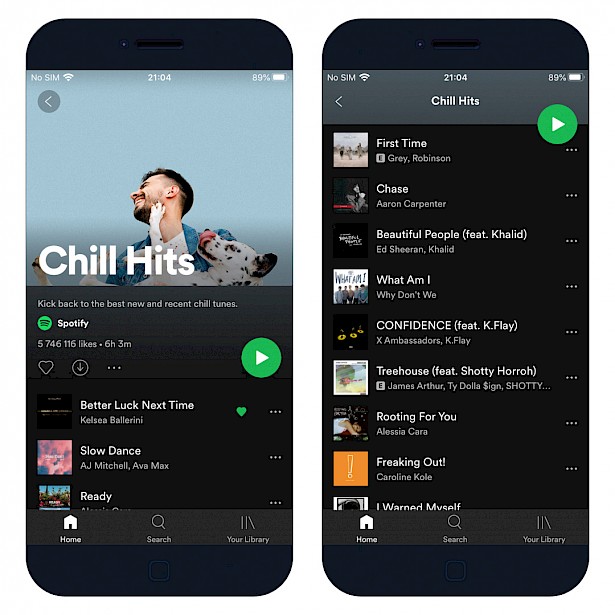 75. YouTube Reborn tweak
YouTube Reborn tweak created by @SarahH12099 provides useful options to the stock YouTube app. Use this mod to disable video ads and enable background playback on your iOS devices. Moreover, you can customize the YouTube app to disable double-tap to skip, always show player bar, disable video end screen popups, allow HD streaming on cellular data, or disable age restriction.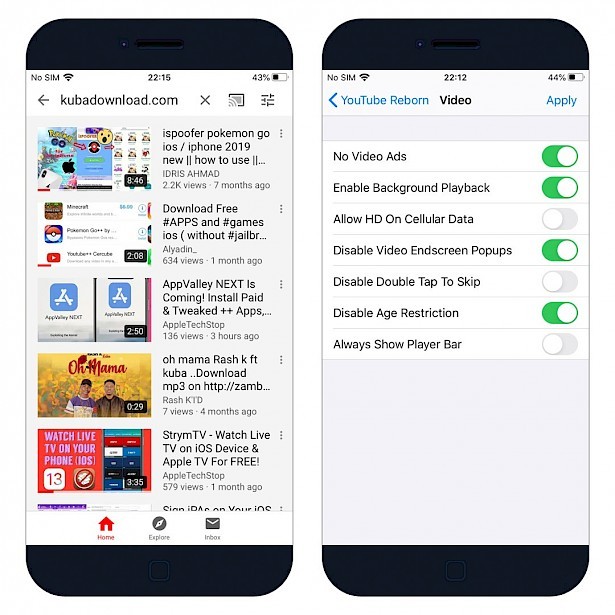 ---
Did we miss an interesting tweak not available in our list of best Cydia tweaks for iOS? Let us know in the comment section what are your favorite system addons for your jailbroken iOS.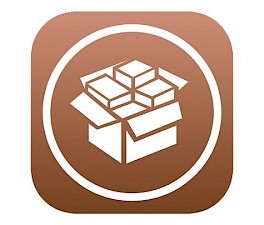 Frequently Asked Questions
Where are Cydia tweaks installed?
All tweaks installed using Cydia are stored in /Library/PreferencesBundles/ directory. You can navigate to this location using Filza app. Most of the tweak's options can be configured from the pane available in Settings app, but it can happen that tweaks will not show up in settings.
Are Cydia tweaks free?
Cydia tweaks are distributed as free and paid depending on what the tweak developer will decide. You can always find a piece of information about the price and license in the tweak description page.
Can't uninstall Cydia tweak?
If you have a problem to remove a tweak from the system there is an option to uninstall it using a terminal command. You can also try to do it using a different package manager.
How to backup Cydia tweaks?
The easiest and most convenient way to backup all Cydia tweaks is using a free Batchomatic extension. It allows you to backup tweaks, all tweaks preferences, and Cydia sources.
Which Cydia tweaks drain battery?
There is no Cydia tweak created to drain your iPhone battery. If you have any issues regarding battery just remove the tweak you installed lately or check the CPU usage with CocoaTop app. Inform the developer when you find suspicious battery behavior. It was not intended and it's probably a memory leak that can be fixed.
You might also like