Best Cydia Impactor Alternatives that actually work
kuba - Friday, 27 March 2020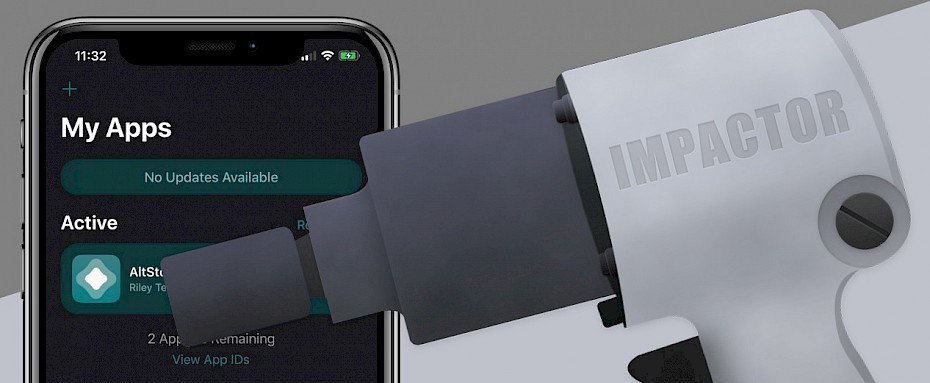 If you are searching for Cydia Impactor alternative you probably need it to install IPA files on iOS. Impactor 0.9.52 doesn't work anymore with a free developer certificate and the only option to install IPA packages using Cydia Impactor is to use a paid $99 developer certificate from Apple.
Cydia Impactor Alternatives
Cydia Impactor is a free tool used to install IPA files on iOS devices. An IPA file is an iOS application archive file which stores an iOS app. Each IPA file includes a binary for the ARM architecture and can only be installed on an iOS device. Discover best Cydia Impactor Alternatives working with iOS 13.
1. AltStore
AltStore is an iOS app that allows you to install IPA onto your iOS device using your Apple ID and password. Due to the licensing of some dependencies (created by @saurik) used by AltStore the developer distributed the software under the AGPLv3 license (open source).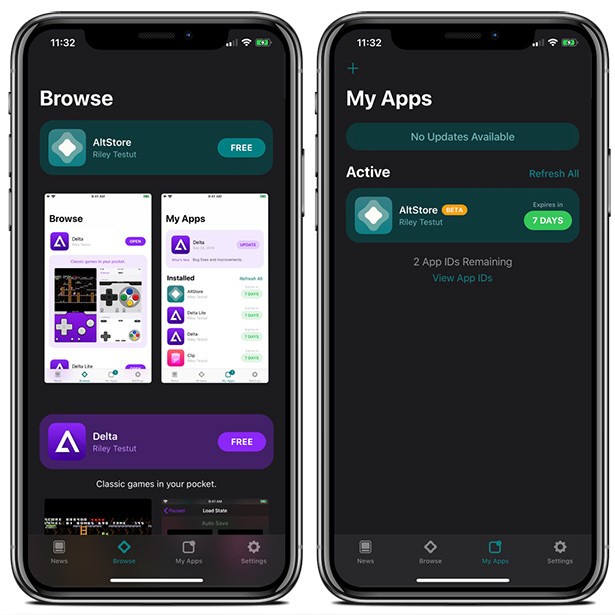 Using the software you can resign and install any app with your Apple ID, upload apps over WiFi using AltServer, refresh apps periodically in the background to prevent them from expiring (when on the same WiFi as AltServer), and also handle all app updates directly through AltStore Beta for Windows.
AltStore is based on some libraries available in Impactor, and it is almost a complete alternative for installing IPA files on iOS. The software is updated regularly adding support for a new version of iOS firmware. The app can sign and sideload IPA files to iOS 13, iOS 13.3.1, and iOS 13.4.
2. AltSigner
AltSigner is a free Cydia Impactor alternative tool that can be used to sign IPA on Windows. The application is really easy to use and requires Apple ID, device UDID, and an IPA file to sign. AltSigner requires iTunes. Please ensure that you have installed the latest version of iTunes on your PC.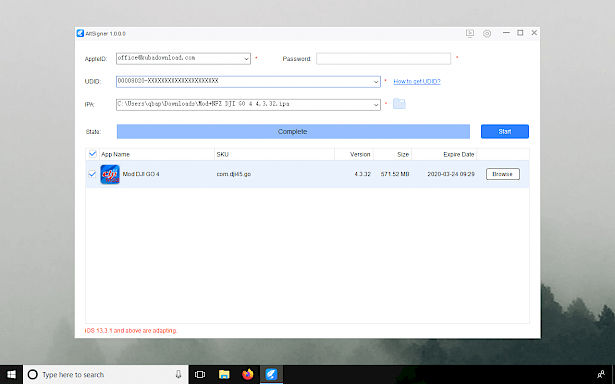 If you use Apple ID has Two-Factor Authentication turned on, you will need to additionally enter a six-digit verification code provided by Apple. Additionally, the software can manage multiple Apple accounts, saves information about the expiration date of signed packages.
The IPA files signed by AltSigner can only be installed on the same Apple ID and UDID as when signed. IPA signed by AltSigner can only be installed on your iOS device with iOS firmware lower than 13.3.1. If you run iOS 13.3.1 or later, the IPA that has been successfully signed cannot be installed.
3. AppCake 7
AppCake 7 the free platform for iOS devices allowing you to install unsigned IPA files. The free App Store is packed with premium games and applications that can be download without the need to pay for them. The store is developed by iPhonecake and provided by iPASTORE.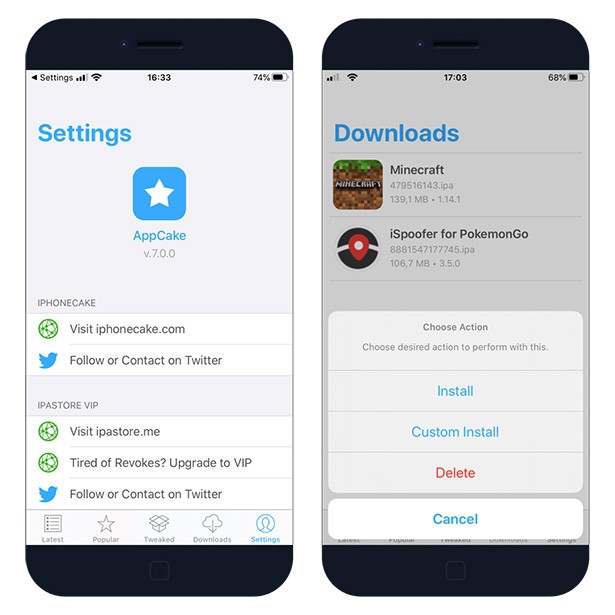 The iPhone helper is packed also with a file manager, allowing you to check download progress and manage downloaded IPA files, a web server providing access to your files in AppCake from any browser. You can use this feature to download and upload IPA files from Desktop to your iPhone.
AppCake 7 is a Cydia Impactor alternative that can be installed directly on your device. The application works with iOS 12, iOS 13, and iOS 13.4 on both Jailbreak and non-Jailbreak devices. Same as all other free app stores, all apps are signed using an enterprise certificate, that can easily get revoked.
4. nullxImpactor
nullxImpactor is the Cydia Impactor alternative for Mac based on AltServer created by @rileytestut. The application allows you to sign and sideload IPA files to your iPhone, iPad, and iPod Touch running iOS 11, iOS 12, or iOS 13 (only iOS 13.3.1 isn't supported). In IPA Url you can provide file location on HDD.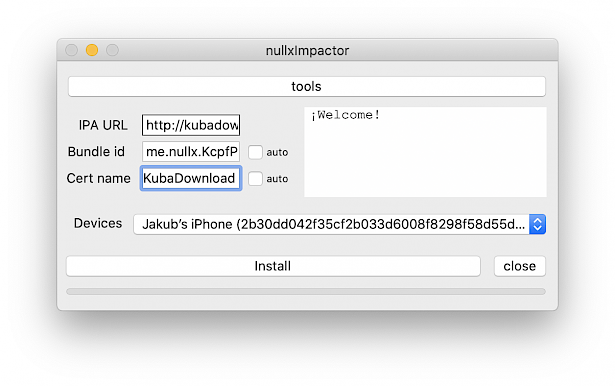 The new signing IPA tools require users to provide Apple ID and password to generate a working certificate. Enter an IPA URL link, connect your device via USB and click Install to start sideloading the package. Use this tool to install on your device any app including tweaks, and jailbreak tools.
All sideloaded apps using nullxImpactor are revoke-free, but still, the app comes with some limitation. When you are using a free Apple certificate you can sing 3 apps per device, and you can generate and use 7 days validity certificate only. When the apps will stop working it's required to re-sign the IPA.
5. AltDeploy
AltDeploy is a working solution to sign IPA files and sideload the packages to any iOS device. You can use the software to install any IPA package containing iOS apps or games. AltDeploy can be also used to sideload jailbreak tools like unc0ver, Electra, chimera without certificate revokes.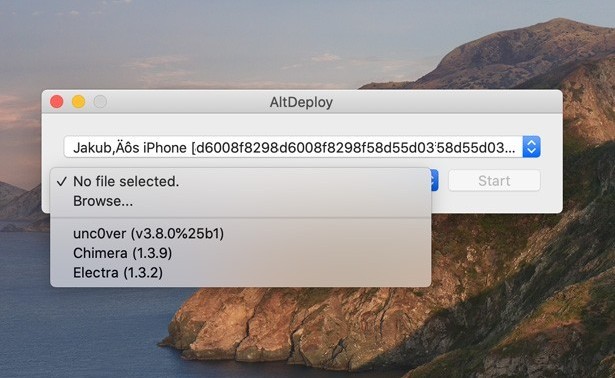 The IPA signing tool is based on AltStore app offering an option to sideload some predefined apps. AltDeploy allows you to sign any selected IPA file on your iPhone. The app interface is almost identical to Cydia Impactor. The app requires you to provide an Apple ID and password to side-load IPA files.
Cydia Impactor isn't working and it doesn't look like a new fix release will be available soon for download. The only option to sideload apps on iOS was to use 3rd party AppStores but usually, all apps are revoked after a few hours. The app fixes this issue (iOS 13.3.1 isn't supported).
6. iOS App Signer
iOS App Signer is a free Mac application to sign IPA, DEB, APP, xcarchive packages and sideload them on your iPhone, iPad, iPod Touch. (Re)sign apps and bundle them into IPA files that are ready to be installed on an iOS device. To make the app work Xcode is required to be installed.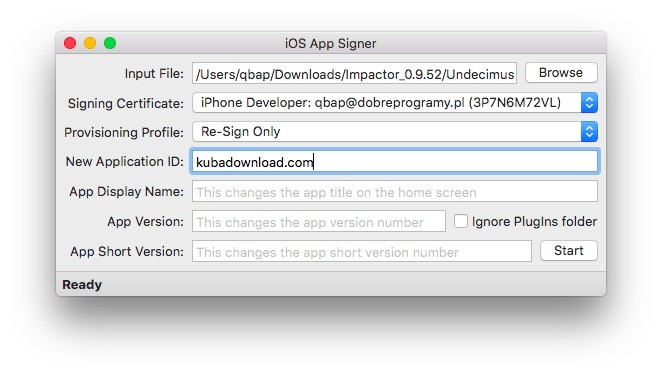 You need a provisioning profile and signing certificate, from a new project in Xcode. Open up iOS App Signer and select the input file, signing certificate, provisioning file, and optionally specify a new application ID and/or application display name. Download iOS App Signer app.
7. ReProvision
ReProvision is a free jailbreak iPhone tool to sign IPA files. This is a Cydia Impactor alternative for iOS. It doesn't require a developer account, and to run it you need to use an app-specific password to sign in to an app not provided by Apple. Install the app and forget about revokes on iOS 13.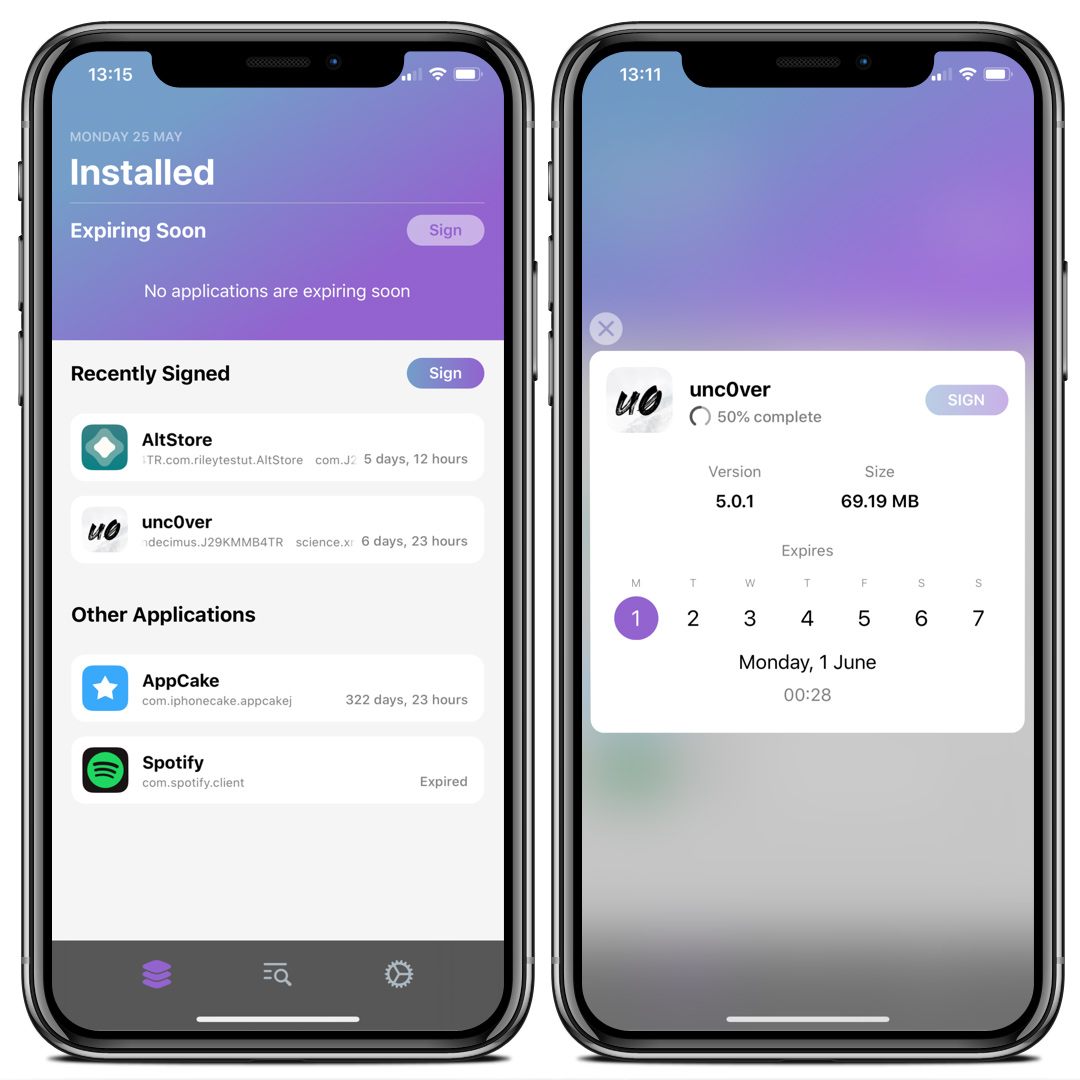 The app features automatic re-signing of locally provisioned applications, saving of your Apple ID login details, installing of IPA files through Safari and other applications, and 3D Touch menu integration to manually re-sign from the Home screen.
Moreover, you can set how many days away from an application's expiration date a re-sign will occur, show debug and non-urgent alerts, and set how often checkers are made for if any apps or games are in need to re-signing. In the main window, you can check the list of all signed apps.
8. AppSync Unified
AppSync Unified patches installd allowing you to install unsigned IPA files on iOS. AppSync can be used to clone installed apps, download fakesigned IPAs, and also to assist in the development of iOS apps using Xcode. Unlike Cydia Impactor there is no 3 app limit per device or 7-day certificate.
AppSync Unified should not be used to pirate iOS applications. Please support developers and don't use cracked versions of apps. The developer behind AppSync is creating also AppCake, the free platform for iOS devices allowing you to install paid AppStore apps and games for free.
After jailbreaking iOS using tools like unc0ver or checkra1n you can patch any IPA package downloaded directly on your iPhone. Install AppSync Unified and forget about certificate revokes, not working apps, faded icons, etc. Also, apps installed from 3rd party App Stores should work.
9. Panda Helper iOS
Panda Helper iOS is a free App Store from where you can install signed and games apps with no need to Jailbreak or use your Apple ID. Download Panda Helper on iPhone, iPad, iPod Touch for free. Sign paid apps, tweaks, games on iOS with this Cydia Impactor alternative.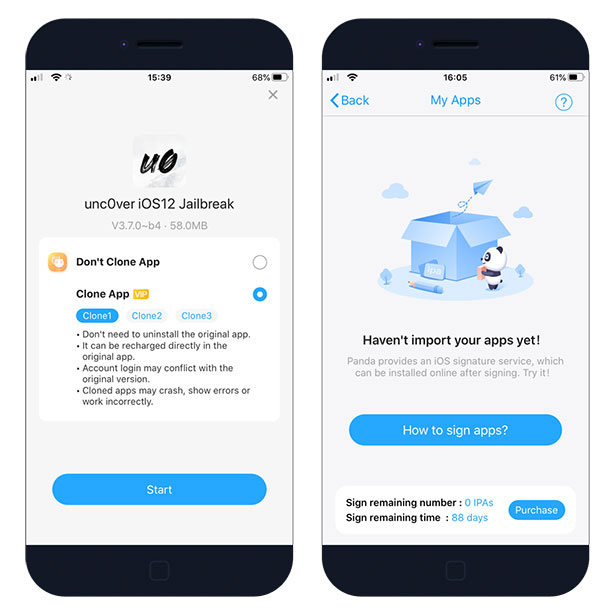 Moreover, Panda Helper iOS provides a builtin signature service allowing you to sign IPA files directly on your iPhone. App Signer is available exclusively for Panda VIP members and can sign only one IPA at a time. Panda can't sing encrypted IPA files and supports iOS 11, iOS 12, and iOS 13.
Panda Helper iOS offers two options to install apps. The default method requires to remove the original app installed from AppStore before you will download it from Panda Store. Clone App feature allows you to create a separate copy of the app without the need to uninstall the original version.
10. AltServerPatcher
AltServerPatcher is a utility that patches AltServer to install any IPA from a web URL. This is an effective replacement of Cydia Impactor for Windows. The application doesn't sign IPA files itself. It offers presets allowing you to sideload common jailbreaks, such as unc0ver, Phoenix, or h3lix.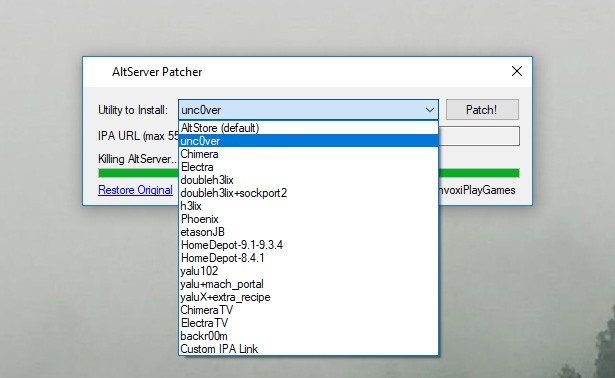 AltServerPatcher is packed with links to IPA files containing unc0ver, Chimera, Electra, doubleh3lix, doubleh3lix + sockport2, h3lix, Phoenix, etasonJB, Home Depot (9.1-9.3.4), Home Depot (8.4.1), yalu102, yalu + mach_portal, yaluX + extra_recipe, ChimeraTV, ElectraTV, and backr00m.
Additionally, you can provide own link to IPA file that will be downloaded, signed, and sideloaded to your iOS devices using AltServer. Before patching, AltServerPatcher creates a backup of AltServer.exe that can be restored from the app itself. If something goes wrong simply reinstall AltServer.