When you start a small business, startup or first blog its good to have a logo that can be associated to your brand. Designing a logo is not easy and it requires a great deal of time and money. Be your own logo designer using a simple free online logo software.
Excellent logo design will help you to establish your brand recognition. It should also deliver a clear view of your company's culture as well as build trust with the customer. You can use professional software to create logo from our directory, but if you like to keep it simple try for free DesignEvo.
It is an online logo software with over 4000 logo templates that can be customized or you can build your logo from scratch. Moreover, you have access to millions of searchable icons, and logo fonts. All files are arranged into 34 categories like for example Pets, Restaurants, Fashion, Technology, etc.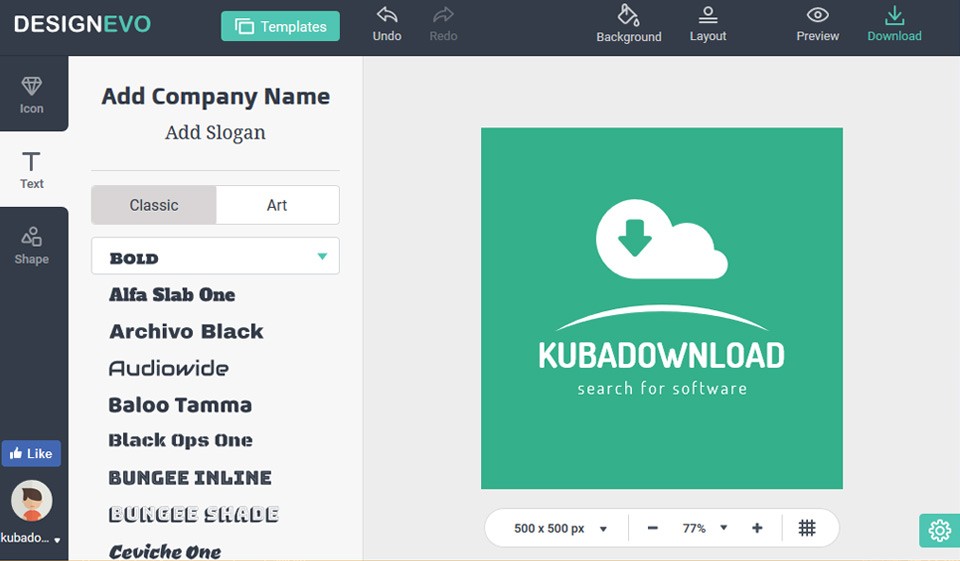 DesignEvo is a web application that works directly in your browser. DesignEvo features a super simple WYSIWYG editor. You have access to a set of tools including solid or gradient color, resize the canvas, curve text, change the background, manage layers, and generate layouts automatically.
It offers a large collection of vector icons and shapes to customize your logo. You can add text and edit with 100+ fonts and word art with simple clicks. To use DesignEvo Free you need to sign up.
DesignEvo Free allows you to create a concept logo and download PNG or JPG file under 500px x 500px. If you like to download print-ready resolution you need to buy the Basic version that allows you to export logo in max resolution 5000px x 5000px.
DesignEvo Premium supports export to PDF and SVG vector files.
To check the actual pricing navigate to DesignEvo home page.
Logo Maker allows you to create the logo of your dreams, without any design skills or technical knowledge, right from your iPhone or iPad in minutes.
You might also like