Over the years, the jailbreak community has seen a lot of amazing jailbreak tweaks that help you improve the functionality or the aesthetics of your iPhone. But one of the most popular jailbreak tweak categories for iPhone and iPads has remained as the clipboard managers. It would seem that Apple's cut/copy and paste process isn't sufficient for users who tend to multitask a lot and copy/cut a lot of items before pasting it on their interface.
And after going to through several clipboard managers, one jailbreak tweak that stood out the best from this crowd was the Copypasta by iOS developer Nepeta. Why this particular jailbreak tweak? Well, because Copypasta is easy to use, aesthetically pleasing, and is completely free. Originally designed for jailbroken iOS 11 and 12 devices, this jailbreak tweak was updated recently to support iOS 13 devices as well.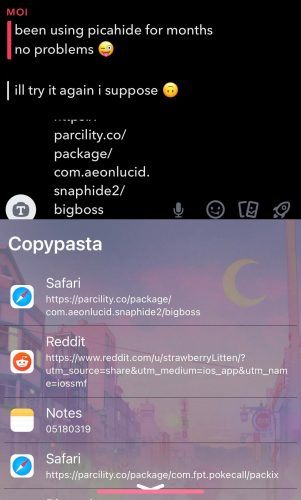 And thanks to the iOS developer Litten, this jailbreak tweak has now a new look and feel as well but works the same. Copypasta offers the users with a history of all the things that the user has cut or copied from the different apps on the device. As a result, you can easily paste a series of different items in the message box or the text field without having to switch between the apps again and again.
Another important thing to remember about Copypasta is that it can be configured to add a background image instead of keeping a simple dark or light UI. Apart from this, you can configure a lot in the tweak from the preference pane that is added to the Settings app after the installation of this tweak. In the Settings, you can perform the following tasks:
Turn on or off Copypasta whenever you want
Select the activation process for Copypasta. You can choose to activate it with a swipe up gesture, with the dictation key, or with the keyboard input key
Select between a dark or light UI style
Show or hide the names of the apps from where the items were cut or copied
Show or hide the app icons from where the items were cut or copied
Enable and select a background image
Adjust the background image alpha level using a slider
Close the Copypasta interface after pasting item from it
Enable or disable haptic feedback
Adjust the height of the Copypasta interface using a slider
Adjust the number of items that appear on the Copypasta interface using the slider
Respring the device to save the changes
Reset the settings to default
Clear the clipboard items with a single tap

If you want to give Copypasta a try, then you can get it free of cost from Litten's repository via favorite package manager. This tweak can be used on jailbroken iOS 13 and 14 devices and is open source of the developer's Github page.
Are you thinking of giving Copypasta a try? Let us know in the comments section.
You might also like