The native clipboard available on iOS offers a simple way to copy and paste between apps. Copypasta from Napeta is improving the features displaying the history of copied elements and revealing the app from which the clipboard entry was copied. Install Copypasta from official Cydia Repository.
What is Copypasta?
Copypasta is an excellent jailbreak tweak improving the clipboard manager on iOS 11 and iOS 12. It allows you to view the history of copied texts, links, images, etc. and select them to paste in any app. By default, the clipboard manager is displayed on the bottom of the keyboard, but you can tweak it.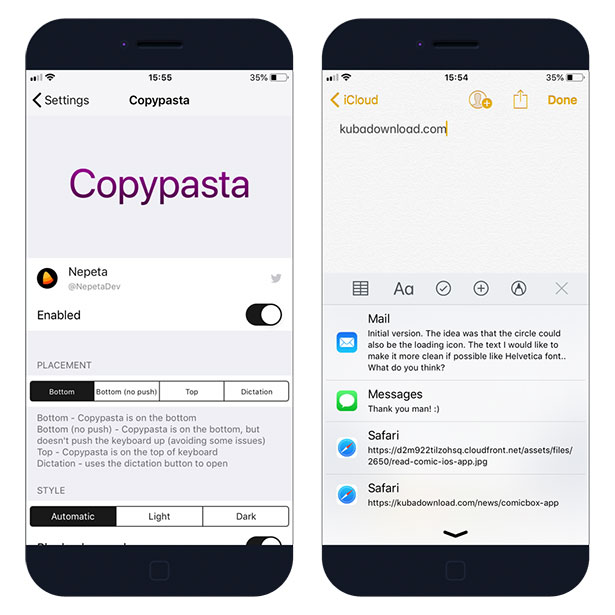 From preference pane, in the Settings app, you can switch the placement of the tweak. Use the dictation button to open the clipboard, display Copypasta on top of the keyboard, or activate bottom (no push) option to don't push the keyboard up when accessing the clipboard.
Copypasta is a perfect clipboard tweak for iOS 12. The idea should be copied to the official iOS.
When you tap on the grabber displayed next to the keyboard it will show all elements available in clipboard. Next to copied element is displayed also the app from which the clipboard entry was copied. You can customize the style, hide icons, show application name, or blur background.
Moreover, Nepeta added settings to change the height of the control, select a number of recently copied items, dismiss after pasting, and option to reset all settings to default. Copypasta tweak source code was available via the official GitHub branch.
Install Copypasta tweak Repo
You are just a few steps from installing the tweak from Cydia Sources. To add Copypasta Repository to your list of Cydia Sources follow our step-by-step guide.
Step 1. Open the Cydia app on your device.
Step 2. Tap Sources → Edit → Add the official via Nepeta Mirror.
Step 3. Switch to Search Tab and enter Copypasta.
Step 4. Tap the Install button.
Step 5. Configure the tweak from Settings → Copypasta.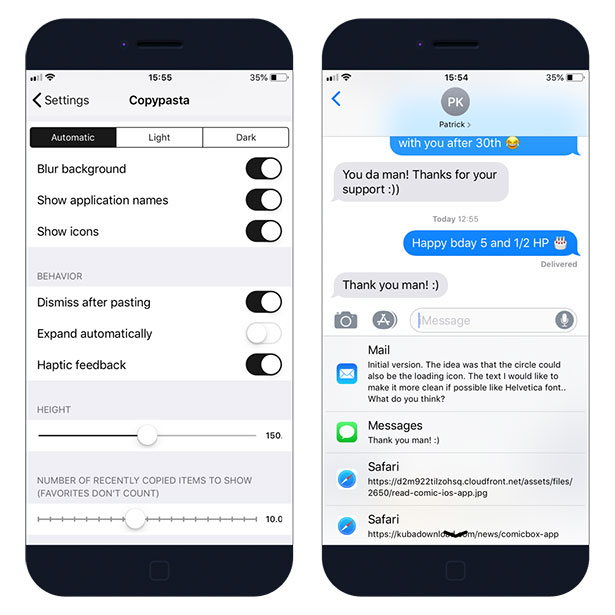 After installation the clipboard tweak, Copypasta adds a preference pane to the Settings app from where you can configure the tweak. Be sure to use always the latest version of the tweak. If you are having trouble opening preferences pane in Setting app with Copypasta, install the free library libpackageinfo from Rrevulate Repo. This package is compatible with iOS 11.0 to 13.3.
Changelog
Version 1.1.4
Added an option to place Copypasta on the top of the keyboard.
Fixed layouting issues with Copypasta being on the bottom.
Fixed transparent area under the text field in WhatsApp and Discord.
Fixed crashes in WhatsApp.
Fixed compatibility issues with other tweaks.
You might also like