If you are one of the few users that have a jailbroken iPhone or iPad then you have the ability to make a lot of changes to your device and make it look unique and more useful. You can do this all with the help of jailbreak tweaks that are released almost every week. With these tweaks, you can either make substantial aesthetic changes to your iPhone or iPad or can choose subtle changes, it is completely up to you.
Today, we will tell you more about one such tweak that has been released by the name of Colouration. Developed by an iOS developer kanns, Colouration is as the name suggests a wide coloration tweak that allows the users to modify the user interfaces and the system color to their liking over Apple's native colors.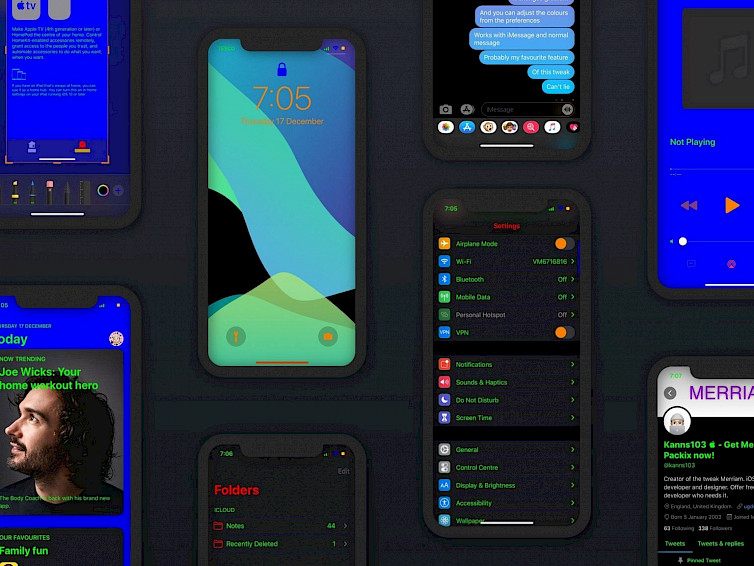 With the help of Colouration, you can make color adjustments to things such as Status Bar colors, App colors, Home Screen colors, System colors, System-wide colors, Lock Screen colors, Slider colors, and a lot more. Another thing to note about the Colourization tweak is that it offers support from presets as well. You can use this tweak to set your favorite colors or save them for future use as well.
Once you install Colouration, you will get a dedicated preference pane in the Settings app to make the desired color configurations on your iPhone or iPad. The preference pane is further divided into multiple sections such as Status Bar, Sliders, Apps, etc.
In the Status Bar, you have the option to customize colors for Active Wi-fi, Status Bar, Status Bar pin, Cellular, Time Indicator, Status Bar fill, and more. In the System-Wide section, you can configure custom colors for the following options:
Touches
Home Bar
Scroll Bar
Labels
Cell Backgrounds
Cursor
Separator
Links
Search Bar
Index
Alerts
Segments
UI Tint
Enabled toggle switches
And more
Similarly, in the Home Screen section, you can configure colors for App icon labels, Spotlight interface, Label backgrounds, Folder backgrounds, and so on. In the Lock Screen pane, you can customize colors for Lock Screen icons, background, and date background.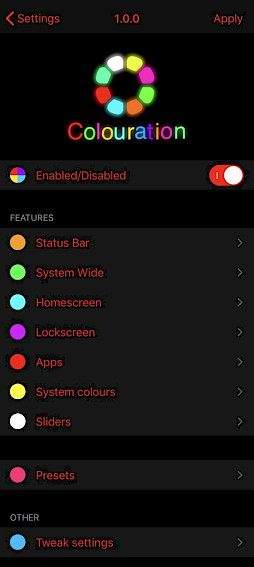 There is an App section also where you can enable and configure colors for SMS send button, Dates, iMessage send button, Notes app color, etc. You can also enable and customize system colors for the iPhone and iPad to any color that you want. Finally, in the Sliders section, you can configure options such as blur effect, dimming effect, opacity effect, and so on.
After the preferences panes, you will find the option for saving and loading the presets and modifying the tweak settings. You can respring the device to save the changes, reset the options to default settings, or enter the Safe Mode if required. Once you click on the Apply button, it will respring your device to save the changes.
If you dislike the system colorization of Apple then Colouration is a great way to change that. It is good for new jailbreak users as well and allows the users to make their device look unique and aesthetically pleasing. You can get this tweak for $0.99 from the Packix repository and it is currently supported on iOS 13 and 14 devices.
You might also like