Unlike cloths and other organic compounds, it is not so simple to wash electronic devices.
Most electronic devices you use are usually made from reacting metals that will react with normal washing agents like water or soap. Thus, cleaning electronic devices needs more expertise than you might reciprocate.
Thus, here we are today to share with you some basic cleaning tips that you can use on your Apple devices or any other electronic gadgets.
So, without further ado. Let us begin…
What you will need
Electronics are different from organic compounds thus, normal washing and cleaning against soap, water, and cloth made from pure natural fibers should not be used.
Rather use organic solvents like:
Rubbing Alchohol,
Clinical Spirits (which are mostly alcohols)
Mild detergents (use with caution)
Cotton-Blend or Polyester-Blend cloths( do not use 100% artificial fabrics like spandex)
Pro Tip: Hand Sanitizers are a great cleaning tool for electronics. They are mostly made from alcohol thus, they don't react with the metallic parts plus, the easy dry feature of sanitizers is easier to clean.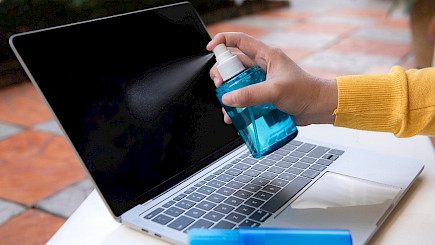 How to clean a MacBook Pro, or a MacBook Air, or a MacBook?
If you want to clean the exterior of your MacBook, MacBook Pro, or MacBook Air first, close your computer, then unplug your power supply.
Then, use a moist, soft, lint-free, cloth to scrub the exterior of your computer. Make sure you don't get moisture in any cracks. Do not spray liquid directly onto the computer. Avoid aerosol sprays as solvents, abrasives, or solvents or cleaners with hydrogen peroxide, which could cause damage to the surface.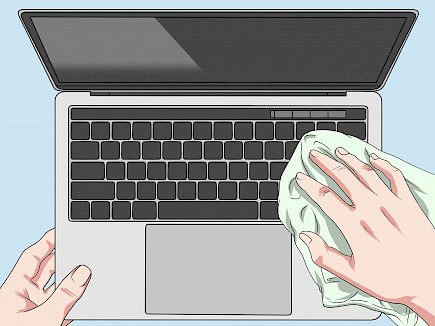 For cleaning the screens of your MacBook, MacBook Pro, or MacBook Air, first shut the computer down and disconnect the adapter power source. Dampen a soft, lint-free fabric with water and use it to scrub the screen of your computer. To get rid of smudges that are difficult or impossible to remove, you should dampen the cloth using a 70% isopropyl alcohol (IPA) solution.
How to clean displays of Apple products?
First, remove the power supply to your screen, the computer it is connected to as well as from any other external devices. Then, use the cloth included with the display or gentle, dry cloth to remove the dirt off the display.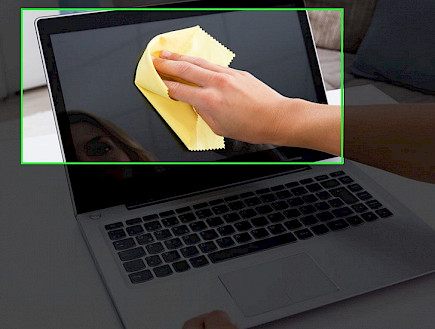 If cleaning the display case or panel is needed, you can make use of a gentle, somewhat damp fabric. Do not let moisture get into openings. And, most importantly do not use window cleaners or household cleaning products for cleaning the display. Products like these contain high dozes of Hydrogen Peroxide that can permanently stain the surface of your device's screen.
How to clean your iPad?
Be careful with your iPad to preserve its appearance. If you're worried about abrasion or scratching, then you could make use of the cases available. To clean your iPad, remove any cables and then turn off the iPad. Use a soft, damp, lint-free fabric. Beware of getting water in the gaps. Do not use window cleaners, home cleaners, aerosol sprays, compressed air solvents, ammonia, abrasives, or cleaners that contain hydrogen peroxide to clean your iPad.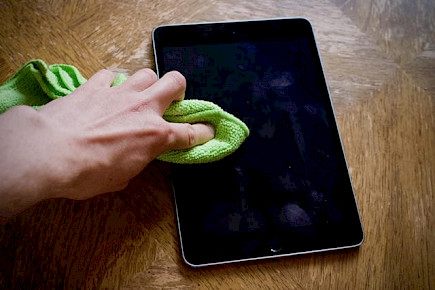 The iPad screen is coated with an oleophobic film. You can clean the iPad's screen using an easy, non-lint cloth to clean off any oil that your hands have left behind. The capability of this layer to deter oil is diminished as you use it, and rubbing the screen with abrasive materials can further reduce its effectiveness and may scratch the screen.
Removing wax and other dirt from earpieces
To do this you will simply need a metal tong. And a few cotton earbuds.
Firstly, turn off your device and then look for impurities in different openings of your devices. In most cases, the Charging Ports, Headphone jacks, and earpieces are the dirtiest.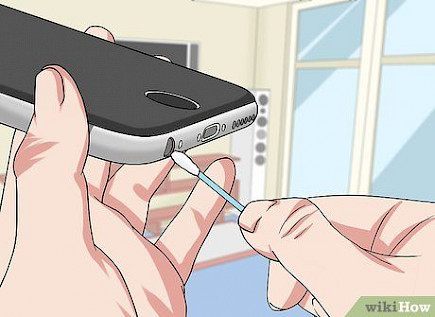 Now, take the sharp edge of the tongs and carefully scribble out any wax or dirt from the earpieces or charting port. Be sure to not apply too much pressure in sensitive areas or the internal mics or charging pins of the charging port could be tarnished.
Did you know: Normal house dust which you see lying around is mostly made up of dead skin cells from animals living in the vicinity. This means you are the one who is indirectly responsible for all the dust in your house.
Final Words
And, those were the methods by which anyone can clean their device from the comfort of their home.
Hope you liked the article. We post similarly great content every day so, do not forget to come back for more. Good Day!

You might also like