For users with iOS or iPadOS 14, the only way to jailbreak is using checkra1n on older A7 – A11 devices including iPhone X and below models. Thankfully, this might change in the near future as a newly released kernel level exploit named cicuta_virosa allows the users to jailbreak devices that are currently running iOs or iPadOS 12.0 – 14.3.
This announced was shared early in the morning today by ModernPwner on Twitter platform and includes all the details about this new exploit. According to the tweet, cicuta_virosa is capable of handling Apple's latest A14-equipped devices as well including iOS & iPadOS 14.3 and below. The only problem is that Apple has stopped signing iOS and iPadOS 14.3 so it is difficult for the users to downgrade from iOS and iPadOS 14.4 release if they have already upgraded to it.
Moreover, in the tweet, they mentioned the jailbreak community so it is quite possible that the exploit would be soon used in a jailbreak tool. The tweet mentions CoolStar who is the lead developer of popular jailbreaks such as Electra, Chimera, Odyssey, and so on.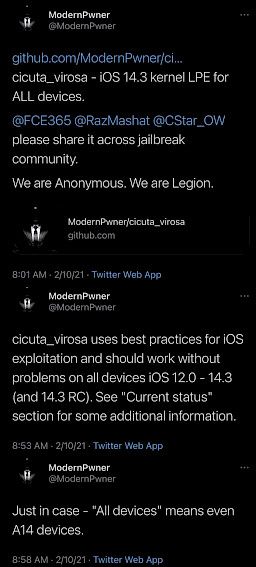 Later, we saw CoolStar indirectly mentioning the team to the jailbreak community as well. From what we can understand so far, it is still not certain if a jailbreak will be developed using the new LPE since iOS and iPadOS 14 presents its own challenges and would require additional attention. However, according to CoolStar, if an iOS and iPadOS jailbreak is developed, it would mostly be SSH-only from the beginning until it is fully completed.
The complete write-up on the cicuta_verosa LPE is available on ModernPwner's Github page. You can find all the details and information about the best practices of this hack so that jailbreak developers could use it to harness its potential. Till now, we have understood that this might be a slow exploit that would require a decent amount of cleaning and optimization but that doesn't mean that it is not effective.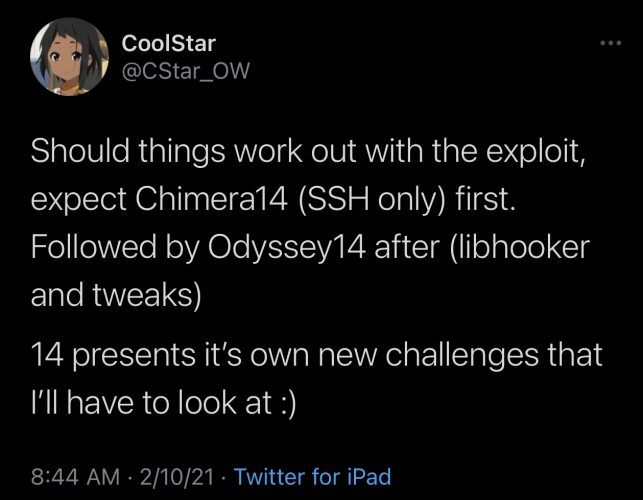 You might also be interested in knowing that another hacker whose name is pattern_F_ from the Ant security lab has also hinted at an iOS & iPadOS 14-centric jailbreak and exploit. However, we don't know how legit this information and whether it will be completed or not.
That being said, are you excited about the first iOS & iPadOS 14-centric exploit and wondering how it will impact the jailbreak community? Let us know in the comments below!
You might also like