On November 30th, Chimera released its new public beta of the Chimera jailbreak tool for iOS 12 devices. This jailbreak also included Procursus bootstrap and libhooker tweak injection along with several other improvements and bug fixes that were backported from the iOS 13 and iPadOS 13-centric Odyssey jailbreak.
However, on December 2nd, the Odyssey team announced that Chimera's jailbreak version 1.5 has been officially released and is available to the public now. The release name didn't have a beta asterisk attached to it and even the Chimera team announced the same news on their Discord official channel on Wednesday morning.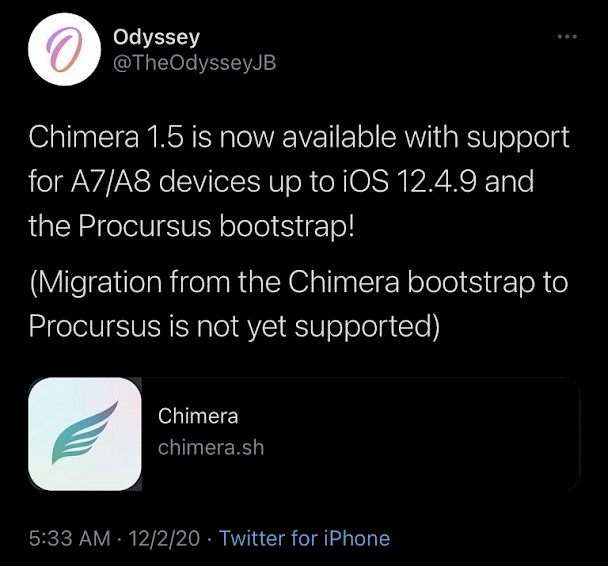 If you check the changelog of Chimera v1.5, you will find that this latest release includes the following updates:
The Chimera jailbreak tool offers support on A7 and A8 devices for up to iOS 12.4.9.
Inclusion of the Procursus bootstrap and full libhooker tweak injection support.
Improvements and bug fixes that were backported from Odyssey's jailbreak for iOS and iPadOS 13 devices.
So, the Chimera can now easily support A7 to A11 devices for iOS 12.0 – 12.4.9. with the new firmware support but it only supports 12.0 – 12.1.2 on all A12 devices including iPhone XS, XR, and XS Max. One important thing to note is that the Chimera new version still doesn't offer an option of migration of Procursus bootstrap for users who have already used this jailbreak tool. So, if you simply install the new version over your current Chimera jailbreak then it will keep the Chimera bootstrap but will install a hybrid libhooker instead of the full version.
However, if you are an avid Chimera jailbreak user, then you can easily avoid this situation by performing a rootFS restore on your jailbroken iOS 12 device before you attempt to install Chimera v1.5. Once you do that, the Procursus bootstrap and libhooker should be easily available on your jailbroken iOS 12 device. Sure, there is a possibility of the migration option being available in the future updates because Chimera won't leave its base users hanging like this.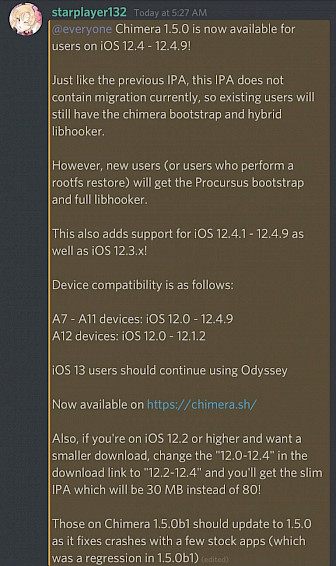 Another great thing about Chimera v1.5 is that since it uses Procursus bootstrap, it is compatible with Odysseyra1n on iOS 12 devices that have been jailbroken using checkra1n after installing the Odysseyra1n bootstrap. The latest version of Chimera is recommended for all users, particularly the ones who installed the beta version of the Chimera jailbreak tool. This is because you get a lot of improvements and upgraded bootstrap with the 1.5 version that will certainly benefit the Chimera-users. On the other hand, if you are currently using iOS or iPadOS 13, then you should stick to the Odyssey jailbreak and not install Chimera.
If you want to download and install the latest version of Chimera, you do easily do it from the official website of Chimera – Chimera.coolstar.org. If you try to go to the older URL, it will direct you to this new URL on the website as well.
Have you tried the latest Chimera jailbreak tool yet? Comment below why or why not!
You might also like