If you are a Firefox user that doesn't like using Safari, then you might want to configure your settings a bit to enjoy a smooth web browsing experience. You can configure the apps that your Firefox uses to open a file, view an image, and form an email.
Thankfully, you don't need to go through a lot of hoops to change these settings as it is available in the Firefox app itself. So, there is no need to make any changes to the settings of your Mac. In this article, we will explain to you in detailed steps how you can change different default apps and actions to open a file in Firefox on your Mac.
How to Change Default Apps
To get started with the changes, open your Firefox on Mac and click on the Firefox Preferences option via the menu bar. Now, follow these steps to change your default apps:
From the menu bar, click on the Preferences option.
Next, select the General option and then go to Files and Applications.
In the Applications section, choose the apps or actions that you want for different types of content. You have the option to configure the default app for PDFs, text documents, images, email applications, and so on.

Apart from choosing an app, you also have the option to choose an action for a particular content type.
Select your Action
If you want then you can also enable Firefox to Always ask you what to do with a content file or save your file.
Always Ask action is great if you are likely to do different things with a content file or use a different app for it every time. For example, if you have an image downloaded, you might want to edit it sometimes or just view it.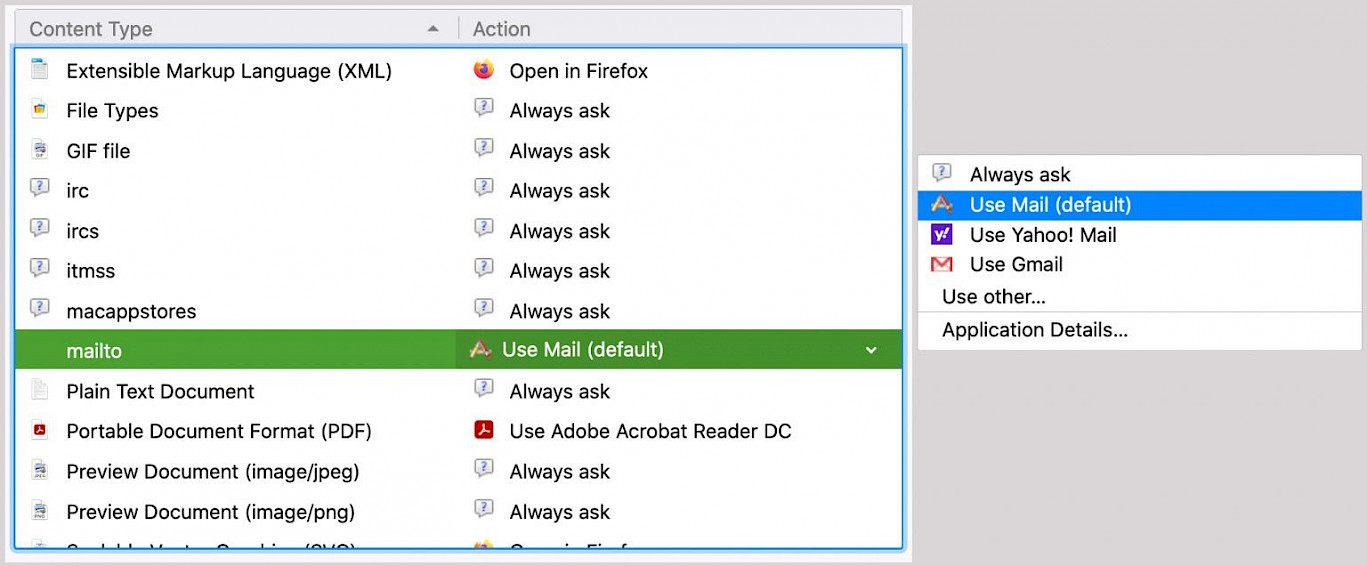 You can also save the file automatically but make sure that you want it always for the particular content type.
Select the App
Another option that you have is to open a particular content type with a default app every time. This comes in handy if you are opening a PDF link, email link, zip file, etc. You can simply select this action for the content type.
If there is a mailto link, you can set your configurations in such a way that it is always opened in Mail, Gmail, or Yahoo! Mail app. You will find the supported apps for content that you can choose from.
Apart from that, you can always choose the macOS default app for a content type too. For example, for opening a Zip file, Archive Utility can be used and for opening the text file, Text Editor can be used.
On the other hand, if there is no macOS default and you don't see your app listed for a content type, then click on the Use Other option. Now, select the app that you have installed on your macOS for your chosen content type.
How to Change Default Apps on iOS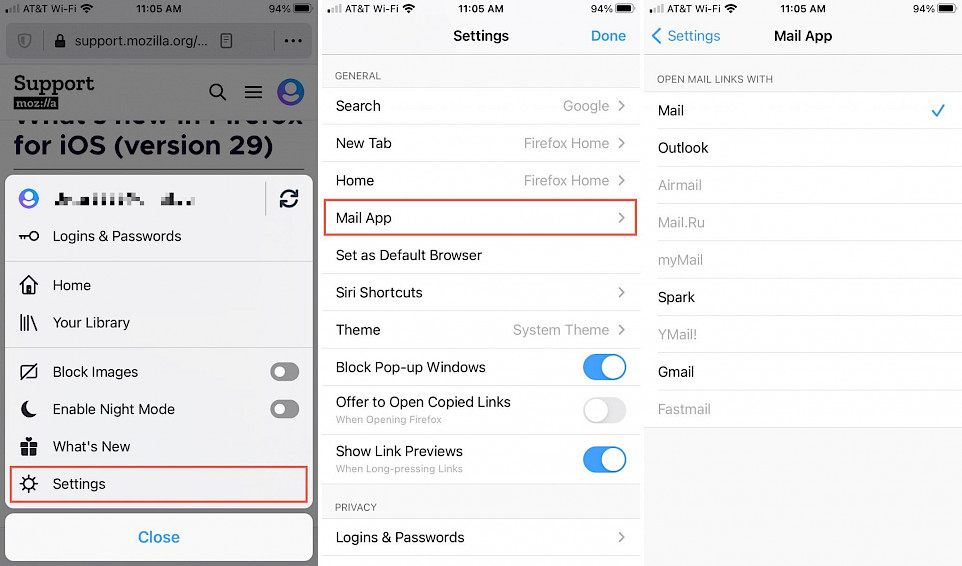 While Firefox on Mac offers a lot of customization options, there is only one customization setting that you can change in Firefox on your iPhone or iPad. You can set the default email app in Firefox by following these steps:
Open the Firefox app and then click on the menu icon to view Settings options.
Next, select the Mail App option and choose the default email app you want to use.
Click on Settings to exit and then the Done button to save it.
You might also like