Cercube 5 is the best tweak for YouTube packed with amazing features. It's available for free but if you like to use the full potential of the app there is also available a paid pro version. Download Cercube and add the tweak to Cydia Repo, sideload the IPA file, or install it without a computer.
Cercube is the ultimate tweak for YouTube app adding most wanted features including download videos, convert to audio, disable ads, and playback in the background. Moreover, enable dark mode, change tab bar layout, manage the library, and select default video quality.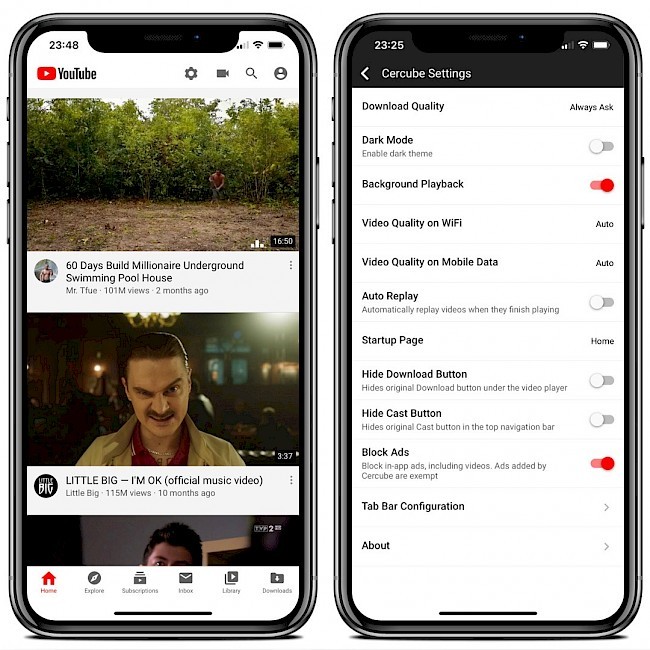 The tweak works on YouTube and it offers all options available in the original app. Login to your account, view your playlists, subscriptions, trending new videos, inbox, and more. Cercube 5 can be installed from Cydia Repository, App Store App, or sideloaded via IPA file.
Cercube features
save video as audio
download video up to 4K resolution
set default streaming quality on 3G/4G and WiFi
share download to any installed iOS app
export downloaded files to Videos and Music app
play YouTube in PiP mode
enable background playback
block all advertisements
From the download tab, you can view the download progress, and select video or music to play. Other options packed in Cercube include save videos up to 4K resolution, manage and share downloads to any app, import downloads to Music or Videos, and play YouTube videos using PiP.
PiP (picture in picture) mode allows you to watch YouTube videos directly on the home screen and on top of any app. Cercube Pro offers an ad-free experience and unlimited video downloads. This version is optional and you can get rid of ads for $14.99 (lifetime) or use monthly subscription for $0.99.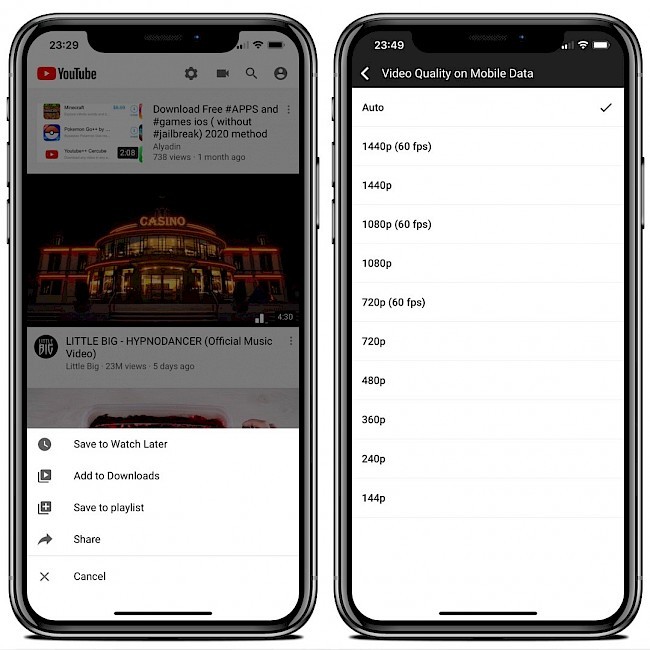 Download IPA
How to install Cercube using AltStore
AltStore can install almost any IPA on your iPhone using the free certificate. Every 7 days after installing Cercube, you need to resign the app and send it to the AltServer (running on PC or Mac), which installs the resigned app back to your device using iTunes WiFi sync (works also using a USB cable).
Step 1. Download AltStore and install the app on your PC or Mac.
---
Or use any other Cydia Impactor alternative.
---
Step 2. Open Safari and download Cercube IPA (91 MB) or Cercube for AltStore.
Step 3. Lunch AltStore and navigate to "My Apps" section.
Step 4. Tap on the + button available form the left-right corner.
Step 5. Select downloaded Cercube IPA file to install.
Step 6. AltStore will start installing Cercube for iOS.
Step 7. The Cercube app will be available from your home screen.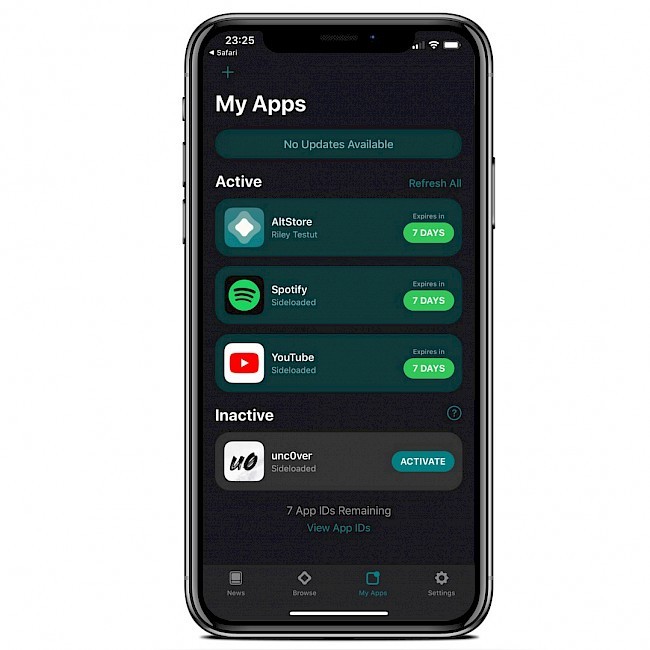 Add Repository to Cydia
You are just a few steps from installing the tweak from Cydia Sources. To add Cercube Repo to your list of Cydia Sources follow our step-by-step guide.
Step 1. Open the Cydia app on your device.
Step 2. Tap Sources → Edit → Add the official repo https://apt.alfhaily.me
Step 3. Switch to Search Tab and enter Cercube 5.
Step 4. Tap the Install button.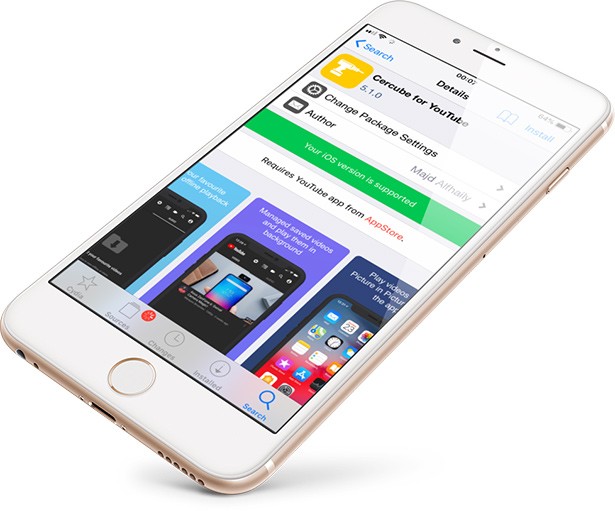 Install Cercube for YouTube without a PC
If you don't own a computer you can install Cercube for YouTube with web links. This method uses an enterprise certificate that can be revoked. It means that the tweak will stop opening. If the links are not working, try again in the next 24h.
Click on the direct download links from Safari to install Cercube for YouTube.
Download Cercube via CokernutX
Download Cercube via PandaHelper
Download Cercube via AppValley
Download Cercube via iOS Ninja
Changelog
Version 5.2.3
Better compatibility with YouTube v15.34.3
Fixed conflict with other tweaks
Other minor bug fixes
Version 5.2.2
Fixed various issues releated to downloads
Version 5.2
Fixed auto-replay not working in background
Fixed hiding cast button
Fixed video lookup failing in some cases
Improved quality auto selection implementation
Improved networking and error handling
Other bug fixes and minor improvements
Version 5.1.18
Fixed crash on iOS 9 when trying to login
Fixed weird behavior when removing downloads
Other bug fixes and minor improvements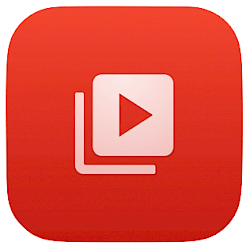 Frequently Asked Questions
How to update Cercube?
To update Cercube to the newest version it's required to download the latest version of the app and install it above the one already installed.
How to remove Cercube ads?
To remove ads displayed in the application it's required to buy the Pro version. On jailbroken devices, there is an option to install a crack to remove Cercube ads.
Cercube or YouTube++?
Cercube offers definitely many more features then the default YouTube app can offer for users. YouTube++ is a great free Cercube alternative for iOS.
How to remove Cercube?
YouTube Cercube can be removed from the system like any other app installed on iOS. If you downloaded Cercube for YouTube from Repository you can delete it from Cydia.
Where does Cercube store downloads?
All video files downloaded using the application are saved to

 /var/mobile/Containers/Data/Application/68852C99-4583/Documents/Cercube/Downloads
You might also like