Most of us have few favorite contacts on our iPhones that such as best friends, mom, dad, or close relatives. And with the help of Apple's features to set up your favorite contacts on the Phone app, it is easier to get in touch with them whenever you need to.
When you make a contact as your favorite contact on the Phone app, it moves the contact's information to the Favorites tab that is present at the bottom of the Phone app. However, if you are looking for more convenience, then you should check out the newly released and free jailbreak tweak known as CallFavorites by iOS developer pixelometer.
Once you install CallFavorites, you will easily be able to contact your favorite contacts directly from the Home Screen by using the Haptic Touch or the 3D Touch gesture on the Phone app icon. When you do this, you are shown the Haptic Touch/3D Touch-based menu along with a few additional options that includes your favorite contacts. So, when you tap on the contact, it will automatically dial the contact's number to place the call.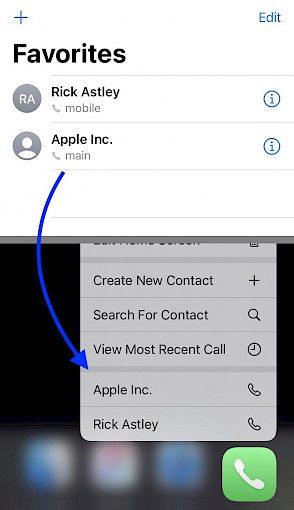 If you have used iOS 13 before upgrading it to iOS 14, then you might know that this was actually a native feature in the Apple's mobile OS. Sadly, Apple removed this feature in iOS 14 so, the users who were used to it were left a little confused and frustrated which is quite understandable.
There are no configuration options available for CallFavorites as it simply uses the favorite contacts that you have saved on the Phone app. If you wish to try out this tweak, then you can easily download it from the pixelomer's personal repository using your favorite package manager. This tweak is supported on jailbroken iOS 14 devices and since it is open source, you can access it from the developer's Github page to understand how it works.
You might also like