Cydia offers a variety of jailbreak apps that you can install on the newest version of iOS 13. Discover amazing and useful apps that can bring new features to your device. Download IPA signing app, file manager, BitTorrent client, backup tool, system cleaner, and more amazing Cydia apps for iPhone.
After you will jailbreak your iPhone, iPad, iPod Touch with apps like unc0ver, checkra1n, or any other jailbreak tool you will also install Cydia on the device. Cydia app is a free package manager allowing you to install tweaks and apps not authorized by Apple on your device.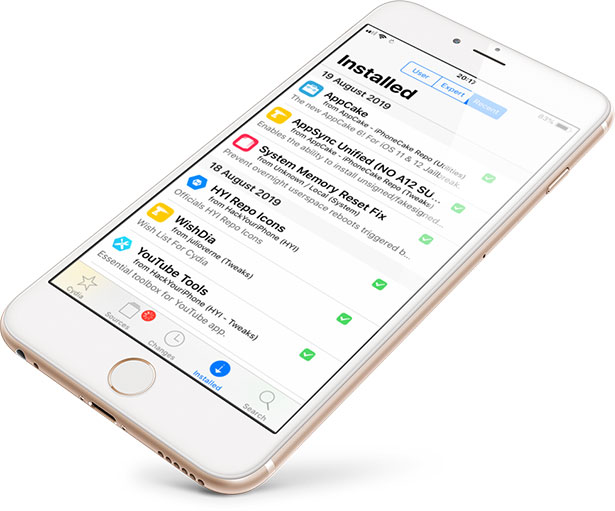 Cydia App Store offers access to repositories containing Cydia apps, libraries, iOS themes, and tweaks. Download system enhancements, add split-view support, dark mode, new keyboard styles with emojis and quick access buttons, better clipboard managers, widgets for home screen, etc.
List of best Cydia apps
We provided for you the list of over 50 best essential Cydia tweaks for iPhone, iPad, and iPod Touch and now is time for best Cydia apps for iOS 13. Discover and download the best jailbreak apps.
1. Filza App
Filza App for iOS 13 is the all-in-one solution to manage your files on jailbroken devices. Quickly access copy, movie, delete functions, search files and folders, execute shell scripts and applications just in a few taps, or explore files in list view mode or grid view mode, with a thumbnail.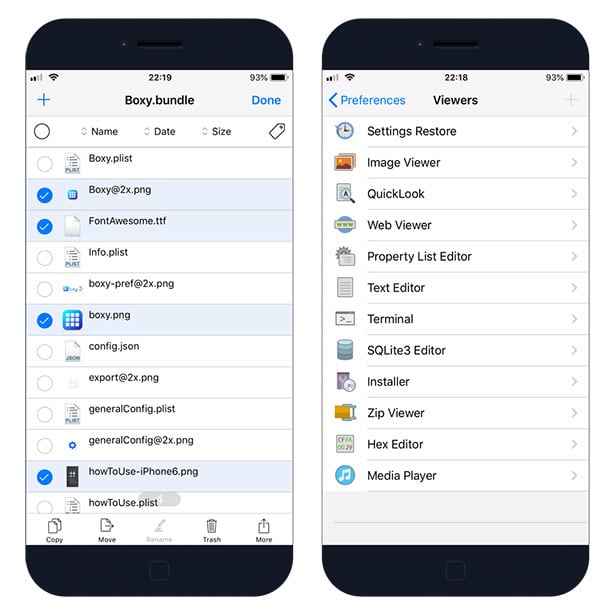 Moreover, the file manager is packed with file viewers including Media player, Hex editor, Text editor, SQLite Editor, IPA Installer, DEB Installer, Web viewer, Terminal, etc. Filza supports SMB (Windows File Sharing) and cloud services like Dropbox, Box, Google Drive, WebDAV, FTP, or SFTP.
2. Reprovision App
ReProvision is a free jailbreak iPhone tool to sign IPA files. It doesn't require a developer account, and to run it you need to use an app-specific password to sign in to an app not provided by Apple. Install the Cydia app and forget about revokes. This is one of the most recommend app to install from Cydia.
The app features automatic re-signing of locally provisioned applications, saving of your Apple ID login details, installing of IPA files through Safari and other applications, and 3D Touch menu integration to manually re-sign from the Home screen. ReProvision works also with the latest iOS 13.
3. Succession App
Succession is very similar to Cydia Eraser allowing you to remove and revert all changes made to the device and return it to "stock" iOS software without updating to a new version of iOS. Start fresh and have the option to jailbreak your device again without updating it. Easily remove Cydia app.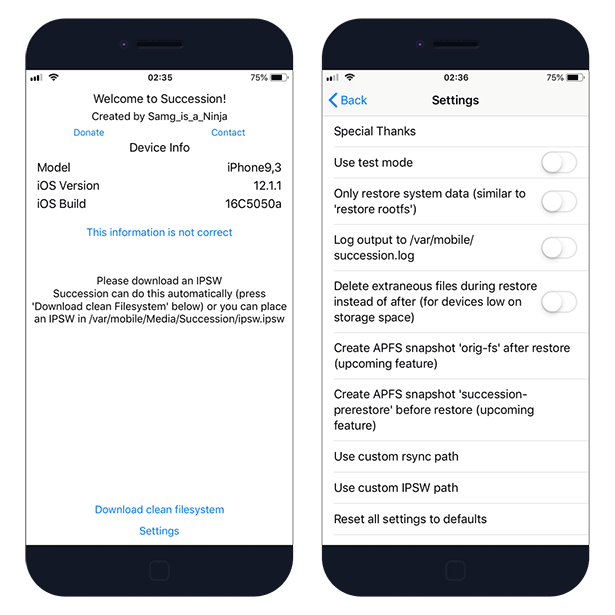 The tool will delete all data on the device unless you enable Only restore system data in settings. Succession can automatically download the right IPSW file for your iOS system and mount/sync DMG file, and displays also some Model, installed iOS Version, and iOS Build of the device.
4. SnapBack App
SnapBack uses the new feature of Apple's APFS filesystem allowing to create a Snapshot of the drive file system. A snapshot is a point-in-time representation of a volume. Once the snapshot is taken, each file within that snapshot will be available to recover even if you delete the file.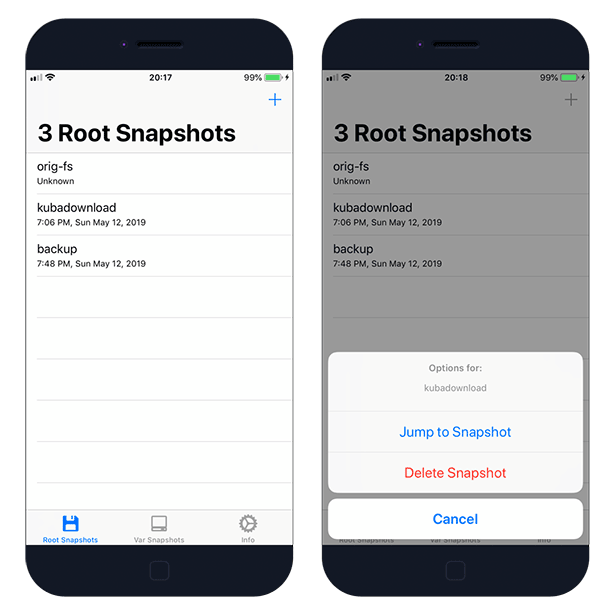 As long as you can jailbreak, SnapBack allows you to jump back to the moment after you created a root snapshot. The root snapshot named "orig-fs" is the original snapshot that is either made right before you jailbroke the first time or the snapshot that Apple made when you updated your OS.
5. iCleaner Pro App
iCleaner Pro is an iOS system cleaner and optimizer offering a lot of useful features. Use the app to remove unused languages, keyboards, voice control languages, definition dictionaries, retina @2x and @3x images, non-retina images, wallpapers, reset preferences of Cydia tweaks and more.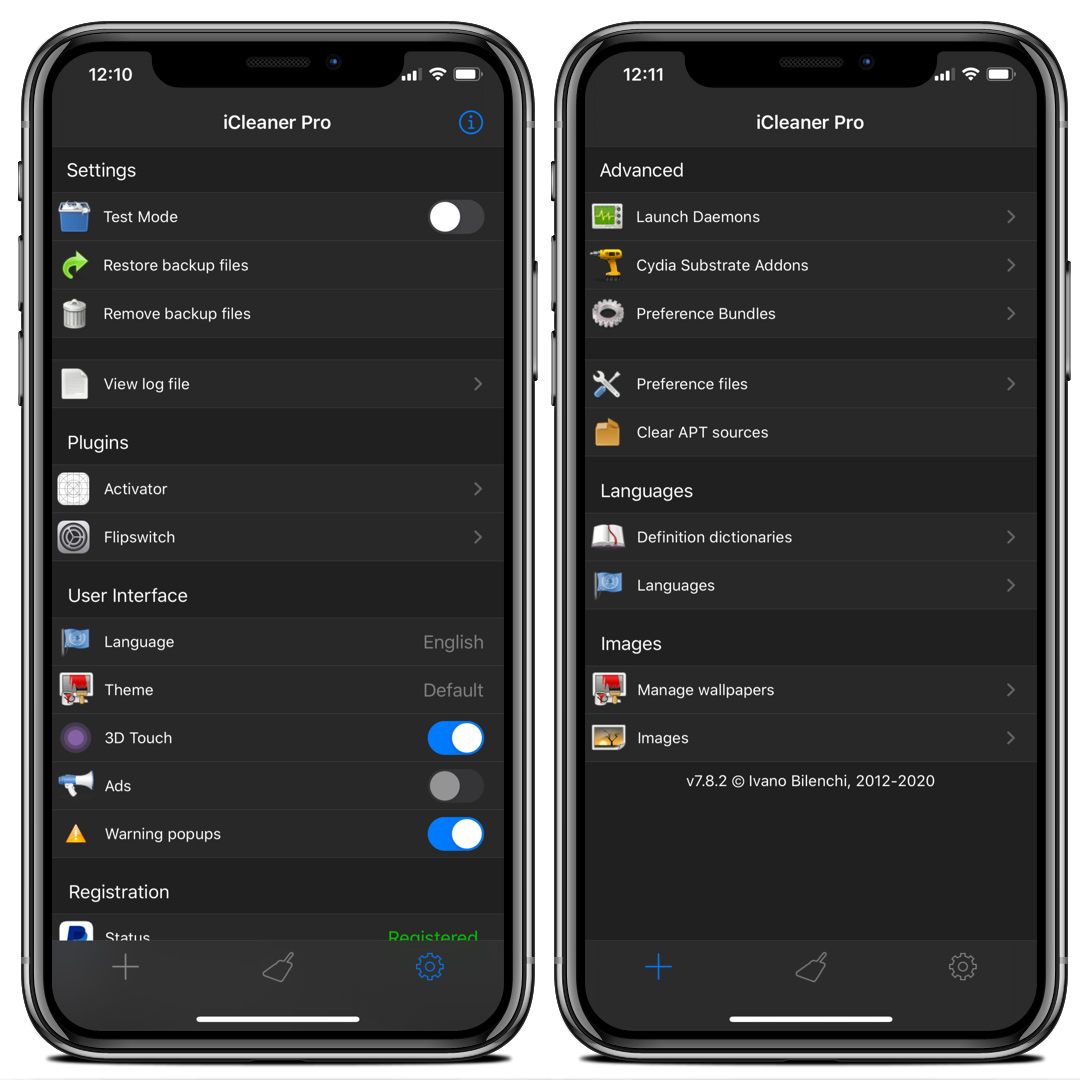 Advanced options include switcher to disable processes that are launched upon system startup (or at a later time) and run in the background, enable or disable tweaks installed via Cydia, or manage Preference Bundles are responsible for displaying preferences for tweaks in the Settings app.
6. NewTerm 2 App
NewTerm 2 is a terminal emulator for iOS offering features like a tab-based interface, a selection of themes and fonts, and copy and paste. It's a quick solution to run commands directly on your iPhone or working on projects on your iPad or SSHing to a server that crashed while you're on vacation.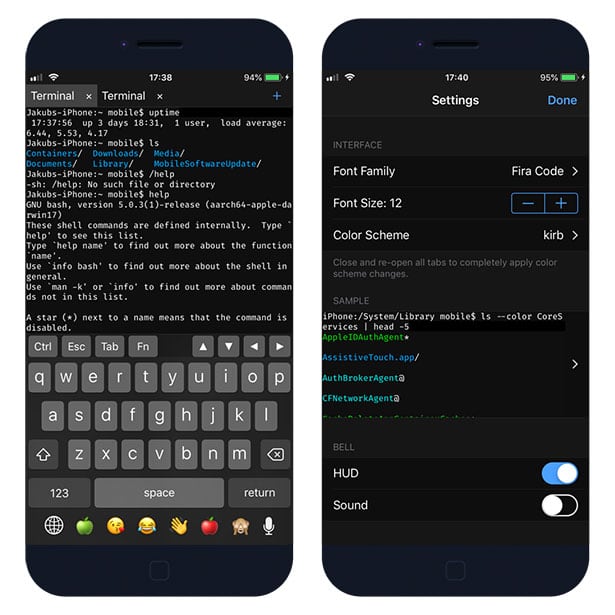 The latest version of this Cydia app is fully compatible with the newest version of iOS 13. NewTerm 2 cab be used to install new packages, remove Cydia apps from the console, manage files, execute system commands, and more. Best Cydia apps list must contain at least one terminal app.
7. TSS Saver App
TSS Saver is a free tool to save SHSH2 blobs online without using the CLI. Your device ECID is required. On jailbroken devices, you can install TSSsaver, the one-click tool to save blobs using TSSsaver.1conan.com directly from your iPhone. The app is compatible with iOS 11 and iOS 12.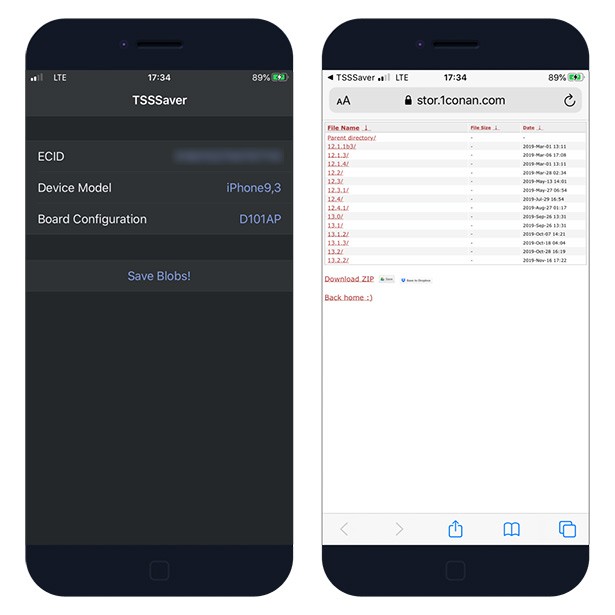 TSSSaver automatically saves blobs with the generator 0x1111111111111111. From the main windows, you can also view board configuration, device model, and ECID number. All saved blobs are available on TSSSaver servers in a folder dedicated to your device. This Cydia app works also on iOS 13.
8. AudioRecorder XS App
AudioRecorder XS is the best jailbreak audio call recorder for iOS 12. Record a phone call on iPhone, record system audio, and voice memos from one jailbreak application. Install AudioRecorder XS, the no 1 Call Recorder tweak, from Cydia Repo for just $3.99. Newest version supports also iOS 13.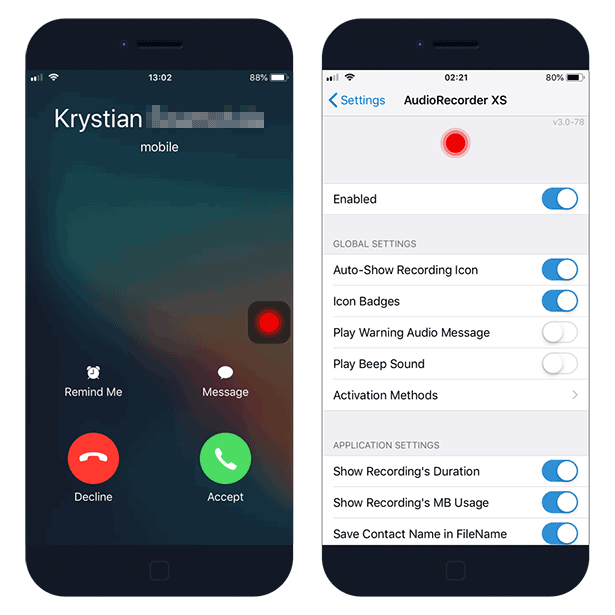 AudioRecorder XS offers a dozen of great features to record audio on any Apple device. Record calls from any CallKit services including (Telephony, FaceTime, Skype, Viber, Messenger, LINE, etc.), voice memos from iPhone microphone, and any sound coming from the device.
9. Screenshot App
Screenshot App allows you simply to create an iPhone mockup with a screenshot from the selected file. Create custom scenes to create your screenshots in a real environment, set dual iPhone images, use single multiple colored iPhone mockups (1080x1080 px), or render full resolution images.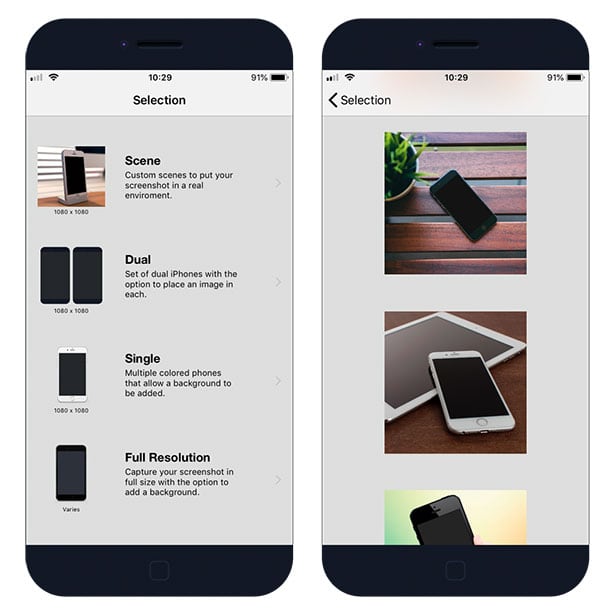 Each mockup offers an option to add glare on the iPhone and the background layer can be blurred. Any mockup besides the full resolution is sized 1080x1080 pixels to be compatible with social networks including Facebook, Instagram, Twitter, and Tumbler.
10. Zebra App
Zebra is a basic package manager that offers all features you need to download and install your favorite jailbreak apps and tweaks from repositories. It is pretty fast and it was designed to work on iOS 8 up to iOS 13. Zebra can be installed for free from the official Cydia Repository.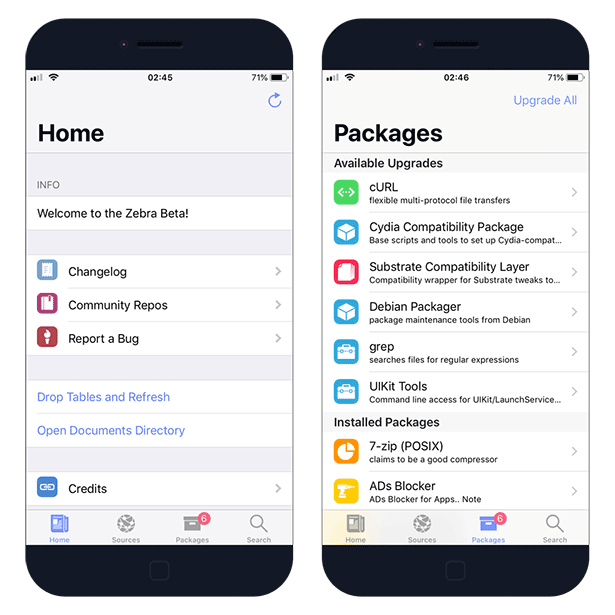 Zebra Package Manager is a great Cydia alternative app available for iPhone, iPad, and iPod. You can add new sources, view available packages and upgrades, add tweaks to wishlist, manage stores, and search for apps and tweaks. With every next release, the app offers much more features to enjoy.
11. iTorrent App
iTorrent is feature-rich BitTorrent client for Apple devices. The app offers an option to download BitTorrent files from URL and Magnet Link, enable background downloading and seeding, set download and upload limits, pause, stop and resume downloads, and more.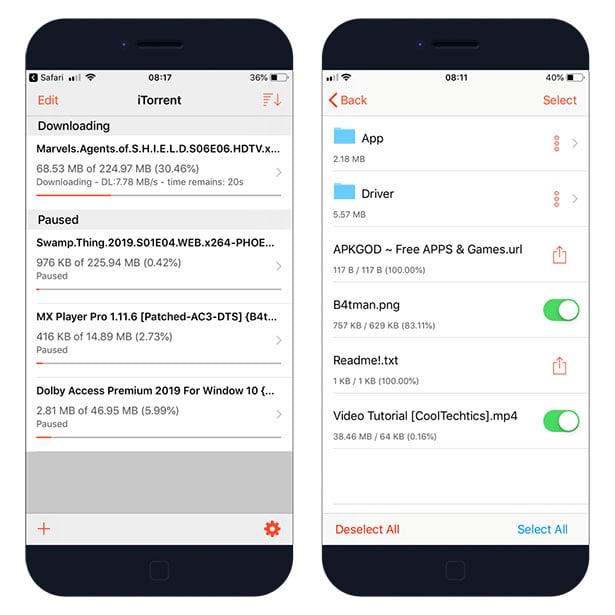 The native iOS Torrent client is packed also with tracker editor, an option to review and select BitTorrent files to be downloaded, check transfer data including connected seeders and peers, download progress, file sizes, or even automatically upload downloaded files to selected FTP server.
12. AirShaou App
AirShou Screen Recorder for iOS or Android allows you to record screen in Portrait, Landscape (Home Button to Left), Landscape (Home Button to Right), and Portrait (Upside Down) orientation. Select MP4 file name and recording resolutions from 480p, 640p, 720, and 1080p.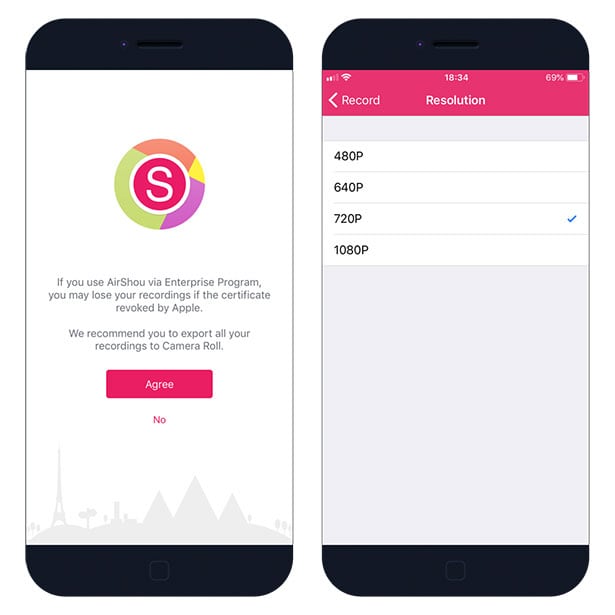 AirShou Broadcast option is not working anymore, but you can still use the app to record tutorials, gameplay, or anything else you like on your iOS device. The app records sound in stereo, video up to 1080p in 60 frames, and it doesn't require a jailbreak to work.
13. iTransmission App
iTransmission is the most popular BitTorrent client for iPhone and iPad devices with support for iOS 13, iOS 12, iOS 11, and iOS 10. The software offers similar features to iTorrent app including options to view information about the torrent file including size, peers, download speed, available files, etc.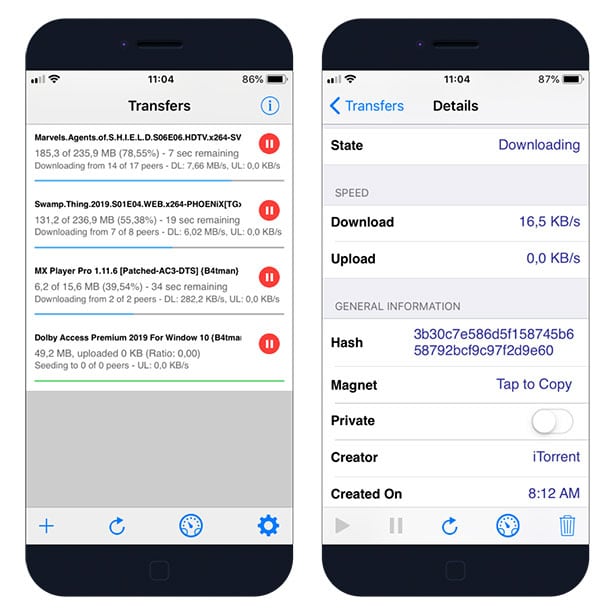 As you could expect the iOS Torrent app is packed with a lot of useful options. Add BitTorrent files to quote from URL or Magnet Link, set download speed limits, resume downloaded files, edit the list of trackers, review torrent content, set maximum connections, open links from Safari, and more.
14. AppCake App
AppCake the free platform for iOS devices allowing you to install unsigned IPA files. The free App Store is packed with premium games and applications that can be download without the need to pay for them. The store is developed by iPhonecake. This Cydia app works also on iOS 13.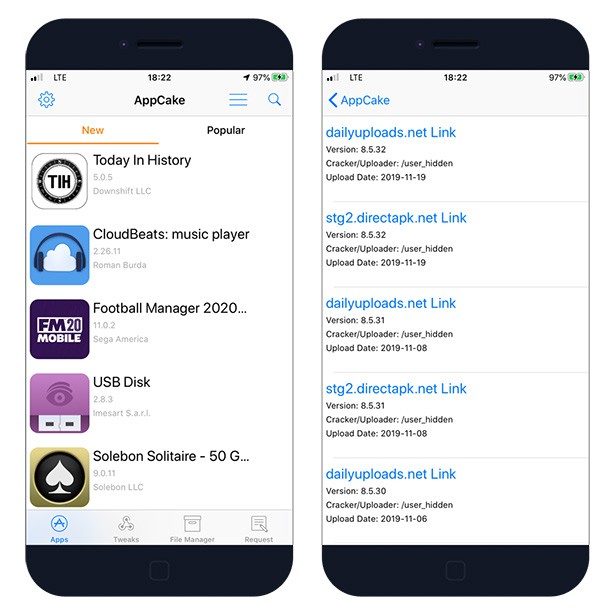 AppCake is compatible with iOS 9 - 10, iOS 11, and iOS 12. To run the App Store you need also to download additional AppSync Unified tweak allowing to install unsigned, fake-signed, or ad-hoc signed IPA packages on iPhone, iPad, and iPod Touch. The app is developed since 2008.
15. BarMagnet App
BarMagnet is a free app for Apple devices allowing you to remotely manage torrent download on Desktop. The app offers support for Deluge, qBittorrent, ruTorrent (HTTPRPC plugin), rTorrent (XMLRPC), SeedStuff seedboxes, Synology, Transmission, Vuze, Xivik rTorrent and uTorrent.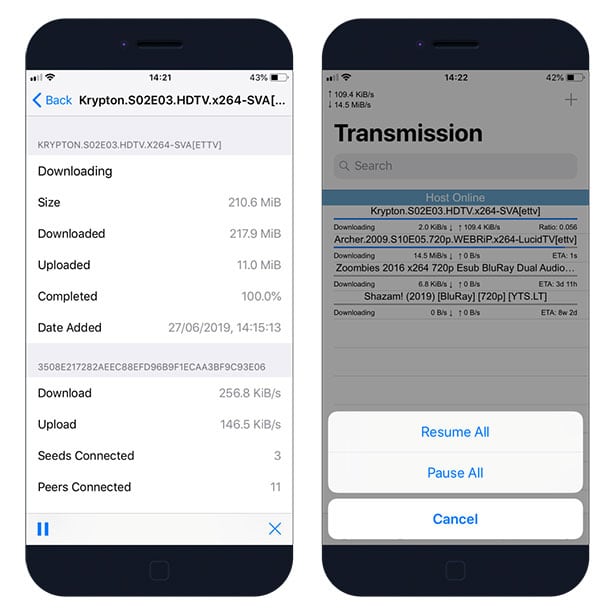 The web browser, based on SVWebViewController, that lets you add torrents to your remote server just by clicking on the magnet link or torrent file link. A query system that lets you easily search any torrent website that inserts the query into the URL, while also letting you add extra modifiers.
16. CrackerXI+ App
CrackerXI+ is a free Cydia application allowing you to crack iOS apps installed on your device. The tool is really easy to use. After launching the app you will see a list of all applications listed on your device. Click on an app name to decrypt the binary or full IPA. Cracking app will take a few seconds.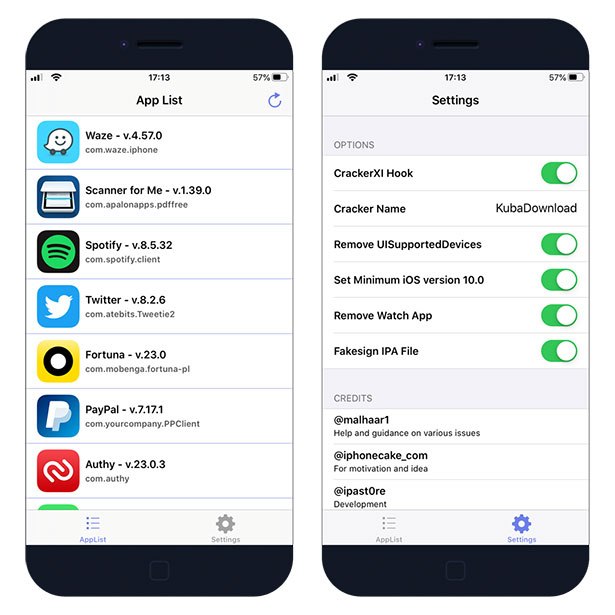 CrackerXI provides also some basic options that can be changed in the Settings tab. Define Crackers Name, Fakesign IPA file, remove Watch App, set min iOS version 10, Remove UISupportedDevices, or activate CrackerXI Hook. Moreover, you can share the cracked IPA with AppCake.
17. Installer App
Installer app is one of the most advanced Package Managers for iOS packed with more than 100 features and over 8192 options to configure the interface. Installer allows you to add multiple repositories at once from the clipboard, use OLED dark mode, and shows trending packages.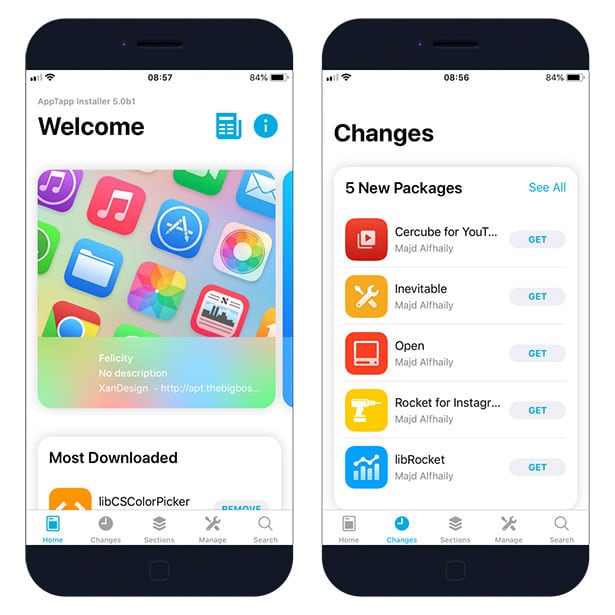 The Package Manager offers a built-in option to force authentication by TouchID, FaceID or passcode for performing important operations, create a snapshot at the first launch, hide package versions, rate package in stars and comments for usefulness, or share a package with friends.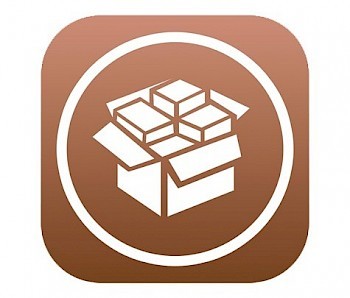 How to add sources to Cydia app
I think you already know how to add new sources to access Cydia apps. If not, then no worries we will take you through this process. It is really easy to do, and I will guide you on how to add repositories to your Cydia sources correctly. There is a huge collection of useful Cydia apps available.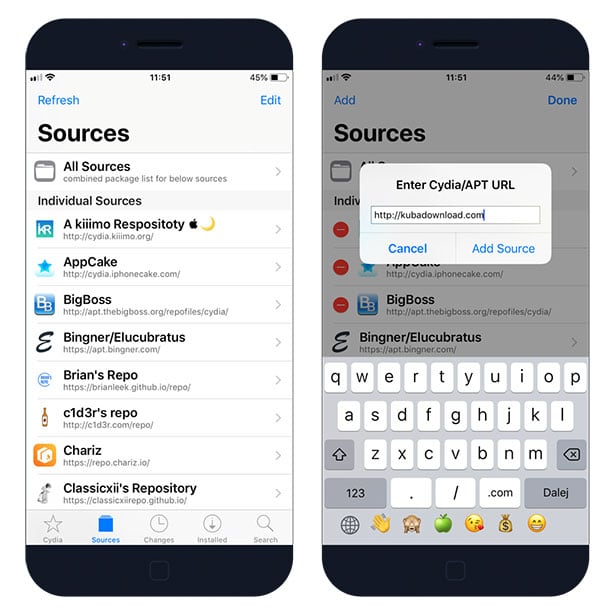 Step 1. Open Cydia and switch to Sources Tab.
Step 2. Tap on Edit button located in the right corner fo the app.
Step 3. Tap on Add button that will be displayed in the left corner.
Step 4. Enter the URL and tap Add Source.
Step 5. Cydia will update all repositories.
You might also like