Well, it is no surprise that lots of iPhone users are concerned about their device's battery performance, especially since we use so many applications on our handsets these days. So, it makes sense for the users to be concerned about battery and find ways to improve the battery performance so that they can use a few apps for a longer time.
iPhone's Status Bar usually shows the users how much battery is remaining with the battery level indicator so that if the battery is low, the user can charge it on time. However, what it doesn't do is provide information on the battery load and which apps are using the most battery at the moment. Well, this is where the newly released jailbreak tweak by iOS developer Julio Verne comes into the picture.
Dubbed BattRate, this new jailbreak tweak shows the users the real-time rate of battery discharge that their battery is experiencing. In layman terms, this tweak will show you how much load you are putting on the battery in mAh terms to make it easy for the users to decipher.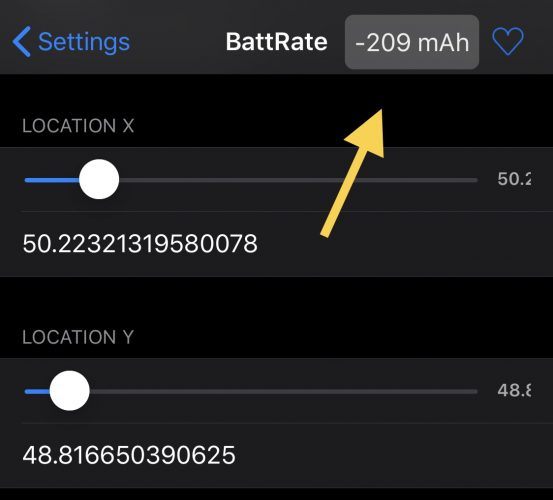 If your iPhone shows a negative discharge, such as -200 mAh, then it means that this is the discharge rate at the current moment. If you aren't using your iPhone, then this is the normal use discharge and if you are using any particular app, then this is the app use discharge. On the other hand, if there is a positive number, then that means your iPhone battery is being charged right now.
So, if there is more load on your handset's battery, then the negative number will be much lower than 0. And if your handset is connected to a fast-charging power source, then the positive number will be much greater than 0. Once you install this tweak, you can configure the settings and include information such as current charge/discharge, battery percentage, voltage, cycle count, capacity, and a lot more details.
Here are a few things that you can do once you have the BattRate tweak installed in your device:
Turn on/off BattRate whenever you want.
Select a text color for the readout
Select an interval update for the readout.
Input the preferred formatting layout.
Adjust the width and the height of the battery readout.
Adjust the X and Y location of the battery readout.
Modify the corner radius of the battery readout.
Set the alpha level of the battery readout text and background.
Reset to default settings.

If you are concerned about your battery performance, then Julio Verne's BattRate is the perfect jailbreak tweak for you to install. You can download this tweak free of cost from Verne's beta repository. This jailbreak teak is currently supported on all iOS 11, 12, and 13 devices. If you are already using this repository, then you can add it to your package manager by using this URL:
So, will you be downloading this tweak to consciously track your handset's battery? Let us know in the comments!
You might also like