On an iPhone, it is easy to figure out how abused the handset's battery is by going to the Settings – Battery – Battery Health option.
This feature is great and has been helpful in several different situations. If you are trying to understand if the battery of your iPhone needs to be changed, then you can check the battery health or if you need to figure out if the asking price for an iPhone is fair or not, then you can check as well. But if this feature is so handy, then why has Apple not included it on iPads or iPods till now?
If you have a jailbroken device and have the same query, then don't worry because now you can easily get this feature on your iPads and iPods too. With a new and free jailbreak tweak known as BatteryHealthEnabler (iPod/iPad) which was developed by iOS developer Brend0n, this coveted feature can be made available on the unsupported devices as well.
In the screenshot shared in this post, you will find that the tweak was installed on an iPod touch and it enabled the Battery Health preference pane for the device. The jailbreak tweak comes with many functional features such as the battery capacity reporting, peak performance reporting, and so on. However, one major drawback of this jailbreak tweak is that the optimized battery charging feature is not available on the unsupported devices and doesn't work at this time. If you don't know what an optimized battery charging is, well this feature basically tells your device how and when the battery should be charged to reduce battery degradation over time.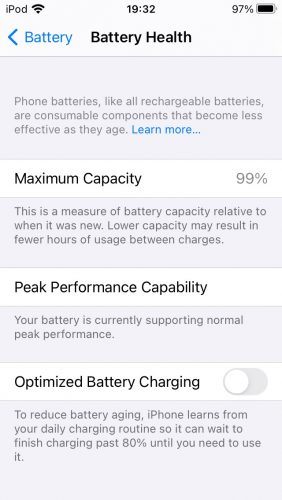 Battery sticklers are going to love this jailbreak tweak as it would give them privileged access to the battery information that they didn't have earlier. So, if you also want to check out this jailbreak tweak for yourself, then you can simply download BatteryHealthEnabler (iPad/iPod) from Brend0n's personal repository for free charge using your favorite package manager. This is an open source jailbreak tweak so you can check out its source code on the developer's GitHub page. Also, this jailbreak supports jailbroken iPods and iPads that are currently running on the iOS and iPadOS 14 version.
If you aren't using the Brend0n's personal repository already, then you can add it to your favorite package manager using this URL:
https://brendonjkding.github.io/
Are you planning to get BatteryHealthEnabler on your jailbroken iPad or iPod Touch? Let us know in the comment section below!
You might also like