I am sure as an iOS user, you are aware that the iOS operating system offers a feature known as Auto Lock that us used to automatically lock your handset after a specified idle time. This time is set by the end user and is a great way to save power when you are not using it. Basically, when your handset isn't being actively used, the Auto Lock feature helps in making your device go to the sleep mode to keep your important information safe while not draining the battery as well.
Auto Lock feature automatically takes effect in most situations but there are a few cases when the feature gets overridden. This usually happens when you are playing some specific games or during media playback. This is a little convenient when you are playing media or any game but for a few users, it is a cause of concern as well because of data security and battery life.
If you also find that the Auto Lock feature getting overridden by certain apps is more of a nuisance than anything else, then we have a solution for you. For users with a jailbroken handset, there is a free jailbreak tweak that was released by iOS developer Julio Verne that is known as AutoLockX.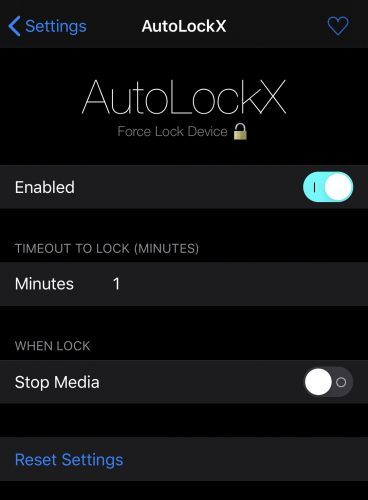 Once you install this tweak, a dedicated preference pane will be added to the Settings app when you can turn on or off the tweak whenever you want. Moreover, you can set an automatic timer, choose to stop the Now Playing media when the automatic lock is set or not. Moreover, AutoLockX is better than Apple's native Auto Lock feature as it forcefully locks the device even when a few apps try to override this feature.
Although a few of you might choose to set the same timer as the native Auto Lock timer, it is recommended that you set a higher timer threshold for the tweak. This is recommended because you want this tweak to lock your device when you leave the app or game idle for too long but it shouldn't lock the device automatically in a minute and disrupt your media viewing or game playing experience.
One of the best things about AutoLockX is that it ensures that your personal data stays secure when you don't use your handset or are away from it even when a video or a game is playing. So, the tweak ensures that your device is locked and there is no need for you to worry about accessing your personal information. You can also use this tweak to enter custom timer that is usually not supported by Apple's native Auto Lock Feature. As a result, you can choose an odd timer for the device to get automatically locked and disable the Auto Lock feature on your device and have a timer that actually suits your needs.
Ultimately, whether the AutoLockX is useful for you or not depends on how you are going to use the device. If you tend to use apps that are going to regularly override the native Auto Lock feature and don't want it to happen, then this tweak is perfect for you. If you are interested in getting this tweak, then you can download it from Julio Verne's personal repository for free. It can be used on jailbroken iOS 13 devices.
You might also like