AppValley Download. Install apps on iOS and Android
kuba - Wednesday, 17 October 2018
AppValley is a free app for the iOS system to download paid apps, hacked games, apps ++ for free install them on iPhone, iPad, Android devices. On our page, you will find everything related to this AppStore. Download for free Spotify++, Minecraft, PokeGo++, Movie Box, etc.
What is AppValley?
AppValley is free AppStore that can be used to download and install games and apps on mobile devices for free. The platform supports iPhone's, iPad's, and Android devices. Using the free platform you have access to AppStore paid apps and games without charges.
Moreover, you can install apps ++ with additional features and games hack allowing you to cheat in your favorite mobile games. The software doesn't require Jailbreak to work, and it is really simple to install.
AppValley VIP offers additional features, quicker download speeds, and more games and apps available to download. The user experience is the same as you would expect it in the App Store.
Navigate through categories, find your app and install it for free. You can also change between the Light and Dark mode of the interface.
Is AppValley safe?
This app is 100% safe and secure. The App Store is available for free and you don't need to pay to use the free edition. To make your downloads invisible in the network use any VPN software. It is safe.
It's not required but using VPN is always a good idea to have installed on your iPhone or Android device. If the spp store asks to set a profile in your phone you need to do it to make the app work.
Is AppValley illegal?
Yes, installing apps and games via is illegal. If you enjoy using the apps, you can say that you appreciate the work to developers by buying them from official AppStore. Only applications available via Cydia are installed legally on your iOS but they can be used to illegal things like jailbreaking iPhone or watching premium TV channels for free.
How to install AppValley on iPhone?
The installation process of the app store is simple and it would take about 2 minutes to download and install it on your device. The most important thing that you are probably interested in, is that the app doesn't require a PC to install it on your iPhone. Go through the step-by-step guide to install the platform on iOS.
The download flow is the same for Android devices.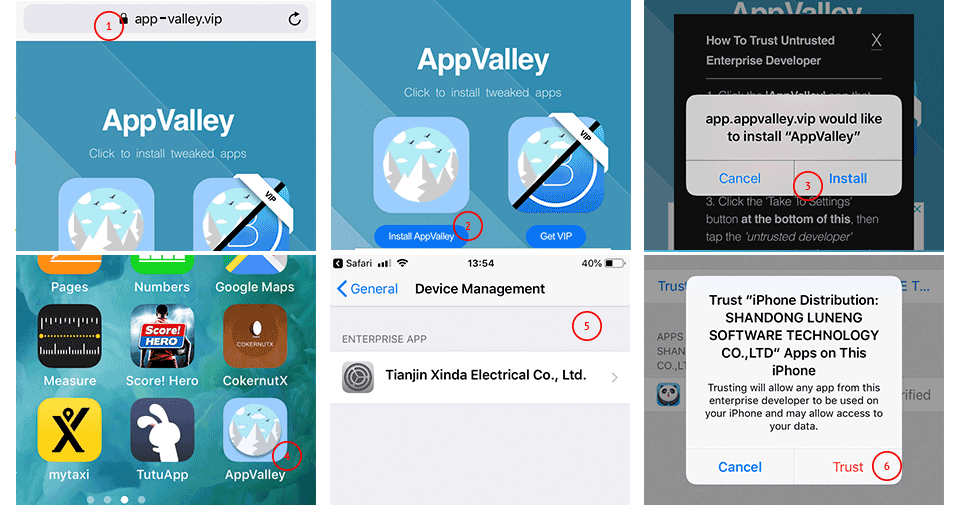 1. Navigate to app-valley.vip webpage from your iOS device to download and install the app.
2. Click the Install button.
3. Click Install on the small window with the message: tbsq.tongbu.com would like to install "app.appvalley.vip to install App Valley".
4. When the iOS is installed on your system an icon will reveal on the iPhone Home Screen.
5. Navigate on iPhone Settings app and next to General -> Device Management.
6. Click on the Enterprise Apps the developer name, and Tap "Trust" twice.
How to install AppValley on Android?
The APK is available for Android users. iOS is not the only system supported by App Valley app, and installing it for Android devices is even easier to follow.
Go via the steps to install App Valley on your Android device.
1. Enable Unknown Sources with the Settings Tab on your Android device.
2. Download from your browser AppValley APK file.
3. Click Download.
4. Use the file manager to install App Valley.APK file.
5. Confirm installation of APK file.
6. Wait till installation is completed.
Tweaked Apps
Tweaked apps offer premium or additional features in apps for free. What can you expect from apps ++? For example, Spotify++ doesn't play ads during playback, and you have the option to skip to next song for free, Snapchat++ automatically saves all incoming and outgoing snaps, you can disable view receipt, disable story auto switch and more.
Download ++ apps like Twitter++, Facebook++, Instagram++, YouTube++, WhatsApp++, Tinder++, YouTubeMusic++, SoundCloud++. Kik++, Plex++, Dezzer++, Pandora++, Twich++, UFC++, VK++, Napster++ and more.
Access also downloads from Cydia repositories like AeroTV, AirFloat, AirShu, Bobby Movie (Coto Movie), Cartoon HD, Cercube YouTube, Channels, CoolPixel, Electra for iOS, EveryCord, FilzaJailed, Fortune, GoodNight, h3lix, HalowTV, hiMusic, Houdini, iCleaner, iFile, iMusic, iTransmisson, Kodi, Mobile Miner, MovieBox, PB++, PlayBox HD, PopcornTime, SlickTV, TornGat, Yulu102, Live Wire, xCleaner, g0blin Jailbreak, and much more.
Tweaked Games

AppValley offers access to hundreds of game hacks that will tweak the gameplay allowing you to access coins, lives, infinite gems, map hacks, radar hacks, etc. without the need to pay for them. It's cheating but if you need it you have all in within the app.
The most popular games offered by the platform include Hitman Sniper Hack, Infinity Blade II Hack, iSpoofer PokemonGO, Last Day on Earth Hack, Mortal Kombat X Hack, PokemonGo Hack, Pokemon Quest Hack, PUG Mobile Hack, Sniper 3D Hack, Subway Surfers Hack, Tample Run Hack, This War of Mine Hack, Where's My Wather Hack, Fallout Shelter Hack, Driving Academy 2018 Hack, 8 Ball Pool, Almost a Hero Hack, The Sims Free Play Hack, GTA CTW, GTA Liberty City, Guns of Boom Hack, Grim Soul Hack etc.
How to use AppValley?
After you will install AppValley using our step-by-step instruction you can start downloading and installing apps and games on your iPhone. How to install apps is explained below in just 3 simple steps that anyone can follow.

1. Open the app from Home Screen and search for an app or game.
2. On the list, you will find all app provided by the AppStore. You can click Get button to download page of Pokemon Go Hack.
3. When you navigate to the game description in App Valley click Install to start downloading the app. After Pokemon Go Hack is downloaded it will be automatically installed on your iPhone and ready to use.
Supported systems
AppValley works best with iOS 8, iOS 9, iOS 10, iOS 11, and the newest version iOS 12. There is no need to Jailbreak your iPhone to make the app work on iOS system. The app is available for free and works stable on all iOS platforms.