Apple said that it had raised almost $270 million (about Rs. 1800 crores) for the battle against AIDS in Sub-Saharan Africa since 2006.
Apple claims that consumers have raised about $270 million by purchasing Product (RED) gadgets in the 15 years since the business started supporting the battle against AIDS.
So, here's an article paying home the great initiative to the global Apple family.
The News:
In the 15 years that it has been partnering with RED, Apple has raised more than $270 million in donations to stop AIDS and has helped provide treatment, screening, and support for the most vulnerable communities.
In the last 15 years, Apple users have been able to play an integral part in (RED)'s struggle to stop AIDS by donating to the Global Fund, which provides essential access to healthcare for the poorest communities in sub-Saharan African countries.
Since COVID-19 continues to affect populations across the globe as well as those with HIV, fighting to end pandemics across the globe is more important than ever before.
To celebrate World AIDS Day this year, Apple is offering new ways for its customers to be educated about, participate in, and contribute by raising awareness and funds to assist those living on the frontline of COVID-19 and AIDS along with COVID-19.
In the past six years, Apple customers have helped raise close to the US $270 million for screening, prevention, and counseling services for people affected by HIV/AIDS. Apple-funded grants have provided the provision of support and care for more than 11 million people, as well as provided over 192 million HIV tests and given more than 13.8 million people access to life-saving antiretroviral treatment.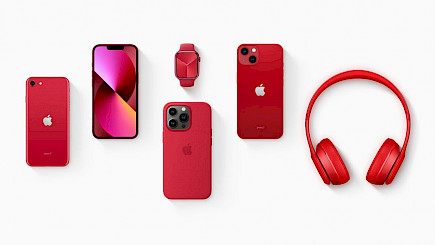 In the year 2020, all by itself, Apple's support for (RED) has prevented more than 145,000 mothers with HIV from passing on the virus to their children.
Apple-funded grants have provided vital health care to millions across sub-Saharan African countries.
With the help of Apple, (RED) has been able to broaden its reach to offer additional services and assistance to poor communities most affected by COVID-19. In the last two years, COVID-19 has created new issues in accessing healthcare as well as diagnostics and other supplies and often stretches the resources of crucial HIV/AIDS programs.
To tackle these issues, Apple was one of the first companies to shift its focus in the direction of COVID-19 response at the global fund.
Through redirecting donations to the International Fund's COVID-19 Response during the time of the outbreak, Apple customers were able to support programs that slowed the effects of COVID-19 on HIV/AIDS programs.
In Zambia, medical clinics in the area were able to purchase motorbikes to provide crucial HIV treatment to communities in the area as in-person visits decreased because of COVID-19.
In the year that it was in operation, financial support from Apple, along with its patrons, helped to fund programs in Ghana that provided medical practitioners with the funds to buy massive supplies in order to provide multiple months of treatment to those who were most at risk, thus reducing the risk of the virus.
Apple's financial support of CoVID-19 Response of the World Fund Response has allowed it to finance programs that reduce COVID-19's impact on HIV/AIDS programs already in place.
Apple's effort to support end HIV, AIDS, and COVID-19 this year
Customers can donate to (RED) in more ways than ever before, including (PRODUCT) RED products and equipment, an Apple Pay donation program, and special collections of services.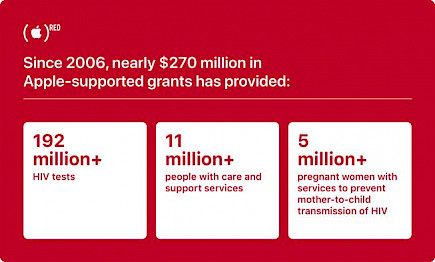 Apple is offering a selection of brand new (PRODUCT) RED gadgets and accessories for the festive season, which includes the iPhone 13 (PRODUCT) RED, the iPhone 13 mini (PRODUCT) RED, and the Apple Watch Series 7 (PRODUCT) RED. Part of the profits from each PRODUCT RED purchase will go straight to the Global Fund to fight AIDS.
Through the end of the year, a portion of the funds from (PRODUCT) RED purchases will be directed into the global fund's COVID-19 Response, which will help reduce the effects of COVID-19 on the fight to eliminate AIDS.
Some part of the profits that result from purchases of the iPhone 13 and iPhone 13 mini (PRODUCT) RED will be donated to initiatives of the Global Fund to fight COVID-19 and HIV/AIDS.
Apple Watch owners can show their support for (RED) by downloading one of six red Apple Watch faces from apple.com/au/product-red.
After downloading, these faces are also able to be shared among other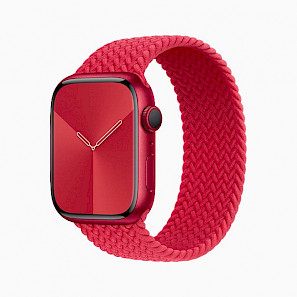 Apple Watch users through Face Sharing. The watch faces can be paired with the brand new Apple Watch Series 7 (PRODUCT) RED aluminum case made of 100% recycled aerospace-grade alloy, in addition to (PRODUCT) RED The Braided Solo Loop, Sport Band, and Sport Loop bands.
Winding-up
Today we would like to end our article on a note of gratitude to all the people who made this initiative successful.
The world is a cruel place, but when you are with the right people even the unbearable becomes bearable. So, a big round of applause to the Global Apple Family.
You made it work!

You might also like