The tech giant based in Cupertino boasts that its features and products were created in a way to "minimize how much of your data" users have access to.
Which is a way is an indirect appeal to how safe the iOS has become and why one who wants to keep their privacy safe should choose an iPhone over any other device.
The News:
Apple has announced the launch of an advertising campaign to highlight the most important privacy features. Its goal is to convince people to purchase an iPhone.
Theme: "Data Auction," where the auctioneer sells user information. The advertisement exposes the way that people lose their personal information through different sources, such as emails, messages, as well as browsing history. The campaign highlights Apple's Mail Privacy Protection and App Tracking Transparency, two built-in tools to protect the privacy of data collection.
The ad starts with a brief introduction to Ellie, the main character, whose information has been sold in the auction. The auctioneer is putting various Ellie's information, such as the purchase record, email addresses, contacts, location information, text messages, as well as browsing history, up for auction.
Advertisers gather data from various sources to identify patterns in user behavior. The tech giant based in Cupertino claims that its features and products were created in a way that "minimizes how much of your data" users have access to.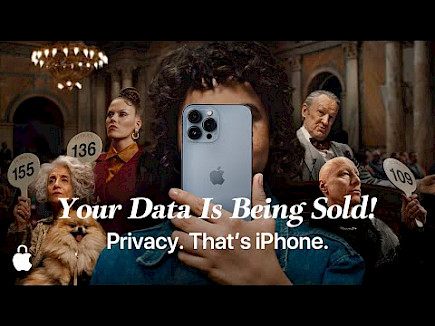 The second ad follows last year's privacy campaign. The ad depicts Ellie turning onto app tracking transparency by soliciting applications to "not track" activity for sharing with data brokers. The feature was first introduced in April of 2021.
The campaign is currently in 24 countries. The campaign will be translated into other languages that are not English in select markets to reach a wider public. Additionally, the company plans to install billboards in each country where the ad will be running.
Despite the glitz of Apple's promotion, however, these offerings aren't completely foolproof. They could permit developers to monitor the user's data.
The commercial also showcases the Apple Mail Privacy Protection feature that, according to the company, will protect data such as IP addresses as well as other information when sending emails. It is compatible in conjunction with the preloaded Mail app for iPad, iPhone, and Mac devices.
Apple also offers features like the Location Services privacy controls and Intelligent Tracking Prevention in Safari, which has been recently added to help improve iPhone users' privacy concerns.
Recent privacy enhancements have been a huge help in helping Apple to expand the iPhone market and have also helped to grow its advertising business by attracting new clients contacting the company to offer advertisements to iPhone users.
Apple's privacy features in Safari
Intelligent Tracking Prevention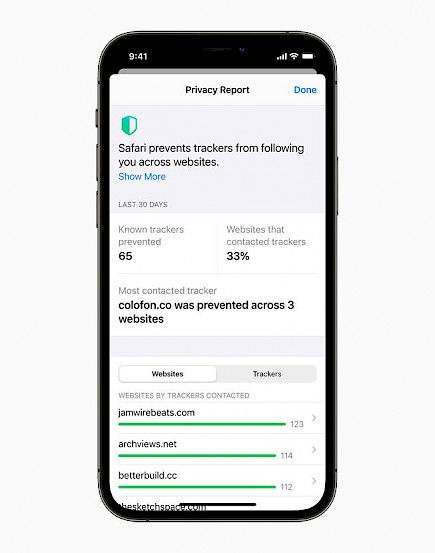 You might have noticed that when you search for items to buy on the internet, you start getting them everywhere you go on the internet.
This happens because an external party monitors cookies and other data from websites to display ads on many websites.
Intelligent Tracking Prevention uses the most advanced machine learning technology and on-device technology to combat this cross-site tracker.
It blocks the IP addresses of trackers and the content you view on the internet remains your company's and not the advertisers. You don't need to alter any settings for this protection since Intelligent Tracking Prevention is on by default.
Social widget tracking prevention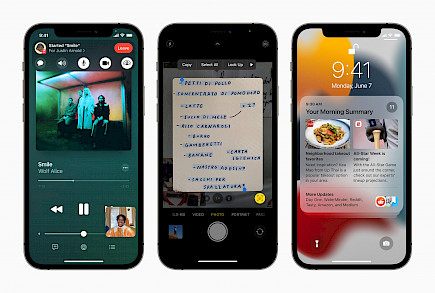 For example, social widgets embedded on websites could be used to track you even if you do not click on them or use them.
Safari blocks this type of tracking by default. This stops social widgets from gaining access to your personal information unless you grant permission.
Monitoring of passwords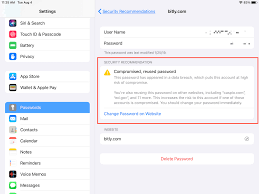 Safari examines whether you have saved keychain passwords that were compromised during data breaches.
It utilizes secure and secure encryption techniques to periodically check your passwords' derivations against a public database of passwords that have been compromised.
If Safari detects an insecure password, it will alert you. Your password details are never disclosed during this process. It's not even revealed to Apple.
Private Browsing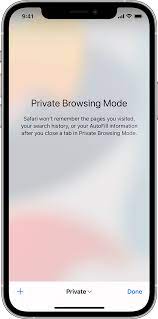 If you enable Private Browsing, Safari won't add websites that you visit your history, remember your searches, or save any data from the forms you fill in online.
It is possible to use content blockers to limit what's loaded on your device and prevent any person from tracking your actions on a website or across different websites. The support for content blockers is designed to not send developers details about the content you're viewing.
Winding-up
So, that brings an end to today's article.
We will be back soon with more updates. Until then, stay tuned and have a Good Day!
You might also like