By the year 2022, everyone has become aware of, or should we rather say, "part of" subscription services in our daily lives. But, this notion might soon change.
The world first moved to EMI, but it was limited to big purchases and brought a bit of hassle as well. We see subscription as something similar to EMI, and while it has made our lives super easy, it has been a significant revenue generator for big companies.
Apple has stepped into subscription services long ago, but they're now aiming to take it to the next level.
Let's find out how they plan to do so…
The News: Subscribe for iPhones/iPads and get full access to device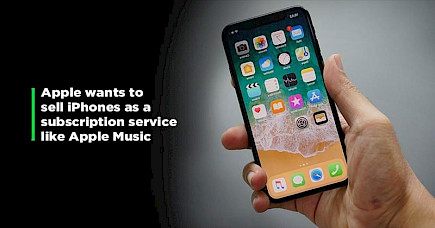 From next year, Apple plans to sell iPhones and iPads as a monthly subscription service.
According to Bloomberg, the Tim Cook-led business plans to introduce a subscription model for its hardware, similar to how it does for its software.
Those who purchase an iPhone or iPad under this plan will be required to pay a monthly membership fee and pay for the device over the course of 12 or 24 months.
According to the rumor, Apple may eventually sell MacBook on a monthly subscription basis.
The monthly membership charge, on the other hand, may not be the same as the product's price divided by 12 or 24.
Apple's move is considered part of a more significant attempt to cut out intermediaries and expand its installment-based payment options to its devices.
With its iPhone Upgrade Program, Apple has effectively taken the first step in this way. Customers can get interest-free loans through Citizens One, Citizens Bank's national lending division in the United States.
They then repay the money over a 24-month period. In addition, Apple allows a select percentage of Apple Card customers to pay for their purchases in monthly installments without incurring interest.
When can we expect subscription implementation?
Apple has yet to offer a remark on the matter. However, while the specifics of this planned subscription model for Apple devices are still unknown, one thing is clear: Apple's subscription model goals.
Meanwhile, Apple has been concentrating on boosting income through subscription-based services such as Apple Music, Apple TV Plus, Apple News Plus, Apple Fitness Plus, and Apple Arcade.
This move is believed to be expanding the iPhone user base in Asia and other regions like India, where Android still rules by far.
How is this subscription expected to benefit Apple?
Apple shares soared to a session high after Bloomberg broke the story on Thursday, finishing up 2.3 percent at $174.07.
Regardless of the reality that the stock is still down 2% for the year, the company has already posted an eight-day winning streak, the longest since November.
The iPhone is already Apple's most profitable product, garnering about $192 billion in revenue last year, accounting for more than half of the company's total income.
For the first time, Apple's strongest drive toward automatically repeating purchases would allow customers to subscribe to hardware rather than just digital services.
According to individuals who asked not to be identified because the initiative has yet to be announced, the idea is still in the works.
Is it similar to Apple's existing iPhone Upgrade Program?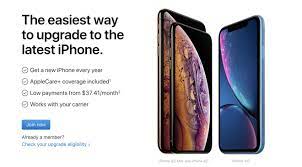 Well, yes and no. Yes, because it's somewhat similar and can be considered as a "trial" attempt to check how many people are willing to pay a recurring payment for something beyond apps.
And no, because the subscription is obviously pretty much different and more flexible + costly than the upgrade program.
These subscription options appear to have been in the works for some time; however, progress has been gradual. As early as 2019, Apple introduced a monthly subscription model for AppleCare warranty extensions.
In addition, since 2015, Apple has offered its iPhone Upgrade Program, which allows customers to pay for AppleCare and a new iPhone over the course of 24 months, with the opportunity to "swap in their smartphone after 12 months of payments."
Both of these programs are, for all intents and purposes, party hardware subscriptions.
What's our say on this
Well, it's undoubtedly gonna benefit us in a similar way as EMI did years ago. There was a time when cars, houses, and other costlier items used to be a "rich people's thing," but EMI kinda eliminated it. And there are millions of users who still dream of owning an iPhone.
Also, this is likely to finally decrease old iPhone sales drastically, something Apple has been trying for a long but failing miserably.
Old iPhone buying and selling was one of the major concerns of Apple, and who is going to buy an old/used device for a hefty amount when they can simply get the latest device at a much lesser price?
While it's beneficial, we should also not forget about the recurring charges, it's already a global concern, and Apple will add up to it.
You might also like