According to the new rumors in Tech World, Apple is planning to bring in a new mini-LED display for its Devices.
Apple will adopt a new display technology called mini LED display for the iPad and MacBook. Apple's interest and commitment to mini-LEDs may lead other tablet manufacturers and laptop brands to adopt them. You can expect to see mini-LEDs on product specifications pages by the end of next year.
Ming-Chi Kuo reports that Apple is "actively searching for second suppliers of key Mini LED parts" because the tech giant is interested in this new technology. This is because it offers better colors, better quality, and a lower price. You will be able to get higher contrast ratios and more accurate color in larger screen devices such as tablets and laptops without having to spend a lot. These are the facts.
What is Mini-LED display technology?
Let's get to the point. Micro-LED technology is an enhanced version of LCD technology. Modern LCD TVs are equipped with LEDs (or Light Emitting Diodes) as their backlights. A mini LED, also known as a sub-millimeter-light-emitting diode, is better than an LCD TV.
Mini LEDs are smaller than the LEDs in QLED TVs and LED TVs, but they work exactly like them. Mini-LEDs measure 200 microns, or 0.008 inches in size. They are approximately a fifth of the size of standard LEDs used in LCD panels. Because they are smaller, you can pack more of them onto a screen. This allows for better control over the backlighting, which leads to improved image quality.
The Mini-LED technology is so appealing because it offers the same brightness and contrast as OLED. Mini LED-capable TVs can deliver more brightness and darker blacks but at a lower price. Mini-LED technology is an affordable alternative to OLED without any screen burn-in.
What will be the quality of Mini-LED?
Mini-LED panels are a cheaper alternative to OLED panels and are therefore easier to produce. This is an improved form of LCD technology, as the backlight diodes can be kept small. For devices such as tablets and laptops, you can expect an immersive experience and better picture quality.
The mini-LED is different from the micro-LED. The micro-LED, which is an LCD technology superior to the mini, comes with a filtering matrix that filters the backlight. However, the micro-LED is completely OLED technology. It emits light from three separate LEDs, each one of which emits light. Bright pixels. OLED quality is desirable, but OEMs are working to improve LCD technology. The mini LED is the most recent innovation.
HDR content will look better on mini-LED screens. You'll have a wider and better color gamut, higher contrast ratios, greater brightness, and a wider range of colors. The best thing about the mini LED is that it will keep devices slimmer than they are today.
Advantages of Mini-LEDs
OLEDs offer greater contrast and better black levels.
TV manufacturers have more control over dimming zones. This means that the screen can be as bright or dimmed as they wish.
More affordable to make than OLEDs.
The Mini LED technology is more effective at displaying HDR content.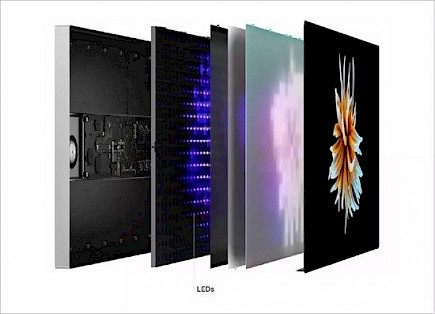 Since last year, TCL has been offering Mini LED TVs on the market. TCL was the first television manufacturer to launch mini-LED televisions. At CES 2021, the Chinese firm announced the debut of a new line of TVs employing next-generation Mini-LED technology. LG, on the other hand, claims that their QNED TVs will use Mini-LED backlight technology. For the first time, the new line will be on show at CES 2021. Samsung has yet to unveil any mini-LED TVs, but I expect the South Korean giant to be a strong supporter of this display technology in the future.
Future of Mini-LED with Apple
While mini-LED on TVs and laptops hasn't yet taken off, the technology may get a significant boost if Apple begins to use this display technology.
According to Ming-Chi Kuo, a TF International analyst, several Apple products will be released with mini-LED technology in 2021.
Kou anticipates that mini-LED screens will be available in high-end MacBook Pro and iPad Pro versions this year. According to reports, Apple may be working on six gadgets that will use the new display technology. What does this mean for customers who buy the new iPad Pro and MacBook Pro? We'll have to wait until Apple makes these goods available.

You might also like