Have you been a MacBook user for a long time?
Do you want to upgrade your device but don't have ready cash to buy the new-gen MacBooks or are you a student who wants to upgrade your devices before moving to college?
Well, we have good news for you.
Apple announced a new MacBook upgrade program. That might help users by exchanging their old devices for brand new ones.
Here's more about it.
The News: Why Should You be Interested in it
One of the most convenient ways to get the most recent iPhone every year is to use the Apple iPhone Upgrade program.
It is required to pay a monthly fee to get the most recent iPhone and receive AppleCare+ coverage. Then, at the end of 12 months, you are able to trade the device in to purchase a new iPhone.
Owing to the humongous popularity of their iPhone exchange program Apple has taken the decision to trickle down the same feature for its other devices.
Apple recently announced an upgrade path that is applicable to MacBooks like those of the MacBook Pro and MacBook Air. However, there are essential differences, and not all users can benefit from the upgrade. This is due to the fact that the MacBook upgrade program is limited to businesses for now.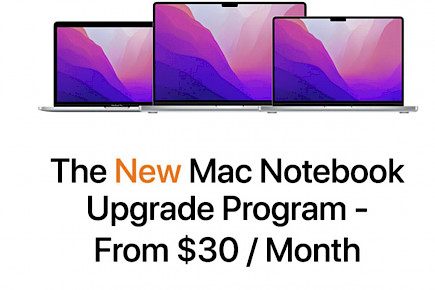 Although it's sensible to replace a smartphone each year, it's not likely you'll need to change to a new Mac each year. Instead, it's more likely that you'll hang your laptop for a while, mainly when it's an Apple MacBook. With regard to desktops, it's easy to upgrade them yourself, but this is more the case for traditional Windows PCs than Apple's all-in-one iMac.
Although, there could be a Mac buyer who would like to upgrade all of their MacBooks every year, especially considering that Apple has shocked the world with its new M1 processors.
In this case, the idea of a MacBook upgrade program could be a good idea.
The first thing to note is that, first of all, the MacBook upgrade software is known as the Mac Notebook Upgrade Program.
How does the MacBook upgrade program function?
It is true that the MacBook upgrade program is indeed an excellent way to get the new and powerful M1 MacBook models. The 13-inch MacBook Air and 13-inch MacBook Pro that are powered by the M1 chip are accessible within the program. Additionally, the 16-inch and 14-inch 2021 MacBook Pro models that Apple announced a couple of weeks ago are also part of the deal as well.
It is only 3% per month on the MacBook you choose. You are able to return or upgrade at any time within 90 days. Suppose Apple introduces an upgrade for Air or Pro with an even faster and more efficient processor than the M1, M1 Pro, and M1 Max. In that case, you'll be eligible for upgrading to the new model right away.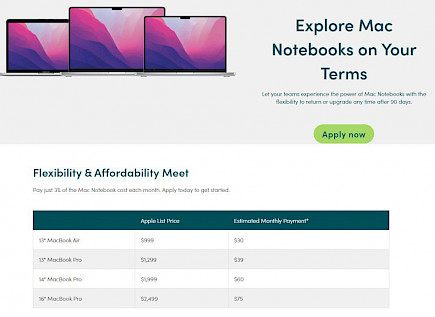 Here's the pricing structure of three Mac notebooks, as outlined on the CIT website:
13" MacBook Air starting at $999 - $30/month
13'' MacBook Pro starting at $1,299 - $39/month
14'' MacBook Pro starting at $1,999 - $60/month
16'' MacBook Pro starting at $2,499 - $75/month
We've recently learned that the latest M1 processors are extremely powerful. They also can help users in the enterprise save dollars in the long run. That's why the MacBook upgrade program can be of great help.
.
Why should you buy directly from Apple in place of using a retailer?
Apple makes the deal more attractive by adding AppleCare Plus coverage at a modest discount when you sign up for an iPhone Upgrade Program.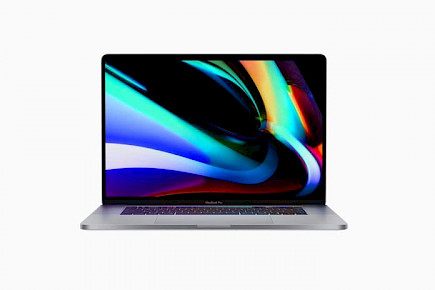 AppleCare Plus is Apple's insurance and extended warranty program that usually costs $7.99 per month for an iPhone 12 or 12 Mini or $9.99 per month with an iPhone 12 Pro or Pro Max.
Using the AppleCare Plus, which is part of the Apple Upgrade Program itself, you pay $6.21 every month to get the extended warranty instead of $7.99 a month for an iPhone 12 and 12 Mini.
Using AppleCare Plus, you're able to double the standard one-year warranty to two years, which is not only pocket-friendly but brings peace in life! However, it's not as important when you plan to trade in your device within your first year. The true benefit of
AppleCare Plus is getting accidental-damage protection. It comes with two claims that will repair your phone (each costs $99; however, it's less expensive than purchasing a new phone).
Additionally, you can replace a cracked screen or two cases for $29 each. Support for phones is extended to two years through AppleCare Plus, up from the 90-day standard.
How much will it cost you?
It's hard t guess all the prices right now. But, we can assure you that Apple will give a 20-30% deduction on all recent devices if you sign up for an exchange.
Also, there will be an EMI plan like you see iPhone Upgrade Program.
Winding-up
The MacBook Upgrade program is more assuredly going to be released to the public by the first quarter of 2022.
Thus, if you are a Macbook fan who really wants to upgrade, keep your eyes on the headlines as this new event might just be the opportunity you were waiting for.

You might also like