Apparently, with the success of Apple Watch podcasts and other Apple TV+ services, Apple is now eyeing at the bigger picture in Entertainment.
And no, it's not gaming or k-pop music. It's classical music.
So for what Apple Went shopping for?
Apple said on Monday that it would buy Primephonic, a piece of classical music streaming service, and create a dedicated app for the genre. Apple did not disclose the price it paid for Primephonic in Europe, but it did confirm that it will be included in the iPhone maker's music service.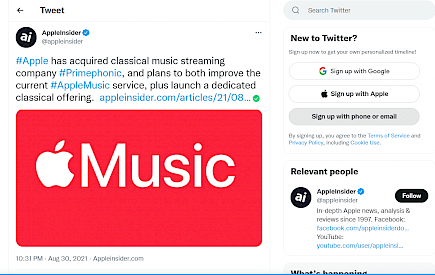 According to the businesses, Primephonic will go offline on September 7th, with members receiving six months of free Apple Music. Apple Music will integrate Primephonic technology in a specialized classical music app that will be released next year,
The decision comes as Apple, located in Silicon Valley, defends its dominance of the App Store, which serves as the exclusive portal for digital content onto iPhones and other Apple devices.
Primephonic's playlists and "unique audio material" will be the first to be added to Apple Music, according to Apple. According to the firm, it will ultimately contain "all of Primephonic's best features," such as "enhanced browsing and search capabilities by composer and repertoire, comprehensive displays of classical music metadata, and other features and advantages."
What is Primephonic?
Primephonic was founded three years ago with the goal of improving the future of classical music by tackling the genre's difficulties and complications in the streaming age. They felt driven to create a streaming service that genuinely does classical right, so they spent the previous three years doing just that.
However, in order to properly release the next phase of our goal, they must make our classical streaming expertise available to millions of listeners across the world.
Classical music enthusiasts have certain requirements. It is sufficient to know the artist or song title in popular music. Classical music fans could be interested in hearing recordings of certain conductors, eras, groups, composers, or pieces. Standard music streaming services, such as Spotify, don't have the capabilities to help consumers filter down tracks in this way, despite having a good variety of relevant genres.
But as it is just a startup, it could not reach the majority of worldwide classical fans as a classical-only startup, especially those who listen to a variety of other music genres. As a result, we've come to a conclusion that, in order to accomplish our objective, we'll need to team up with a major streaming service that covers all music genres while also sharing our passion for classical music.
As a result, we're ecstatic to announce a huge step forward in our objective today: Primephonic has joined Apple Music!
You might also like