Charging mobile phones or any other computing device is something we all don't typically enjoy. You could easily say, "What is interesting about charging a Phone? You just plug the power connector in and wait until your device is juiced enough".
Well, what if we told you Apple has come up with an innovation that is going to revolutionize the primitive methods of charging your iPhone or Apple Watch. Would you believe it?
If the answer is no, get ready to have your mind blown and if it's yes, you are in for a treat.
What's this new product Apple has released?
In December of 2020 Apple supposedly released a brand new model of MagSafe Charger named MagSafe Duo-Charger. This brand new accessory is capable of dual charging your iPhone and Apple Watch simultaneously and works with the help of one single lightning cable.
The new MagSafe Duo-Charger comes with 2 inbuilt charging pads for iPhones and Apple Watch respectively. It has a sleek rubberized finish and feels premium to touch. MagSafe Charger comes in plain white color and has a manufacturer warranty of one year.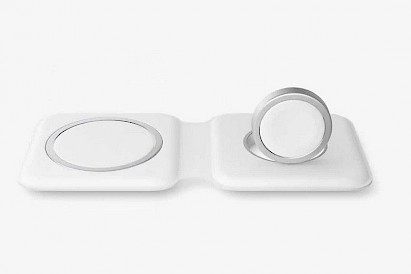 Features of the new MagSafe Duo-Charger
The new MagSafe Duo-Charger comes with 2 inbuilt charging pads. The first-larger pad is for the iPhones and the smaller pad is for your Apple Watches.
It has a sleek and modern design but still feels premium to touch.
It is built with best-in-class materials.
The smaller charging pad can flip all the way to a 90-degree angle to support your Apple Watch while charging.
It can be powered by standard AC-Chargers and lighting cables from Apple.
The pads are magnetic and attach to your devices to ensure proper charging.
The pads can be folded into a small tiny package, that is easy to store and carry in your Purse.
The new MagSafe Duo-Charger is completely water and moisture resistant.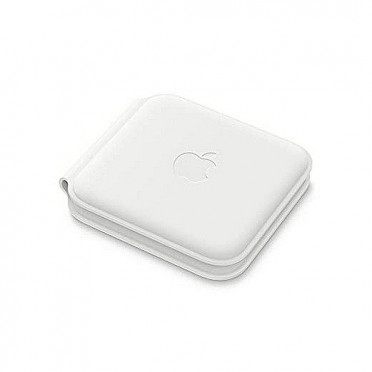 To use the MagSafe Duo-Charger you will need
iPhone 8 or later models which support wireless charging.
Any recent model of Apple Watch which supports Qi-wireless charging.
A USB Type-C to Lightning Cable.
A high wattage AC Adapter.
What's inside the box
If you buy the MagSafe Duo-Charger you will be greeted with:
1) The MagSafe Duo-Charger with a pearl-white color scheme and rubberized finish.
2) A Type-C to Lightning Cable.
3) Manufacturer documentation acknowledging the production date and warranty of the product.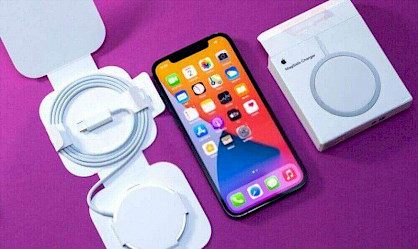 You will not be able to use this Charger right away as you will also require a high wattage AC Adapter to provide power for this accessory.
How is the charging speed of the MagSafe Duo-Charger?
The MagSafe Duo-Charger can produce up to 15v of charging speed, provided you have paired it up with an equally powerful AC adapter. The standard charging output is around 11V(powered by a 25 Watt AC Adapter).
How much does it cost?
As of June 2021, the MagSafe Duo-Charger will cost you around $129.99 which is around 13,900 INR. Additional warranty with the charger will cost around $25-35 (1800 to 2600 INR).
Where can you purchase the MagSafe Duo-Charger?
The MagSafe Duo-Charger is available in both Apple Store and Amazon. Choose your preferred retailer accordingly.
Is the MagSafe Duo-Charger worth it?
With the high price attached to it, it's debatable whether the MagSafe Duo-Charger is worth the big bucks or not. According to most users, they have loved the device. It is innovative, premium, and very handy. But, they have also complained about the slow charging power of the iPhone charger side of the MagSafe Duo-Charger.
But we will say it's worth buying such an innovative gadget as it may solve all of your charging issues and also open doors for other great innovations.
To know more, click "here"...
Hope you like the article and be sure to check some more great stuff from us. Good Day!
You might also like