Apple changes the Apple Watch line-up every year, and this year isn't more than usual since the company has introduced an upgrade to the Apple Watch Series 7. This is the follow-up to the Apple Watch Series 6 rather than the less expensive Apple Watch SE.
We all know that Apple rarely makes significant modifications to its products. Instead, it creates incremental improvements year after year. But the Apple Watch Series 7 has certain significant enhancements worth noting. If you're thinking of buying one, here is an overview of the most popular features of the brand new Apple Watch Series 7.
Release date of Apple Watch Series 7
The Apple Watch 7 was launched on September 14, along with a host of other high-end Apple products. The device is priced at $399 (around AU$599 or PS379). We are yet to have the official pricing yet. Nor is there any actual Apple Watch 7 release date, but we do know that it will be available "later this autumn".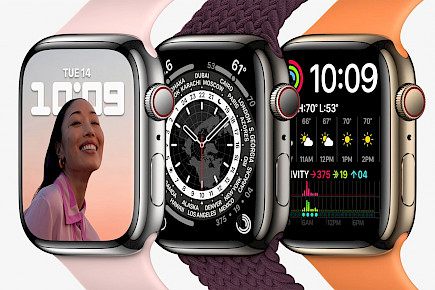 Apple Watch 7 comes in the usual large and small sizes, but they've been sized up to 41mm and 45mm in the 4G LTE and GPS-only versions. We do not have an exact price, aside from starting at $399 for the GPS-only 41mm model.

We do know which shades the Apple Watch 7 will come in. It will be available in five different aluminum colors, including midnight (black), Starlight (gray), blue, green, and (PRODUCT) RED. In addition, three brand new Nike Sport Loop colors and the brand-new Apple Watch Hermes bands are available.
The best features of the Apple Watch Series 7
Almost a Bezel-Less Display
Apple initially reduced the bulky bezels of its Apple Watch with the Series 4 line-up. The display was replaced with one round corner that matched the design of the outside. The new Apple Watch Series 7, Apple has also reduced the bezels, with a display that extends almost from edge to edge.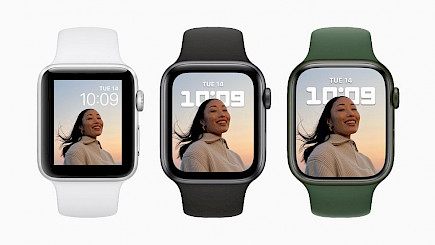 The most appealing aspect of the Apple Watch is that the dimensions for this Apple Watch model have barely changed.
A larger display on a smartwatch will make the user experience significantly better. Apple has decreased the size of the screen display by 40%, which gives 20% more screen space than the previous model. When it is compared with the previous Apple Watch Series 3, the new model has approximately 50% more display space.
It doesn't matter if it's a phone or a tablet. Any display having minimal bezels definitely gives the device a contemporary design. In addition, the display that is ALWAYS ON is not only bigger, it's also 70 percent brighter when your wrist is down.
A Full-QWERTY Keyboard
The Apple Watch has only allowed users to draw and write text since its display was not large enough to allow for an entire keyboard. However, this will change when you purchase an Apple Watch Series 7 since the display is large enough to allow Apple to incorporate a QWERTY keypad to watchOS.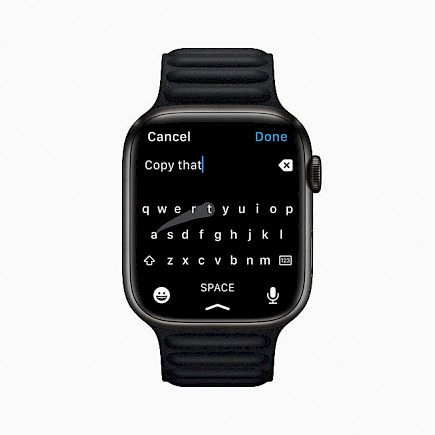 You can use a keyboard or swipe to navigate through different characters by using QuickPath on the most recent Apple Watch. The new keyboard is sufficient to respond quickly to text messages without having to pull off your phone from your pockets.
Well-Improved durability.
Apple has made the glass stronger to create it to make the Apple Series 7's screen to increase the durability of its display. The front glass is more than 50% thicker than the previous model and has been redesigned with a more substantial flat base that makes it less prone to cracks.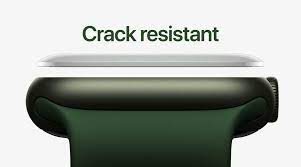 In addition to the improved screen durability, Apple Watch Series 7 gets IP6X certification. That means it's the first Apple Watch to come with dust resistance.
It's also WR50-certified for water resistance, just like the previous model, which means you won't need to be concerned when taking it to the pool. However, Apple recommends you don't make use of it when doing waterskiing, scuba diving, and other activities that require high-speed water.
Faster charging
The Apple Watch charging speed has been a bit slow. Apple has rectified this issue by updating its charging system and introducing faster-charging USB-C cables with Series 7 models. As a result, it charges 33% faster than Series 6, which is a significant improvement.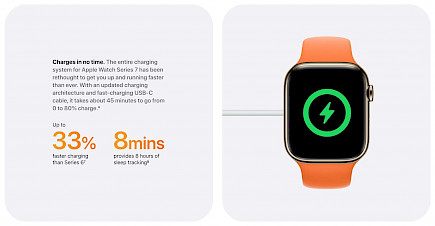 According to Apple, it is possible to charge the latest Apple Watch Series 7 between zero and up to 80% in 45 minutes. That's pretty remarkable, isn't that? It's not necessary to wait for it to recharge overnight. With a fast 8-minute charge, you'll be ready to take advantage of Sleep Tracking for up to 8 hours.
Better Performance
The upcoming Apple Watch Series 7 is going to have the same processor as last season's Apple Watch Series 6. While it's got a new name, known as the S7, it has the same processor power. This surely isn't the first time that Apple has done something similar. The S5 chip in Apple Watch Series 5 could provide the same capabilities as the S4 SoC, but it also had a built-in compass feature.
The S7 SiP has a 64-bit dual-core processor and 32GB storage. It's the S6 processor, which is 20 percent more efficient than the processor that is in the Apple Watch SE.
Final Words
And that was everything about the new Apple Watch Series 7. So, if you are in the search for a new fitness tracker/ smartwatch then look no further than Apple Watch 7. With the new premium & stylish built, amped-up performance and power-packed features it is indeed the best smartwatch in the market.
Click "here' to order one for yourself.
You might also like