I'm pretty excited to talk about the Apple Watch 6. This is the latest smartwatch in the Apple Watch series. It is said to be the best Apple Watch among all other watches because of the features it offers to the users. There are many things to talk about this Apple Watch 6 so, follow the article to the end to find out more about the features of the all-new Apple Watch 6.
Blood oxygen tracking, a speedier CPU, and a new 2.5x brighter always-on display are among the most noteworthy upgrades to the Apple Watch Series 6. Product (RED), blue, and graphite are among the new hues. Apple's new Solo Loop and Braided Solo Loop Apple Watch bands arrived alongside the Apple Watch 6.
On September 18, 2020, Apple launched the Apple Watch 6. Since its initial introduction, the Apple Watch has developed to find its primary use case. It began as a fashion/social gadget with plenty of fitness functions but has subsequently evolved into a strong fitness and health device.
As a separate gadget, the Apple Watch Series 6 emerges from the shadow of the iPhone. The most recent features, along with watchOS 7, make this the most self-contained watch ever.
1. Blood Oxygen Sensor
The blood-oxygen sensor and accompanying app are Apple's most lauded features of the new watch. To utilize the function, make sure the watch is securely fastened around your wrist and that you don't move while taking the reading. As long as you fulfil these conditions, the reading will be returned in 15 seconds (but if you are hyperactive then you need to hold down yourself for the reading).
The reading indicates the percentage of oxygen in the bloodstream. It achieves this by utilizing red and infrared LEDs to detect the color of the user's blood. The reported result does not provide much data on its own because it does not indicate whether or not a reading is "good."
Apple's ambiguity over the price is most likely owing to its failure to meet medical device standards. According to Apple, the blood oxygen measurement is solely for wellness and fitness and is not meant to replace a piece of medical equipment, such as a pulse oximeter, which requires federal clearance.
If Apple begins to give advice and state whether it is good or harmful, it may be perilously close to a piece of medical equipment and the regulations that come with it. However, it is simple to look up healthy ranges
2. Heart Rate Sensors
In the Apple Watch Series 6, Apple integrated all of the additional sensors featured in earlier iterations of the Apple Watch. This has a heart rate sensor that measures the user's heart rate every few minutes or so, depending on activity. If you are working out, your heart rate will be continually tracked until three minutes after you finish.
It will inform the user if it detects abnormal heart rates. Although the Apple Watch may not detect a heart attack, it can alert users before such a catastrophic cardiac event if their heartbeat becomes excessively rapid, sluggish, or irregular.
The latest Apple Watch models can also be used to produce an ECG. Using the Apple Watch Series 4, you can now capture an ECG with the in-built app. During the measurement, the watch must be worn securely. It takes the measurement by having you place your finger on the Digital Crown for a minute. The ECG app walks you through the procedure.
The ECG can identify potential atrial fibrillation and alert consumers if a medical visit is required. It can not provide medical advice or a diagnosis, but it can be the first step in preventing a potentially fatal disease.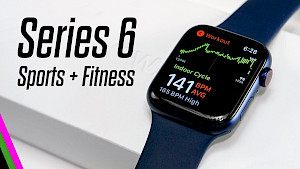 3. Fitness+
Apple Fitness+, which debuted during the "Time Flies" presentation, lets consumers with an Apple Watch and another Apple device with a screen do guided workouts. The app will track the user's exercise using Apple Watch sensors while showing the exercise on an iPhone, iPad, or via Apple TV.
Apple's trainers provide a weekly studio exercise video series. They encompass a variety of fitness styles, such as high-intensity interval training (HIIT), yoga, and strength training. Apple Watch data displays as an overlay on the screen, allowing users to follow their progress without having to glance at the watch. This includes receiving reminders on their rings when they accomplish fitness objectives.
Fitness+ has a unique recommendation system that takes past exercises into consideration. It then recommends new alternatives based on user preferences or different routines to assist in maintaining a balanced schedule. Users of Fitness+ may also utilize a filtering feature to choose a program based on workout type, trainer, time, or music.
Users who also have an Apple Music subscription may store Fitness+ exercise playlists for later listening. With a 30-day free trial, the service costs $9.99 per month or $79.99 per year.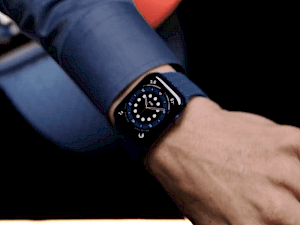 4. Ultra-wideband
According to the technical specs posted on the company's website, the new flagship wearable is Apple's first to incorporate the U1 Ultra Wideband processor. Apple's UWB solution was introduced with the iPhone 11 in 2019.
It's unknown what features the U1 will provide Apple Watch owners. The chip is now used as a backbone for directional AirDrop capability on the iPhone 11 and subsequent devices, and it will be used as part of the CarKey system in future car models.
Apple created the U1 to give mobile devices spatial awareness and accurate location tracking capabilities. UWB is used in the system to deliver repeated signals between two devices in order to establish their relative position in space.
5. Family setup
You can set up your children's Apple Watches using Family Setup without them having their own iPhones. Each Apple Watch in the family gets its own phone number, allowing the family to stay in touch even if the youngsters don't have phones.
Parents may choose which contacts their children can communicate with using Family Setup. It can also send automated location notifications to parents, allowing them to keep track of where their children are. Kids may use their Apple Watch to track their activities and use all of the Apple Watch's capabilities.
School time Mode is a feature that helps youngsters stay focused throughout the school day by restricting accessible functions and setting Do Not Disturb while also providing them with a distinctive watch face. Apple Watches with cellular capabilities, Series 4 or later, are required for Family Setup.
Isn't it a relief for parents of today's generation? I think it is a wonder for them.
6. Solo Loop and Braided Solo Loop
Apple debuted a new style of band that loops around the wrist without any clasps or connections. It's just a plain elastic band that has to be adjusted to fit.
Users must measure their wrist size using a paper print-out in order to place orders with the new band type, which has resulted in some mistakes. Some people make educated guesses about their size rather than completing the measurement assignment. Those who received improperly sized bands were required to return the entire package, including the Apple Watch, to obtain a replacement.
Winding-up
These are the features of the Apple Watch 6. The Apple Watch is well-known for its features and is recommended for purchase if you are not on a tight budget. The Watch looks promising with fitness features and all. I loved the show. Drop your comments about the Apple Watch 6 in the comment box.
You might also like