Are you a fitness freak or a Gym lover?
Do you love completing challenges and activities?
Do you feel exercise is the best way to start your day but the boring old workouts need a zing?
Well, then it might be the perfect time for you to amp up your workouts with Apple Watch Activity Badge.
Get a reward for every extra lap your run, or every extra 10 pushups you do.
It's that simple.
Achievement Badges on Apple Watch.
Achievement badges are a fun thing.
They don't accomplish much, but there's a reason why you must accumulate them. Achievements can be a great motivator, as are the badges for achievement on the activity tracking feature on Apple Watch, which has inspired many users to exercise more.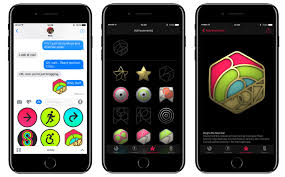 If you're looking to increase your badges, You'll want to find every activity achievement you can.
They're available throughout the year, but there are limited-time special events you can get your hands on, too.
Below is the list of activity achievements for the Apple Watch:
Standards-setting achievements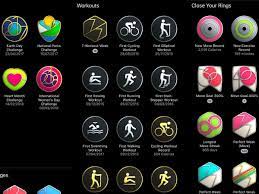 A majority of these achievements are available all year round. If you download the Activity app on your iPhone and then go into the Achievements tab, you'll find some of them listed before you've earned them (in which case they'll be displayed in an outline of grey).
But, certain accomplishments will not be displayed until you have earned them. For instance, future and past monthly challenges aren't displayed.
Neither will all of the exercises you can do on your own.
First Workout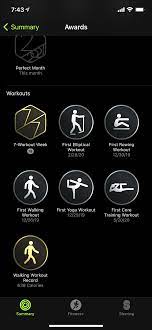 When you first start any new exercise that lasts at least 5 minutes, you'll receive an accomplishment badge.
Any type of workout that doesn't fall into the "Other" category is eligible for this badge.
From yoga to walking to hiking, and many more, this "other" group is suitable to earn this badge.
Activities that include both outdoor and indoor versions, such as cycling and walking, are combined, and you can choose to do any exercise to earn the badge. However, you can only earn it once.
Workout Record [exercise]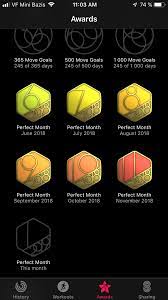 Each time you surpass the previous record of calories burned during any of the exercises mentioned above, you will receive this badge.
One caveat: You must finish five workouts of this type before you can start.
If you're planning to try to beat the system, ensure that your first four exercises of each kind are short and straightforward, so it doesn't require much effort to beat them.
New Move Record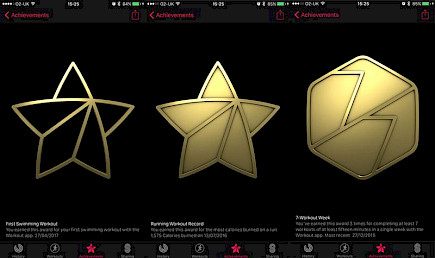 Every day that your move ring gets bigger than it has ever been (meaning you burn more calories over a day), you'll be awarded this prize.
But there's a catch: you must wear the Apple Watch for 10 days before you're able to earn this.
7-Workout Week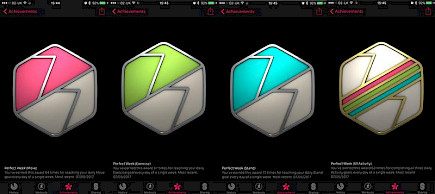 You must complete any exercise for at least 15 minutes each day during the week. Keep in mind that the week is Monday through Sunday, and you need to work out every day.
However, if you begin with a walk every time you are outdoors, you can accomplish this with ease.
New Move Goal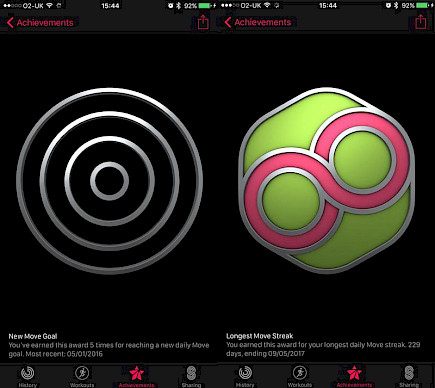 Each time you modify the daily move goal and then beat your target, you will be awarded this accomplishment.
You can alter the goal of your move target by accessing the activity app on the Apple Watch and pressing the screen.
The longest moving streak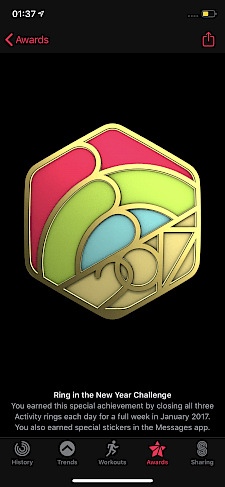 If you reach your moving target (close to the red ring) multiple times within a row, it's a "streak."
You'll be awarded this prize when your streak is over in the event that it's longer than the previous longest streak.
Perfect Week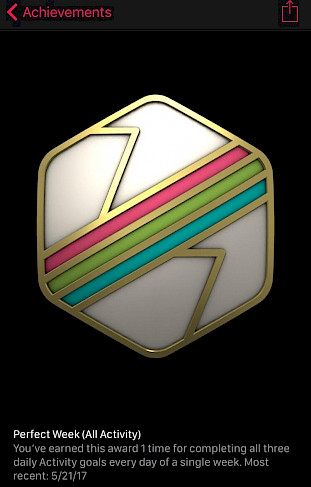 The prizes are given out in the following categories: moving stand, exercise, and all activities.
In the three categories that are first, just close the three rings (red, green, blue, or blue) each day of the week.
To earn the Perfect Week (All Activity) badge, you must close the three rings each day for the entire week. You can achieve this badge multiple times, but it only displays one badge.
Perfect Month (not yet introduced)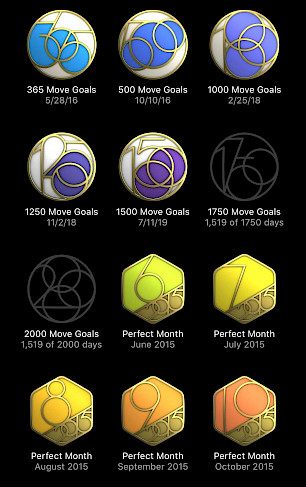 Contrary to Perfect Week, there are not a variety of Perfect Month badges for the various color rings. The only Perfect Month achievement is closing the red move ring every calendar day.
There's a distinct "Perfect Month" badge for every month, as well as every year, however. This means you can earn it during February, in March, and then in February of the following year.
Winding-up
And, that's all you need to know about Activity Badges on Apple Watch.
So, the very next time you feel like you have some extra calories to burn be free to scroll to the Challenge Section of your Appl Watch and take on a brand new activity challenge to test your endurance and fitness.
The final results may shock you.

You might also like