Apple Macs and iPads have two distinct features known as Sidecar and Universal Control that allow the devices to work together, however, using different approaches.
In this article, we'll explain all you should learn about Universal Control and how it differs from the Sidecar, and which is better.
Thus, without further ado.
Let us begin…
What exactly is Universal Control?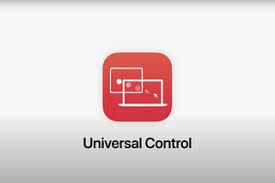 In iPadOS 15.4 as well as macOS Monterey 12.3, both currently in beta, Apple has introduced support for Universal Control.
This long-awaited feature allows several Macs or iPads to be operated by one keyboard and mouse.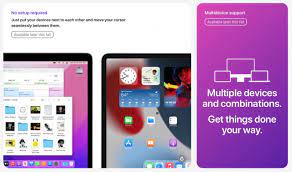 Through Universal Control, you can utilize the same cursor and keyboard on any Mac or iPad connected to your iCloud account. It is compatible between multiple Macs and between multiple iPads and iPads located within 10 meters of one another.
What is the difference between Universal Control and Sidecar?
Through Universal Control, if you have a Mac and an iPad adjacent to one another, or even several Macs and iPads that you are using, you will be able to use the keyboard and the cursor on the same gadget across them all.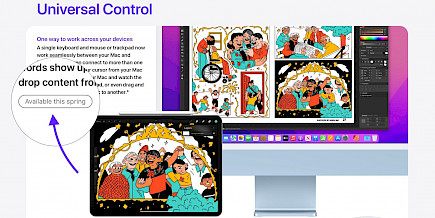 This means, for instance, that you have an Apple MacBook Pro and an iPad at your desk.
The trackpad on the MacBook Pro can be used on the iPad simply by sliding across, and Mac's keyboard becomes your iPad's primary input tool. This is also the case for the iPad when using an external keyboard.
The Sidecar operates in a completely different manner. In 2019, it was released as an element of macOS Catalina. Sidecar was created to let you utilize the iPad as a second display on your Mac.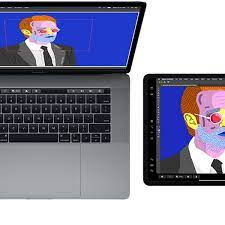 It can be used with up to one iPad and can show content from the display of your Mac or transform it into a second display to give you more screen space in macOS.
As a result, if you want to see your Mac's content on the iPad, you'll need to install Sidecar.
Be aware that although Universal Control lets you use the trackpad and keyboard on your Mac to navigate on your iPad, it works on two operating systems: macOS and iPadOS, so certain quirks should be expected.
For instance, if you want to transfer a photo from a Mac to an iPad, then you'll need to launch the Photos app on iOS for it to transfer the image across, and it won't appear at the top of the screen.
However, Sidecar is designed as an additional Mac display, and it functions like any other display that you can utilize in conjunction with your Mac to provide more display space for your desktop on macOS.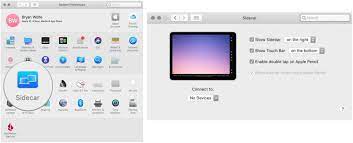 With Sidecar, it is possible to move windows from the Mac onto the iPad as well and then interact with both via the trackpad on your Mac.
Features and limitations
Universal Control doesn't require any complex setup, and it operates mainly automatically. However, there are some controls that you can alter and disable altogether.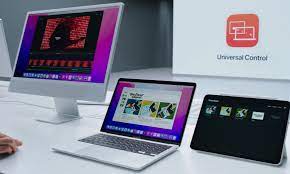 For instance, in the current beta, it is possible to disable the feature that allows your Mac's cursor to connect to the nearby Mac or iPad by pushing it against the display's edge.
You can also prevent your Mac from connecting automatically with any other nearby Mac or iPad you've already connected to.
Be aware of the fact that Universal Control requires at least one Mac to run. So, for instance, you can't simply use it between two iPads. However, you can utilize Universal Control between Macs without iPads.
Except for the one-Mac limitation, there doesn't appear to be a limit on the number of devices you can control with one trackpad and keyboard.
However, Universal Control is restricted to trackpad/mouse and keyboard support. So, it is not possible, for instance, to utilize the Apple Pencil with Universal Control.
With Sidecar, you can utilize the Apple Pencil (first or second generation, based on the iPad you're using) as an alternative to a mouse to click, select, or perform other screen-based macOS tasks of control. Consider using the Apple Pencil as a mouse or trackpad when you use it in conjunction with Sidecar.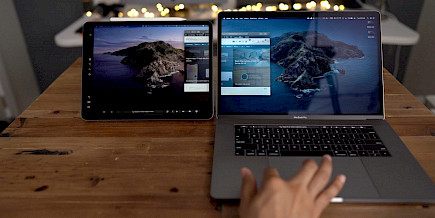 In other applications like Photoshop and Illustrator, the Apple Pencil does even more. For example, it is possible to draw directly within Photoshop or similar Mac applications and transform an iPad into a graphic tablet for your Mac, like the Wacom graph tablet.
The Sidecar can also add an optional Touch Bar to the bottom of the iPad. It is identical to the Touch Bar on the MacBook Pro models.
So even though your Mac does not come with a Touch Bar, these Touch Bar controls are shown on your iPad screen.
Which one between Sidecar and Universal Control is better?
Which one should you use: Sidecar or Universal Control on your Macs and iPads? It all comes down to your own personal usage needs.
If you want to expand your macOS desktop to an iPad screen, but you aren't planning to make use of iPadOS, then the best solution is to utilize Sidecar.
If you'd like to use your iPad as well as the Apple Pencil to illustrate or draw something you're working on using a Mac application and you want to draw or illustrate something, then Sidecar is the right choice to make.
Suppose you're looking to manage several Macs and iPads using similar input tools and are happy with some limitations on interoperability for macOS as well as iPadOS.
In that case, Universal Control is the preferable solution.

You might also like