There's a new Apple TV+ series ready to be released.
"Swagger" has just finished its post-production and promotions and it' rumored to release in the late October of this year. So, let's learn a bit more about this new series.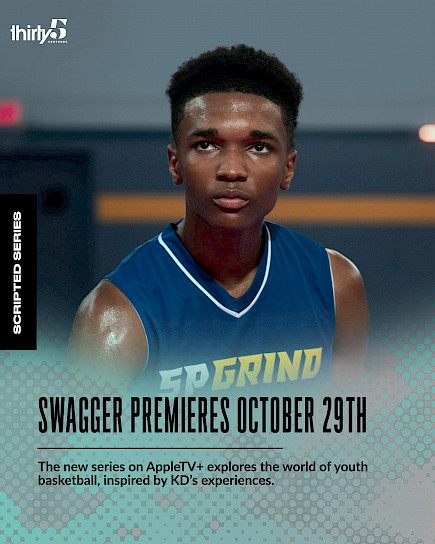 Swagger Coming on Apple TV +
Apple's catalog of presently accessible material on Apple TV+ continues to expand, but the list of projects in the works is growing even faster. Apple is working on a variety of projects, including films, limited series, specials, and multi-season programmes. Some of these projects have been formally announced and recognized by Apple, but many more have only been reported by the Hollywood press, which is always on the lookout for which actors, directors, and producers are working on which projects.
The release date for Apple's forthcoming sports drama series "Swagger" has been revealed. The first season will launch on October 29 with the first three episodes, followed by one new episode every Friday through December 17, 2021. The ten-episode sitcom is based on NBA star Kevin Durant's experiences.
"Swagger" "investigates the world of youth basketball, as well as the players, their families, and coaches who tread the narrow line between aspirations and ambition, opportunism and corruption," according to Apple TV+. The program depicts what it's like to grow up in America off the court.
Isaiah Hill, O'Shea Jackson Jr., Shinelle Azoroh, Tessa Ferrer, Caleel Harris, James Bingham, Academy Award nominee Quvenzhané Wallis, Solomon Irama, Ozie Nzeribe, and Tristan Mack Wilds feature in the new series.
Along with Durant and Grazer, Bythewood wrote, directed, and served as showrunner and executive producer for "Swagger." Thirty-Five Ventures, Imagine Television Studios, CBS Studios, and Undisputed Cinema are producing the series for Apple. Rich Kleiman, Samie Kim Falvey, Francie Calfo, and Samantha Corbin-Miller also serve as executive producers.
Our views
The craze for sports-related feature films and biopics has skyrocketed in this recent decade. Thus, there couldn't be a more perfect time for the release of "Swagger".
Hope all your Apple TV+ users might give this show a try and like always keep supporting us. Good Day!

You might also like