Are you a PS5 user? If yes, we have got great news for you. According to trusted sources, all PlayStation 5 users can have a 6-month free subscription to Apple TV+. Crazy, right?
Back in March 2021, Sony published its annual sales report for the world to see. According to the figures, PS5 had 8.6 million monthly active users worldwide. So, as soon as this news popped up we couldn't help but share it with you.

In this article, I'll explain all about the offer and its redemption. So, follow the article to the end to find out more about the offer and its redemption. But, before going straight to the topic, let's discuss Apple TV+ and its offerings.
Apple TV+
Apple TV+ is Apple Inc.'s ad-free subscription, video-on-demand streaming television service which launched on November 1, 2019. It was unveiled at an Apple Special Event in March 2019 at Steve Jobs Theater, where Jennifer Aniston, Oprah Winfrey, Steven Spielberg, and Jason Momoa collaborated on Apple TV+ projects were on stage to make the announcement.

Apple TV+ content is also available for viewing through:
In addition to this, many workarounds are available for subscribers who don't have a television-connected device to view Apple TV+.
Since it's been launched, Apple TV+ was available in approximately 100 countries, which was less than the previously reported target of a global launch in 150 countries, and did not include a number of countries from Asia and South America.
To watch trailers of new Apple TV+ releases. Click, "here"...
Commentators point out, after all, that the service's initial reach will give it an edge over other streaming services launching at the same time in a smaller number of countries, such as Disney+. In addition, Apple distributes its own content through the service rather than seeking the help of any third-party like Hulu. Thus, we expect Apple's service to be more successful.

Apple TV+ had poor growth and subscriber numbers by early 2020, so in mid-2020, the company began attempting to license older television and film content from other content holders for the service in order to stay competitive with other streaming services, maintain a viewership base for its original content in development for the future, and convert trial users into paid users.

Apple's new Apple One subscription bundle includes access to Apple TV+ in an effort to boost viewership.
The Big News
The PS5 was the first console to include a conventional hard drive and now it also has a solid-state drive (SSD). This isn't your typical SSD, either. This is basically a Sony-made NVMe m.2 SSD module that is insanely fast. It turns out that the SSD module Sony created specifically for the PS5 is the world's fastest SSD module right now!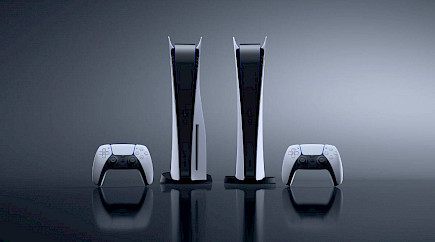 Sony and Apple appear to have collaborated to provide a free six-month "trial" of the Apple TV+ streaming platform to users of the PlayStation, which means users of both the digital and disc versions are eligible to claim a free subscription to Apple TV+. The Free six-month subscriptions aren't just for new Apple TV+ subscribers. You can get them even if you already pay for Apple TV+ monthly. Apple TV+ is not included in the Apple One bundle. The offer certainly provides you with an Apple TV+ subscription without trying to charge you for it, and Apple does not provide any way to separate the service from an Apple One bundle, and it is clearly unwilling to issue Apple TV+ store credits for this offer.
According to tech experts around the globe, this campaign will boost the sales of PS5 and Apple TV+ among worldwide users.
How to get a free subscription
According to Sony's offer website, you must install the Apple TV app through PS5 Media Home using your PlayStation Network account, and you must have an Apple ID with a method of payment on file.

After that, all you have to do is launch the Apple TV app and sign in with your Apple ID:
Click on the Apple TV app via your PS5 console's search bar or under "All applications" under Media home.
Follow the on-screen instructions after downloading and using the Apple TV app.
Login in with your Apple ID or create an account if you don't have one currently.
Despite the fact that customers must register for the extended trial through the Apple TV app on their PS5, once done, Apple TV+ content may be seen on any device that supports the Apple TV app. You'll be charged $4.99/month beginning in the seventh month after signing up if you cancel your subscription before then, like most free trial offers.
Is there any limit to redemption?
There is a one-time redemption limit per PS5 console and per Apple TV+ subscriber.
Although users won't even be able to use this deal multiple times, you should wait until any Apple TV+ extended trials are finished before signing up for it.

There is almost no time constraint depending on when you bought your PS5, you can check in until July 22, 2022, irrespective of whether you have had your system since last year or have not even ordered one yet.
To learn more. Click, "here"...
Final Words
This offer is only for PlayStation 5 users and, unfortunately, it is not applicable to any other users. Getting a free subscription is like getting a survey reward, right. All PlayStation 5 users can redeem this offer until it expires. So, if you haven't redeemed the offer yet, what are you waiting for? Just go grab the free subscription.

We hope you liked this article, and don't forget to redeem your 6-month free subscription ASAP. Good Day!
You might also like