We're certain why Apple considered casting Tom hanks in their original production Finch. He is undoubtedly loved by all and hence, making him a great fit for the audience.
In this movie, he is seen making great chemistry with a robot dog in the middle of an apocalypse, and it's exciting!
Finch
Tom Hanks is starring as Finch, who happens to be an inventor or engineer before the doomsday came. And now he isn't bothered about anything else but to keep his dog alive anyhow! So he invents a robot named Jeff to fulfill his aim.
During this post-apocalyptic time, Finch (Hanks) and his dog are the only survivors left (yes, it reminds us of The Legend). For more than a decade, Finch has been living in a bunker. But, just to make sure his dog does well, even after Finch is gone, he starts developing a robot dog who can take care of the actual dog after Finch is gone.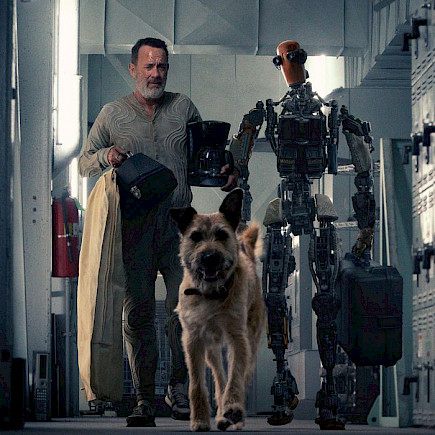 Soon enough, the movie develops a trio fun rather than a duo character play.
Where to watch Apple TV+ Original Finch
It's an Apple exclusive right now and isn't available on any other platform except for Apple TV+. However, you don't necessarily need an Apple device to watch Finch. All you need is a subscription to the Apple TV+ membership on any third-party platform.
A few of the most used platforms are:
Amazon Fire TV
PlayStation
Xbox
Any Smart TV
Roku streaming apps
And more
Don't have any of these?
Well, you can still watch it right from the same device you're currently using to read this article. Just visit TV.APPLE.COM from your current device browser, and you're all set!
How to Watch Finch on Apple TV+
Finch is NOT FREE to watch on Apple TV+ or anywhere else.
Existing users can sign in, and new users can sign up to Apple TV+. New users will get a free 7 days trial right after signing up.
Once you're signed up/signed in, click on the Apple TV app and click again on the "Originals" tab.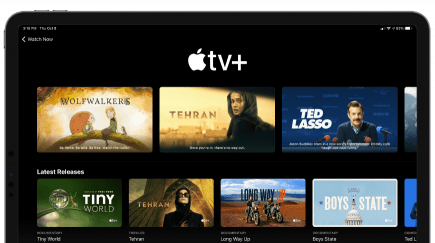 Here you will see all the original content created by Apple. Now scroll down to the "feature films" category to see the 'Finch' movie.
Grab some snacks and hit the PLAY button, and start enjoying Tom Hanks acting!
As we know so far, Finch is exclusively available on Apple TV+ and will have a limited theatrical run. There are possibilities of a disc release taking place a year later or so. But because Apple TV+ costs as low as 4.99$ a month. But suppose you plan to watch Finch specifically and won't be using the subscription later on. In that case, you can simply cancel the service.
Reasons to keep using Apple TV+ after you're done watching Finch
Is there more interesting content available exclusively on Apple TV+, and should you cancel or keep the membership active? Let's check what Apple TV+ has got to offer you.
It has a variety of content to watch, from kids section to dramas for youth, from comedies (for all age groups) to documentaries for serious viewers; it has an ocean of options. Everything will be available right after you pay 4.99$ a month and no additional cost for any specific content.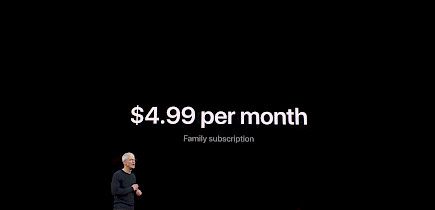 Just like all other services, Apple is taking this one seriously as well. Releasing fun to watch content every week like The Shrink Next Door (a highly anticipated one), Dickinson, Hello Jack, and many more!
Finch 2021 Movie Plot and Storyline
A solar flare destroyed the ozone layer ten years ago, rising temperatures to 150 degrees Fahrenheit (70 degrees Celsius) and leaving the Earth into a mostly uninhabitable wasteland burned by UV radiation and vulnerable to catastrophic weather occurrences. Finch Weinberg, a robotics engineer, lives alone in a subterranean St. Louis laboratory with his dog Goodyear and a helper-robot Dewey, originally owned by the business he worked with before the disaster. Finch only goes outdoors to look for supplies when wearing a heat and UV-resistant protection gear.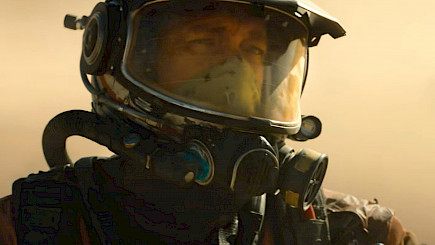 Finch is working on creating a more advanced humanoid robot companion to take care of his dog after he dies of an undisclosed ailment [partially revealed when we see Finch reading a book about Exposure to Ionized Radiation... Otherwise known as Radiation Poisoning.]
Otherwise known as Finch provides it with comprehensive knowledge, including a guidebook on dog training and care. Goodyear, on the other hand, is skeptical about the robot at first (which eventually chooses the name, Jeff.)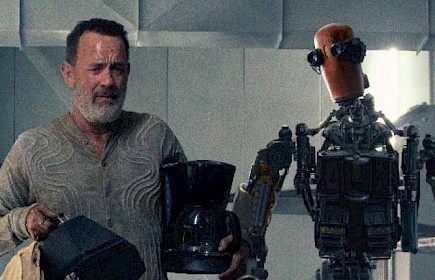 As they near their objective, the UV radiation has decreased to the point that Finch may step out into the sun without protective gear. Before dying gently, he spends an afternoon outdoors with Jeff, teaching it how to play fetch with Goodyear. Finally, Jeff and Goodyear arrive at San Francisco, where they discover the city to be livable but empty, and set out to find any living people.
Ratings & Reviews by Critics
Rotten Tomatoes, a review aggregation website, shows a 75 percent approval rating based on 116 reviews with an average rating of 6.8/10. "Finch may not be the most memorable post-apocalyptic plot," the site's critics agree, "but Tom Hanks is the absolutely lovely company even after society collapses." Based on 36 reviewers, Metacritic gave the film a weighted average score of 56 out of 100, indicating "mixed or mediocre reviews."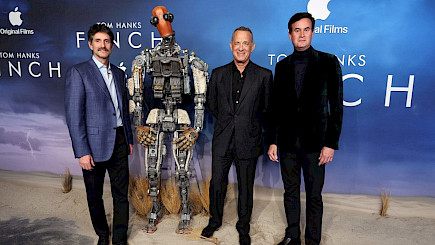 "The picture is a showcase for Tom Hanks' Greatest Hits collection, appealing to our admiration for the characters this actor has personified in the past," Gayle Sequeira of Film Companion noted. "Finch proves to be a nice watch," Sportskeeda's Richard Schertzer said, "but it often gets lost among previous science-fiction movies, living in their shadow, rather than accomplishing anything fresh."
Winding-up
Finch is the perfect pairing of an exhilarating storyline with great CGI and great actors which makes a great movie for people of all ages. So, if you are in the mood for binging anytime soon, be sure to open an account in Apple TV+ and enjoy the 1hr 55min of this Miguel Sapochnik's great work.
You might also like