You might be wondering what Apple Too is? Does it make sense? However, the name sounds fun, right? So is Apple too?
The debut of Apple Too, a website dedicated to employee organization at Apple, took another step forward a few days back. The objective of this website is to gather tales from employees at all levels of the company who have been harassed or discriminated against.
"For too long, Apple has evaded public scrutiny," according to the website. "The truth is that for many Apple workers... The culture of secrecy creates an opaque, intimidating fortress. When we press for accountability and redress for the persistent injustices we witness or experience in our workplace, we are faced with a pattern of isolation, degradation, and gaslighting. No more. We've exhausted all internal avenues. We've talked with our leadership. We've gone to the people's team. We've escalated through business conduct. Nothing has changed. It's time to think differently".

Only around 15 current and past Apple workers were involved directly in the planning process. The organizers created a website and Twitter account a few days ago, as well as a 200-person Discord server for Apple workers and contractors, to spread the word.
Organizers such as Timnit Gebru, who worked at Apple before joining Google in 2018, have already expressed their support for the initiative. Gebru went public about her experiences with racism and discrimination at Google after being dismissed unexpectedly in December 2020.
However, she hasn't been as open about her time at Apple. "I experienced so many terrible things when I was at Apple, and I always wondered how they managed to remain out of the spotlight," she tells The Verge now. I'm glad to see that Apple employees are banding together. It's past time for Apple to face the consequences. "
Cher Scarlett, an Apple developer and activist who is helping the organization, shared the webpage a few days back on two internal Slack channels: # allies4change and # women-in-swe.
Eight Apple employees have shared their tales on the AppleToo website since its debut.
A Secretive Culture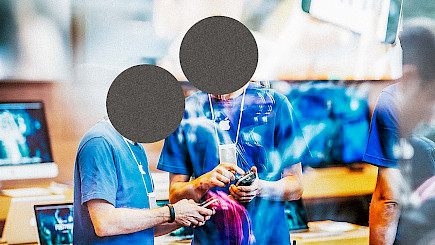 According to the website, Apple has avoided "public scrutiny" for far too long, even as its "culture of secrecy" has produced an intimidating and impenetrable atmosphere. It goes on to say that if there is a push for responsibility and restitution, employees typically face isolation, gaslighting, and humiliation.
Timbit Gebru Discusses Her Personal Experience
Nonetheless, Timbit Gebru, an organizer and former Apple employee who switched to Google in 2018, has lent his support. She was unceremoniously dismissed from Google in December 2020, after which she opted to write about her experiences with discrimination and racism at the internet behemoth. While she had not previously spoken about her time at Apple, she now appears to have stepped out to share details about her time there.
In a recent interview, Gebru said that she was subjected to several "egregious things" while working at Apple, while also wondering how the business managed to "stay out of the limelight." She goes on to say that she supports Apple employees' efforts to organize because the company has to be "kept responsible."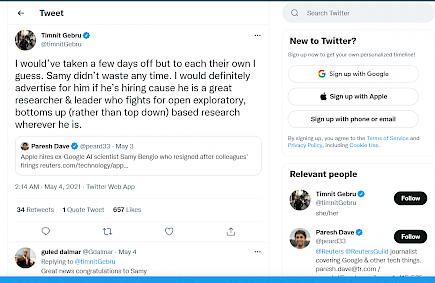 Engineer and activist Cher Scarlett, who is also involved in the organizing effort, also posted the webpage on two internal Slack channels of the business, notably # allies4change and # women-in-swe. Meanwhile, only a few hours after the Apple Too website was originally created, eight employees had already contributed their stories and experiences.
A detailed explanation of Apple Too
Apple's workforce now is vastly different from what it was 30 years ago. While the company's culture has mostly remained intact, several current workers are making changes. Many people want the firm to be more open as a whole, while others simply want their voices to be heard in what they perceive to be silence.
Others are concerned about potential compensation disparities inside the firm. Overall, it's the start of something that might lead to much more significant change in the future.
According to The Verge, some Apple employees have started a new organizational banner, # AppleToo, drawing inspiration from the # MeToo campaign, which has resulted in significant reforms in Hollywood.
Thus, Apple too aims to collect experiences from employees at all levels who have encountered discrimination or harassment during their tenure at the firm.
We feel that there should be no discrimination based on color, gender, or harassment. This is a great move to raise a voice against discrimination. Kudos to the team that built this website to raise voice against discrimination. And, most importantly a round of applause for the team who thought about this concept and then implemented it. This action can change the lives of many employees who bear all the trouble without saying a word.
Because of this website, people who have undergone discrimination can come forward to express their stories and inspire others to come forward to tell their stories as well.
This is all for today. Hope you liked the article and don't forget to mention your opinion about Apple too in the comment section. We will be back with another interesting topic. Until then, stay tuned. Good Day!
You might also like